Learn to create a capsule wardrobe for fall that you'll be wearing for years to come.
It's pumpkin spice season again, and that means it's time to layer up with your favorite, cozy fall pieces.
Given its mild weather, fall is a favorite season for fashion lovers. You don't have to layer too much, but don't feel hot and sweaty every time you go for a walk outside.
But despite the versatility of fall clothing, it's easy to get overwhelmed with planning a capsule wardrobe for fall. Which pieces from other seasons can I carry over? How many long sleeves do I need? What fabrics should I look out for?
If any of these questions resonate with you, this guide has you covered. We'll cover the answers to these questions, discuss all the essential pieces for a fall capsule wardrobe, suggest outfit combinations, and more.
Ready? Let's go!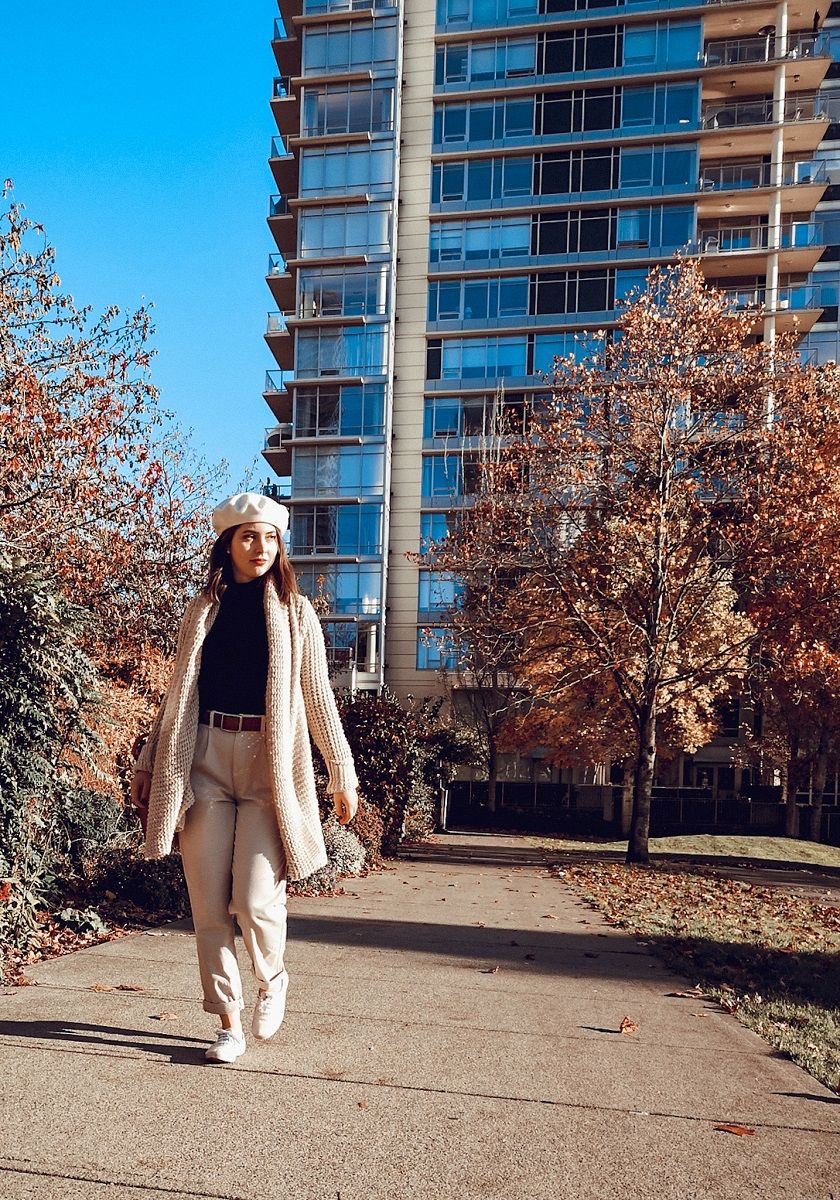 This post may contain affiliate links, which means I'll receive a commission if you purchase through my links at no extra cost to you. Please read full disclosure for more information.
Creating Your Fall Capsule Wardrobe: Step-By-Step
Creating a capsule wardrobe can be overwhelming if you've never done it before.
So before getting into the essential pieces you need for your fall capsule, let's break the process down step by step.
This will make it easier to plan your wardrobe and make the best use out of what you already have.
Step 1: Define Your Fall Style
Before you start putting together your capsule wardrobe, it's important to take a moment to define your style. What looks do you love? What makes you feel good?
Answering these questions will help you to choose pieces that you'll actually want to wear, rather than just throwing something together because it's trending.
If you're not sure of your style, I always recommend looking at Pinterest or Instagram for inspiration. Save or bookmark styles that inspire you, and use that as a starting point.
Keep in mind that your fall style may differ from your style during other seasons! For example, I like to go more boho/relaxed during summer, while my fall style tends to be edgier and grunge-inspired.
Step 2: Evaluate What You Have
Don't feel like you have to start from scratch when creating your capsule wardrobe.
The first thing you want to do is take a look at what fall clothing essentials you already own. These could include a long cardigan, a hoodie, a turtleneck, and jeans.
The other important thing to remember is that you can use items from other seasons. They don't necessarily need to be "fall" pieces.
For example, a white tee can easily be worn in the fall by layering it under a cardigan or under a flannel for extra warmth. Jeans are also great for all seasons, especially if they're dark wash.
Step 3: Choose Key Pieces You Know You'll Love
The key pieces for your capsule wardrobe make up 2 main categories: versatile pieces and pieces you love.
For versatile pieces, the idea is to get things that you can wear with multiple items or wear multiple ways. These items will save you money and space in your closet, as they'll serve more than one purpose.
For example, a white t-shirt is a versatile piece because you can layer it. You can also wear it as part of a casual outfit (like sneakers and jeans) or with heels for an elevated look.
Another versatile piece would be a shirt dress/sweater dress. These can be worn loose, or cinched at the waist to change up the look. This type of dress can also work with multiple styles, such as streetwear (with sneakers) or classic fall (with leggings and booties).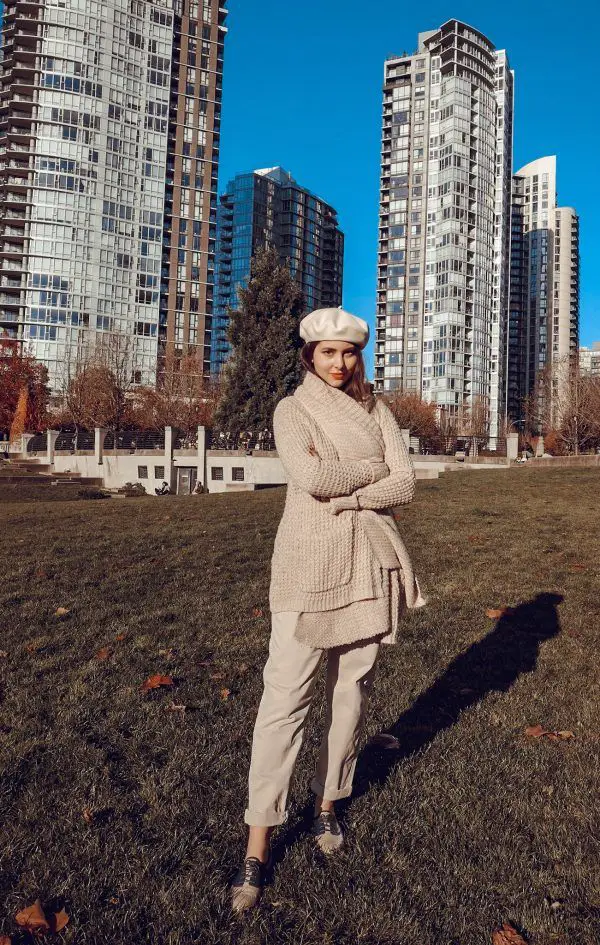 Step 4: Make a List of Essentials
While your fall wardrobe essentials will depend on your local climate and personal style, you'll want to make a list.
This will help you check with your existing closet to see what you already have, as well as budgeting for those non-negotiables (for the rainy climate I live in, that's rainboots and a raincoat)!
Here are some examples of fall essentials:
Tall boots
Blanket scarf
Leather/faux leather jacket
Several sweaters (varying in thickness)
Long cardigan
Leggings
Dark-wash jeans
Sneakers
Raincoat
Rainboots
Wool hat
When choosing the colors for your capsule wardrobe, don't forget that neutral colors are your friend when it comes to capsule wardrobes. They can be easily mixed and matched with other colors and help to create a cohesive look.
Some great neutral colors for fall capsule wardrobes include black, white, gray, navy, and shades of tan/camel.
Step 5: Add in Complementary Items
Your capsule wardrobe doesn't have to be all about practicality. In fact, it's a great opportunity to add in a few fun pieces that really reflect your personal style.
These pieces can be anything from a statement necklace to a great pair of shoes. Just make sure that you love them and that they go with the other items in your capsule.
The Best Fabrics for Fall
The best fabrics for fall are ones that are breathable yet warm. You'll want something that's going to insulate you during any chilly weather, but that also lets you walk around without working up an uncomfortable sweat.
Some of the best fabrics for fall include:
Wool
Wool is one of the best picks for keeping you warm on those crisp and chilly fall days. This insulating fabric is a staple for coats, sweaters, hats (I love my wool beret), and skirts.
It's also the base for popular patterns like tweed and houndstooth.
I tend to get my wool pieces secondhand, as it's a more sustainable and budget-friendly option.
Leather
Leather is great at keeping you warm and protecting you from the rain. Plus, it adds an element of visual interest and texture to even the most minimalistic outfits.
I'm a huge fan of vegan leather, especially the ones from Aritzia. Their vegan leather is super soft and used in a lot of their fall pants, from leggings to wide-leg trousers.
Denim
Denim is one of my favorite fabrics of all time for its sheer versatility. And while it's often stiff straight off the rack, I love how comfortable it gets with wear over time.
Some of the best ways to wear denim during the fall include jeans, denim jackets, and denim skirts. With jeans in particular, I like to have a couple for fall: one simple, dark wash pair, a loose, boyfriend-style pair, and a ripped pair to act as a "statement" piece.
Flannel
Flannel is one of those things that you just immediately associate with coziness, hot chocolate, and cozy walks in the leaves (or at least I do!).
Not only is flannel soft and warm, but it can be worn in multiple ways. For example, you can wear a flannel shirt open with a t-shirt underneath, button it up, or tie the bottom to make it more form-fitting.
Fleece
For those like me who are perpetually cold, fleece is a life-saver. My favorite way to wear it is with a half-zip sweater, which is easier to layer under things than a hoodie.
I tend to lay my fleece out flat to dry as I find the dryer can make the inside fabric pill, which ruins its cozy softness.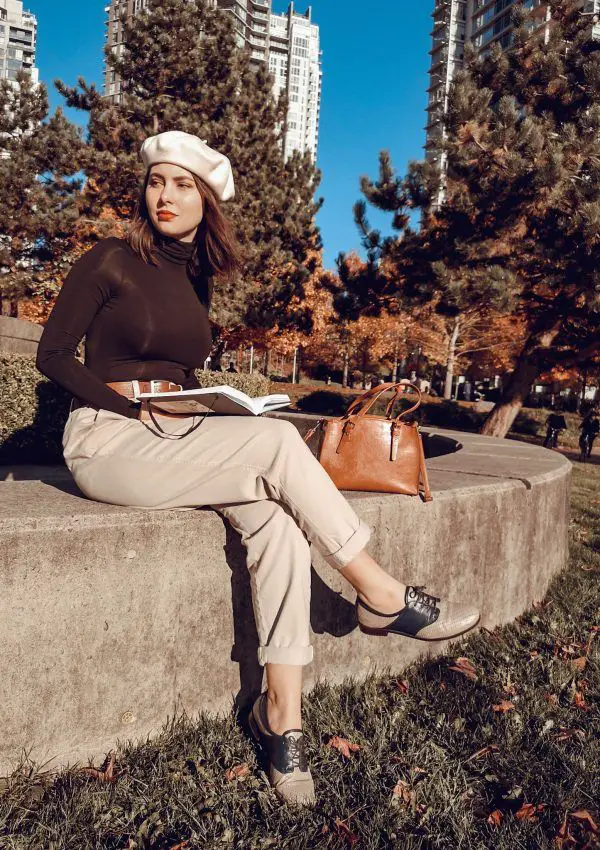 Capsule Wardrobe for Fall: Key Pieces
Now that you have a good idea of how to get started with your capsule wardrobe for fall, let's dive into the essential pieces you may want to include:
Outerwear
Trench Coat
I love the classic beige trench coat just as much as anyone else (and it always makes me think of Audrey Hepburn's trench coat in Breakfast at Tiffany's). 
If you don't wear a lot of brown tones, consider getting a black trench coat instead. I once had an orange trench coat, which I loved for its super bold statement.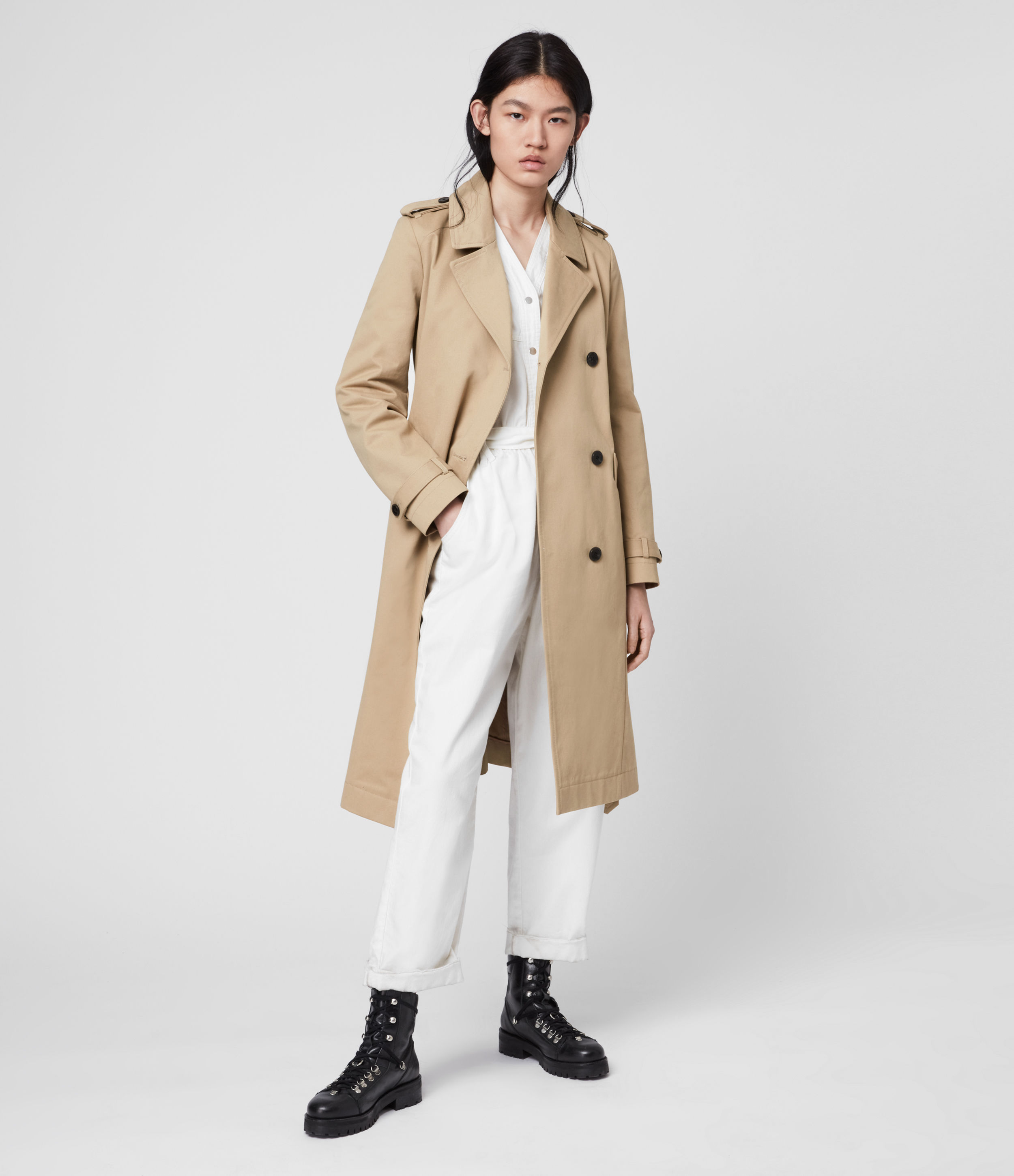 If you live somewhere rainy, I'd spend a bit extra and get a trench coat that's waterproof (or at least water resistant).
Raincoat
Again, if you live somewhere rainy, then a good, warm raincoat is a must. Make sure that it's absolutely waterproof, and get something windproof if you can.
Raincoats are also one of the pieces where I'll prioritize function over form. As long as the coat keeps me warm during those cold, wet, windy days, I'll take it over a raincoat that won't protect me.
Lightweight Jacket
Since fall doesn't normally get too chilly (at least at the start), this is the perfect time to experiment with fun jackets.
Some of the best lightweight jackets for fall are faux-leather jackets, varsity jackets, and bomber jackets.
My personal favorite right now is a shirt jacket I got from Aritzia. It's shaped like a jacket, but the style is like an oversized, plaid button-down.
Tops
Tops are what you'll need most of just because you'll be washing them more often than you'll be washing other items of clothing.
Tops are also the first thing I replace if I feel my wardrobe is in need of some change. Let's take a look at some essential tops you can include in your capsule wardrobe for fall!
T-Shirt
T-shirts are some of the easiest pieces to transition between all seasons, so you likely won't have to spend any extra money on new ones.
I like to have 4-5 t-shirts in my wardrobe for early/mid-fall, as I can easily layer them with items like leather jackets and chunky cardigans. These include both basic tees and graphic tees (band tees being my favorite).
Half-Zip Fleece
This is currently one of my favorite pieces, and it gives off a relaxed, athleisure vibe.
While you can get a regular fleece hoodie, I feel like a cropped, half-zip fleece is super flattering and really elevates an outfit.
At first, I thought I'd be cold in a cropped sweater, but I made sure to get one that wasn't super short and ends just where the top of my jeans begin.
Sweaters
You'll need a good number of sweaters so you can keep your clothes smelling and looking fresh, so try to go for 4-5 so you have enough tops for the week (or 2 weeks).
Sweaters come in so many varieties, so don't think you have to get the exact same thing in a combination of different colors.
Take the time to experiment with different styles, like turtlenecks, thin sweaters, chunky sweaters, and sequined sweaters (one of my faves).
Button-Down
Your choice of button-down can either be a flannel (a fall favorite for many), a cotton button-down, or even a soft denim one.
The important thing is that it matches enough of your other clothes to be versatile. And while flannel is often colorful, you can wear it with many other basics like t-shirts, tanks, jeans, and skirts!
Long Sleeve for Layering
These are perfect for those chilly days where you still want to wear something nice but don't want to be cold.
You can make layering long-sleeves work during winter, fall, and spring, so they're a perfect capsule wardrobe piece. For optimal comfort, go for breathable fabrics like cotton. And for added warmth, go for a thermal long sleeve like the ones they have at Uniqlo.
Bottoms
For fall bottoms, I tend to focus on long-wearing, timeless pieces that will keep me warm.
Leather Pants
Leather pants have been making a big comeback, and I've been really impressed with the vegan leather options many companies are coming up with.
I have a pair of faux leather leggings from Aritzia, but I plan to snag a pair of their trousers too, as I'm so on board the comfy, loose pants trend.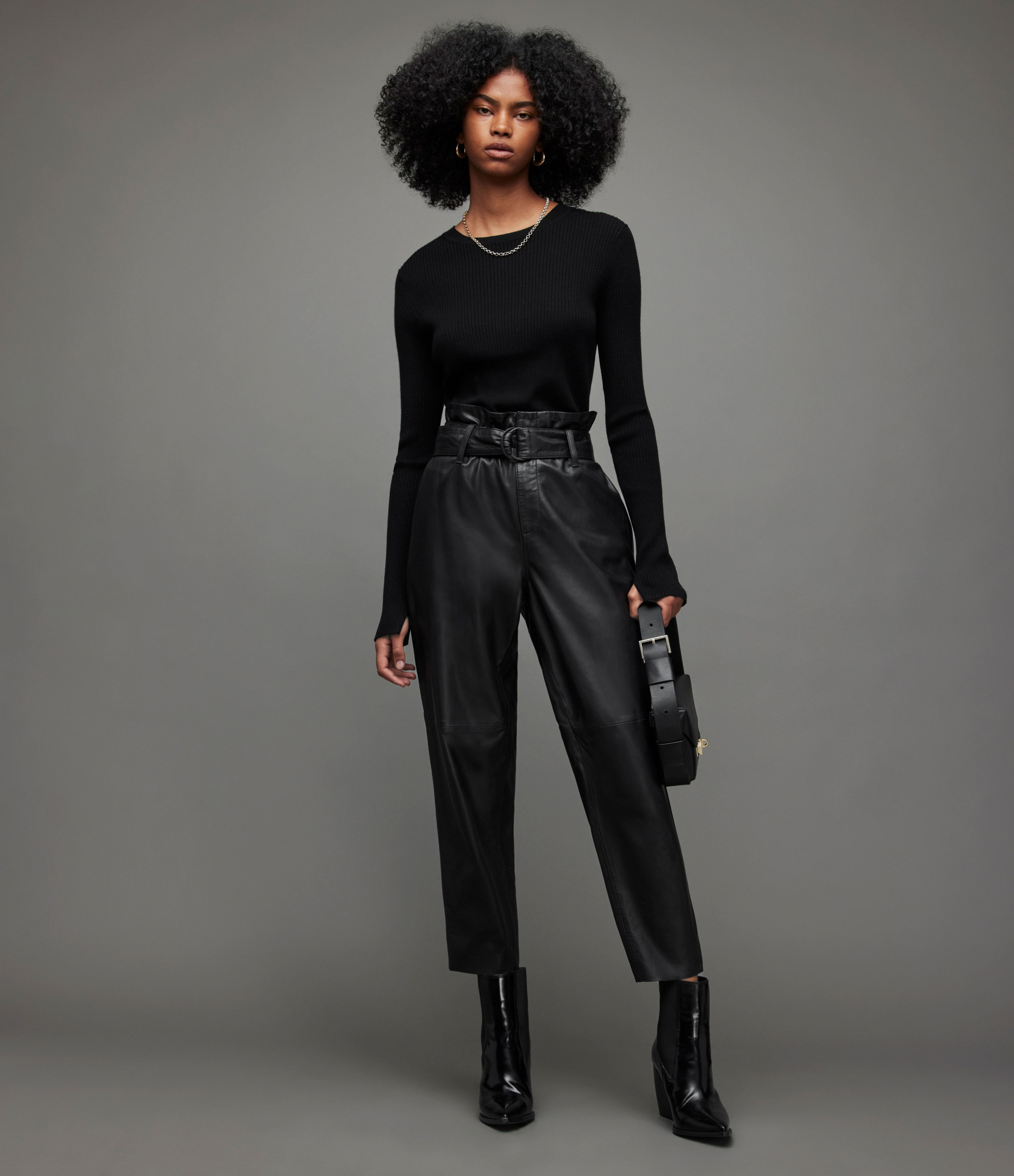 Jeans
I'm a huge jeans person, so I have 3 pairs that I wear regularly.
These are a pair of black skinny jeans that go with everything, a pair of light-wash 90s boyfriend jeans (loose + comfortable), and a pair of Agolde ripped jeans that are comfy yet make a statement.
For your own wardrobe, think about how many pairs you need. While you don't want to go overboard, think about 2 or 3 styles that you like and get a pair in each. You'll also want to consider whether you have any dark wash jeans, as these are a great match for fall and winter clothes.
Wide-Leg Trousers
I remember being a teen and thinking how I'd never wear anything but low-rise skinny jeans, ever. I find it hilarious thinking back on that now.
Finding a comfortable pair of high-waisted, wide-leg trousers gives you the literal comfort of pajamas while looking like you just walked off a runway. You don't have to go ultra wide-leg like with palazzo pants—it's enough to just have something that's not ultra tight to get that comfort.
Leggings
A simple black pair of leggings give you the comfort of athletic clothing while still having the ability to dress up any outfit.
When choosing your leggings, go for comfort and quality fabric. My everyday leggings are actually exercise leggings (which they double as) from Popflex Active. They have super flattering designs while ditching the front seam in their newer designs (no camel toe here!).
Dresses and Jumpsuits
Sweater Dress
Sweater dresses are perfect for those cold, rainy days when you just want to roll out of bed. One dress, and outfit solved!
Plus, you can wear your sweater dress loose or accessorize it with a wide belt for an instant change.
Jumpsuit
I'm obsessed with jumpsuits because a) they're literally a complete outfit, and b) they can be soooo comfortable.
For fall, I tend to go for a black jumpsuit. This means I can wear it during day or night, as well as transition it to any other season! Plus, black looks great with any tone of jewelry, particularly gold.
Little Black Dress
While the LBD can go with any of your seasonal capsule wardrobes, I think it works really well for fall.
Pair it with tights and booties for a simple day outfit, or a pair of killer heels for a party. You can't go wrong!
Skirts
Maxi Skirt
Maxi skirts are perfect for fall because you can layer them with leggings or tights for invisible, added warmth.
There are also tons of styles to choose from, whether you want a knit maxi or a pleated chiffon one.
Shoes
Comfortable Shoes/Sneakers
Comfy sneakers are an important fall wardrobe staple because they're a lifesaver during those beautiful fall walks.
My go-to's for this are my white canvas Keds and my Converse-style sneakers, but popular options include classic black Vans, Nikes, and the 80s-style Reeboks that are making a resurgence!
Remember—you can even wear sneakers with a blazer, so don't think you only have to match them with your gym clothes!
When I'm feeling fancier, I'll replace my comfortable sneakers with a pair of comfy-yet-fashionable Oxfords!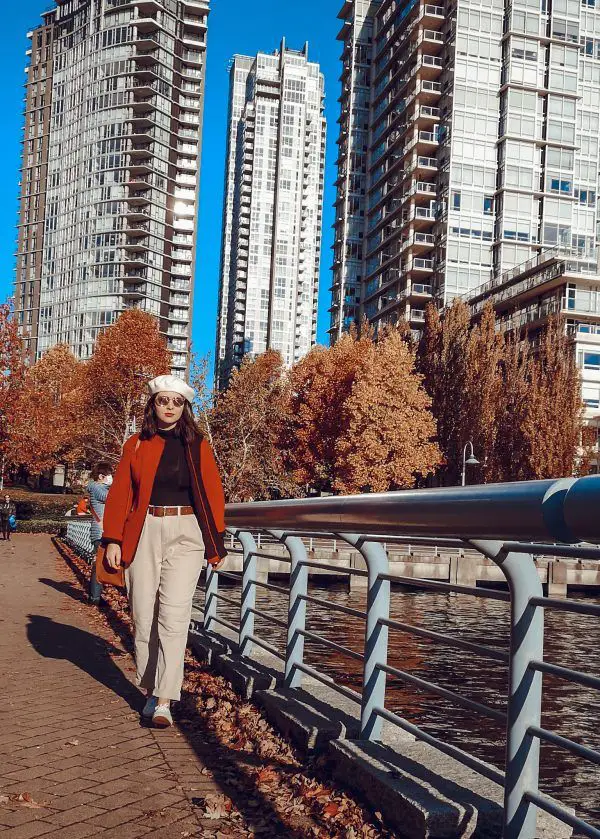 Tall Boots
For fall, a pair of tall boots (even knee or thigh-high boots) works super well for creating a statement. My dream pair of tall boots are the Stuart Weitzman Midland Boots… one day!
To make sure your boots are as versatile as possible, pick a neutral color like brown, black, or beige.
Short Boots/Booties
Short boots are an essential staple because they work with any hem length. Plus, there are so many styles out there these days, from cowboy-style boots to my favorite, the edgy Doc Martens.
What I would caution against are peep-toe boots, as these aren't wearable for most of the year, as well as suede boots if you live somewhere rainy.
Accessories
Wool Hat
Wool hats are a great way to stay warm, yet make a statement during the fall season.
For fall, the most popular wool hats are wide-brim ones (in the cowboy hat style). You can also find wool cloche hats, beanies, and berets.
Blanket Scarf
Blanket scarves are the epitome of coziness, and all I want to do is wrap myself in one and cozy up with a cup of tea and a good book.
If you wear a lot of neutrals, consider getting a patterned blanket scarf. You can also play with shades of the same tone/color (e.g., varying beige shades if you also have a beige coat).
Crossbody Bag
Crossbody bags are my favorite everyday bags because they keep my hands free when I'm walking.
I like to keep 2 crossbody bags around—one small one for essentials (phone, keys, cardholder) if I'm just making a quick run to the store or going for a walk.
Then, I'll have a slightly larger one for carrying larger items or for going out. If you want a minimalist bag that can go with everything, look for neutral colors, but watch out for interesting details like the shape of the flap or the hardware, which can take a bag to the next level!
Tote Bag
Tote bags are perfect because they can literally carry everything you need, which is perfect for things like your water bottle, umbrella, or even an extra pair of socks.
Tote bags don't always have pockets inside (making you rifle through it every time you need to find something), so consider getting an organizer that you can put in it.
Brands that are particularly excellent for tote bags are Kate Spade, as well as Matt and Nat for vegan leather options.
How to Stay on Budget for Your Fall Capsule Wardrobe
A fall winter capsule wardrobe can be one of the hardest for budgeting just because the fabrics (and pieces) tend to be more expensive.
My top tip for saving money when building your capsule wardrobe for fall is to invest in quality, timeless pieces while thrifting most of the rest.
For example, I like to invest in high-quality denim that will last me a long time and won't stretch out. This is because these are some of my most worn pieces.
As for sweaters, I find that it's pretty hit-or-miss when it comes to quality, even if you always shop from the same brand. Even if you take all the steps to make your clothes last longer (like avoiding the dryer), I find that sweaters tend to stretch out or pill eventually.
This is why I don't spend a lot of money on them unless I'm absolutely in love with a design. So, I'll go thrifting to find comfortable and warm designs that I may not have found at the store.
And if you're looking for a specific style, you can try thrift shopping online to find exactly what you're looking for!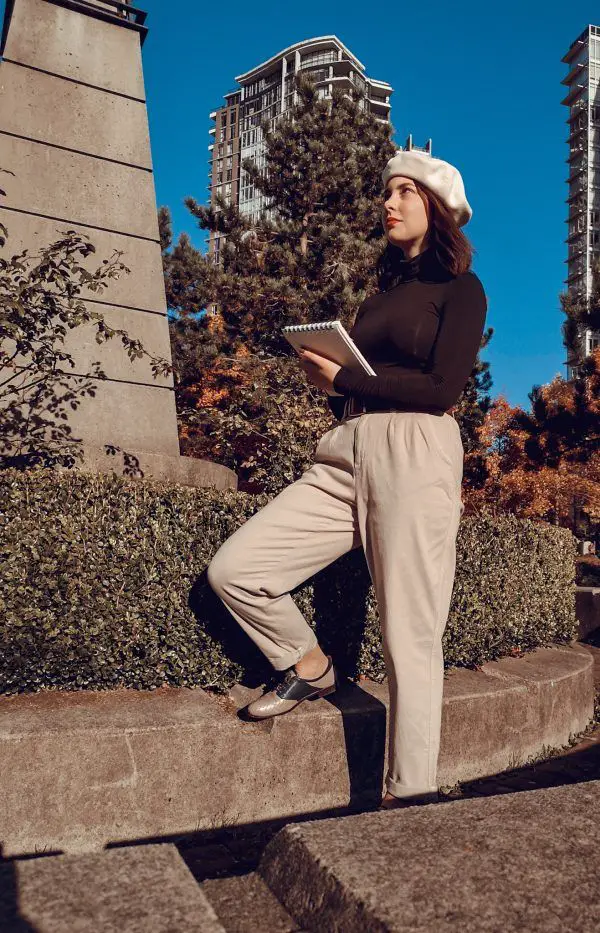 How to Arrange Your Fall Clothes in Your Closet
One of the biggest pitfalls of fall capsule wardrobes is that the temptation to create a pile of sweaters in your drawers or shelves is real.
So if you don't want a sweater avalanche, I suggest taking a bit of time to arrange everything in your closet so it's easy to find.
What I do is hang up anything that won't stretch out or get damaged by the hangers. This includes flannels, t-shirts, and some chunky cardigans. Then, I fold the rest (like sweaters) and neatly fold them on my closet shelves or in a chest of drawers.
If you're not sure what you can hang up, check the item's care label or look up whether you can hang that particular fabric. I've mistakenly hung sweaters before and they ended up with horrible indentations in the shoulders because of the hanger.
If you're often in a hurry, one of my top tips is to hang items that can go together. This also saves you a lot of closet space.
For example, I have a Nirvana band t-shirt that is a huge go-to for summer. To transition it into fall, I pair it with a tan chunky cardigan. In my closet, I'll hang up the shirt and the cardigan together to make the outfit easy to grab and go.
Frequently Asked Questions about Capsule Wardrobe for Fall
How Many Pieces Are in a Fall Capsule Wardrobe?
While some people suggest as little as 10 pieces for a fall capsule wardrobe, I find that this is too little, especially if your local climate varies a lot for fall.
If you look at the pieces I've suggested above, that brings your fall capsule wardrobe to around 35 pieces. While this may seem like a lot, keep in mind that you can repurpose many items from other seasons.
It's always best to start out with fewer pieces and prioritize the essentials. Then, you can notice what you're missing and add more from there. This approach will save you a lot of money in the long run!
How Do You Build a Capsule Wardrobe in the Fall?
Ideally, you'll want to start building your capsule wardrobe right when fall starts so you can get the best picks at the stores (before everything sells out).
To start your capsule wardrobe for fall, always take stock of what you have first. Then, identify what you're missing and make a list. Remember to prioritize essentials like jeans and basic tees and sweaters so you get the most wear out of your wardrobe.
How Often Do You Do Laundry with a Capsule Wardrobe?
With my own capsule wardrobe, I'm able to do my laundry once a week. This doesn't mean that I wash each piece every week—just what's been worn and has gotten dirty.
To keep your capsule wardrobe lasting as long as possible, be sure to read the care instructions on your clothes. I tend to wash all my colorful clothes on "cold" and "delicates" so the colors don't run.
How Many Pairs of Pants Are in a Capsule Wardrobe?
I'd suggest 4-7 pairs of pants for your fall capsule wardrobe specifically. You don't want so few pairs that you completely wear out what you do have, but you don't want so many that you create a pile of clothing you never wear.
For me, these are: 3 pairs of jeans, faux leather leggings, 2 pairs of trousers, and one pair of rain pants for those rainy days.
How Many Shoes Do I Need for a Capsule Wardrobe?
I would suggest 3-5 pairs of shoes for your fall capsule wardrobe.
Make sure you have something lightweight like sneakers for warmer days and long walks, as well as something waterproof and warm (like boots) for those crisp and rainy days.
How Long Does a Capsule Wardrobe Last?
If you take care of it properly, your capsule wardrobe should last you years! This is especially true if you've gone for timeless pieces.
For the items I want to last longer, I'll avoid putting them in the dryer and will either hang them or lay them flat to dry. For very fragile pieces, I'll hand wash them in lukewarm water with a gentle detergent.
To make sure your capsule wardrobe lasts as long as possible, invest in high-quality pieces when you can. My trick is to get gently worn pieces from high-quality brands from the thrift store, as I know I'll get more use out of it than a similarly-priced fast fashion item that's brand new.
You can also mend your clothes if they end up with small rips or lose a button, as these are easy fixes.
Here's a helpful YouTube video from Tim Dessaint that covers how to properly wash your clothes so you maintain them!
Ready to Create Your Perfect Capsule Wardrobe for Fall?
A capsule wardrobe for fall is the perfect way to feel cozy and warm, yet still put together.
To get the most out of your fall capsule wardrobe, be sure to make a list, prioritize versatile pieces, and invest in quality essentials when you can.
With these tips in mind, you're well on your way to putting together the perfect capsule wardrobe for fall. Just remember to have fun with it and choose pieces that you love!
And most importantly, always stay true to your style. Let us know your favorite fall capsule wardrobe pieces in the comments below!
Related capsule wardrobe posts:
This post was all about How to Create a Capsule Wardrobe for Fall