Worried your beloved pieces will rip too soon? Here are my favorite easy tips to keep your clothes looking great and lasting as long as possible!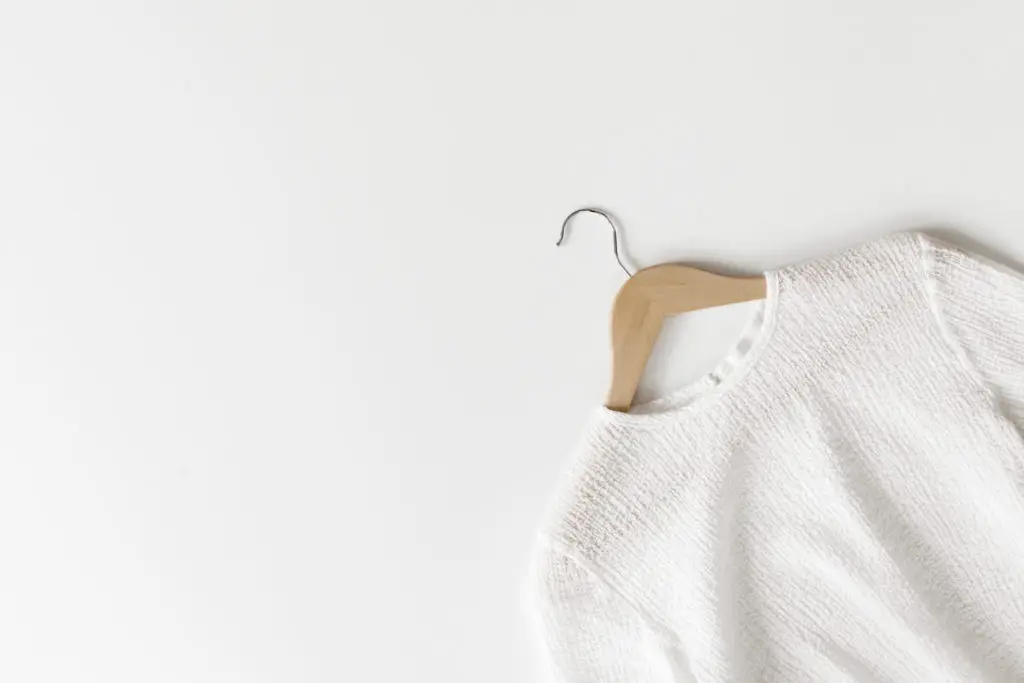 This post may contain affiliate links, which means I'll receive a commission if you purchase through my links at no extra cost to you. Please read full disclosure for more information.
Not learning how to make clothes last longer got a bunch of my favorite clothes ruined far earlier than they needed to be.
And if you're wondering "how long do clothes last?", I'll tell you that it can be a lot longer than you think if you take care of your clothes properly.
I'm not sure if it's just because I can be a bit clumsy (cue: getting tomato soup all over my freshly washed sweater or ripping a new pair of pants on the wrong washer setting), or if the quality of some of my items was negligible, but either way, I want my clothes to last as long as possible.
So, over the years, I've developed a couple of tips and tricks to help make your clothes last longer, and I'm sharing them with you so you can extend the life of your favorite pieces!
1. Wash Your Items on Delicate or Cold
One of the best ways to make clothes last longer is to be careful of how you wash them.
Of course, how you wash your clothes will depend on the item itself, so if you're not sure, you can check the labels of your clothes for the washing instructions.
Generally, with anything that's heavily dyed, I wash them on cold with like colors so that the color is preserved for as long as possible and so it doesn't transfer to other items.
You can also wash similar items like sweaters together on delicates/cold to reduce the risk of them stretching out.
For things that could easily be ripped, I make sure to wash them on delicate (I ripped a pair of brand-new linen pants because I didn't do this and barely salvaged them with an iron-on patch).
If you have access to a front-loading washing machine, it may be gentler on your clothes than a top-loading one.
To help you with this tip, you can keep several separate piles, or keep one big pile that you can sort and separate when it comes to washing time.
Since I don't have the space for multiple laundry hampers, I use some cloth bags that I got as part of store promotions and put them on top of my washing machine to have everything pre-sorted and save time.
2. For Extremely Delicate Items, Wash Them by Hand or Dry Clean Them
Again, look to the label on your items to see what the instructions are.
I don't actually dry clean anything as my skin is very sensitive and it's super expensive to take things to the dry cleaners, but I do wash my most delicate items by hand in lukewarm water (of course, if you decide to not take something to the dry cleaner's, DO SO AT YOUR OWN DISCRETION. You have been warned, haha).
When printed jeans were on trend years ago, I had a pair I loved and had only worn twice, threw them into the washing machine, and next thing you know, they were stretched out in all the wrong places and more closely resembled a potato sack (additional caution for stretchy items!).
Anyways, with things like wool, which can shrink really easily, I wash them by hand in lukewarm water, as well as silk items, swimsuits, clothes that release a lot of dye/color, or anything that's been very delicately sewn and could definitely rip in the washing machine.
Yes, it's really annoying and takes a lot more time, but you could keep a small, separate pile for things to wash by hand and then wash them all in one go (separately, of course, but in the same time frame so you don't have to set up your detergent and gloves each time).
Here's a helpful video from Dereton333 on how to wash clothes that are delicate/expensive by hand:
3. How to Make Clothes Last Longer: Air Dry When Possible
This is one of the best methods for how to make your clothes last longer, especially if the item isn't the best quality.
My rationale for using the dryer used to be twofold: it saved me time and it meant that I didn't have to iron/steam my clothes as they'd come out of the dryer wrinkle-free.
Unfortunately, I've had way too many sweaters pill prematurely because of the dryer (especially when the fabric is lower quality), and white clothes that took on a yellowish tinge when they shouldn't have.
The way that I air dry clothes is really easy: I just pick out a select few larger items like hoodies and t-shirts and put them on hangers on my shower curtain rod (that way, they tend to dry without wrinkles).
For the rest of the clothes, I set up a little drying rack like this one in my living room.
If I've got some clothes that I've hand washed and that might drip onto the hardwood, I just set up the drying rack in my bathtub.
If you're air-drying sweaters, be really careful as to how you hang them: if they become very wet and heavy, the sleeves might elongate as they dry, so it might be better to lay the sleeves flat on your drying rack instead.
This hasn't happened to me too many times (most often to sweaters that get super heavy when wet), but it's better to be careful anyways.
4. Buy Quality Fabrics When You Can
This isn't always possible, of course, but having better quality fabrics and construction will help your wallet in the long run.
For example, my wool or wool-blend sweaters pill much less than my acrylic or synthetic sweaters, and same with my cotton or modal shirts.
Better quality fabrics tend to last for more washes and wears, and their construction tends to be more durable (not always, but it tends to be the case).
Of course, even an expensive brand/item can sometimes be bad quality, so make sure to check out brand/product reviews before purchasing, if possible.
Remember that natural or better quality doesn't mean that the item isn't delicate!
As with my linen pants example in tip #1, it's important to learn how to take care of your clothes so you can give each item the proper care to enhance its longevity—not just the items you think might get worn out more quickly.
5. Store Your Clothes Properly 
This includes both what's in your closet and what you might put away in storage if you live somewhere with dramatically changing seasons. How you store your clothes will also depend on each item.
For example, sometimes hangers ruin my more elastic-y sweaters because I leave them for hanging too long and the shoulders develop these super stretched out parts where the edges of the hangers are.
So, I've learned to fold these sweaters instead and leave the hanging to sturdier sweaters and t-shirts that won't change shape so easily.
While this step might seem kind of annoying at first, you'll quickly create a system and will know which item goes where.
I've also started folding/storing items largely using Marie Kondo's method, which I read about in her book The Illustrated Guide to the Life-Changing Magic of Tidying Up. It's saved me a ton of space in my wardrobe and has made folding clothes so much easier.
6. Steam or Iron on Lower Heat, When Possible
If you want to learn how to make clothes look new again, steaming them is a great place to start.
I tend to use a steamer for most of my clothing items because it's much faster than ironing.
Plus, it takes all the guesswork out of the constant heat adjustments I'd need to make for ironing each item of clothing according to each fabric (yes, I've left permanent iron marks on too many clothes because the heat was too high—an unfortunate result of my impatience).
I've been able to steam pretty much everything except one blazer that must have had some kind of interfacing attached to the fabric, and it ended up puckering upwards and kind of ruining it (I have yet to try ironing it to try and fix it).
However, given that I used to steam tons of clothes when I used to volunteer at a thrift store, this remains the one and only time a steamer managed to ruin an item of clothing, so it's quite safe for most clothes.
Right now, I use this hand steamer by Rowenta. I used to have a standing steamer but didn't have a lot of space for it, so I find a hand one is great for saving space, especially since I only need to steam one or two items at a time.
If you're not sure about steaming an item, steam an inconspicuous area first to see if the steamer works with it or not.
Ironing, on the other hand, is great if you really need a super crisp look, want to iron some pleats on pants or a skirt, or if you've got some really stubborn wrinkles to take out.
If you're worried about damaging your clothes with the iron, place a clean cloth in between the iron and your clothes to create a barrier and make sure the heat setting is appropriate for the fabric.
7. Immediately Get Stains Out
The longer you leave a stain in, the harder it will be to remove. This is true especially for harder-to-remove liquids like tomato sauce or oil, so I advise you to wash these items as quickly as you can.
I use a stain-removal soap called Vanish, but you can find this type of stain-removing soap bar in many different brands, and plain dish soap works well for greasy or oily stains.
What I do is wet the stained area, rub the soap in well, and put the item in the washing machine with some other clothes.
Then, I leave the stained, wet garment to dry out in the sun to see if the stain will come out.
If you're like me and tend to get food all over yourself when you're eating, consider carrying around something like Tide to Go or a spare shirt so you can wash the stained one immediately if you get something on it.
How to Make Clothes Last Longer – Conclusion
I hope this blog post helped give you some tips for how to make clothes last longer.
Remember that no matter how much you spent on a piece, you're more likely to extend its longevity by taking care of it properly.
These tips will help you keep your favorite pieces in the best shape possible so you can wear them for years to come!
And if you have other tips for how to take care of your clothes, I'd love to hear about them in the comments!
Posts Related to How to Make Your Clothes Last Longer:
This post was all about how to make your clothes last longer