Creating a colorful capsule wardrobe is simple once you have a process to follow.
Are you tired of seeing endless neutral capsule wardrobes? Has the idea that you can't have a colorful closet put you off from creating a capsule wardrobe?
Then you're not alone.
The good news is that a colorful capsule wardrobe is not only achievable, but you can make one that stays true to your style as well. The key is to follow a few simple tips so you do enough planning before you buy everything.
Here are 5 easy steps to create your perfect colorful capsule wardrobe!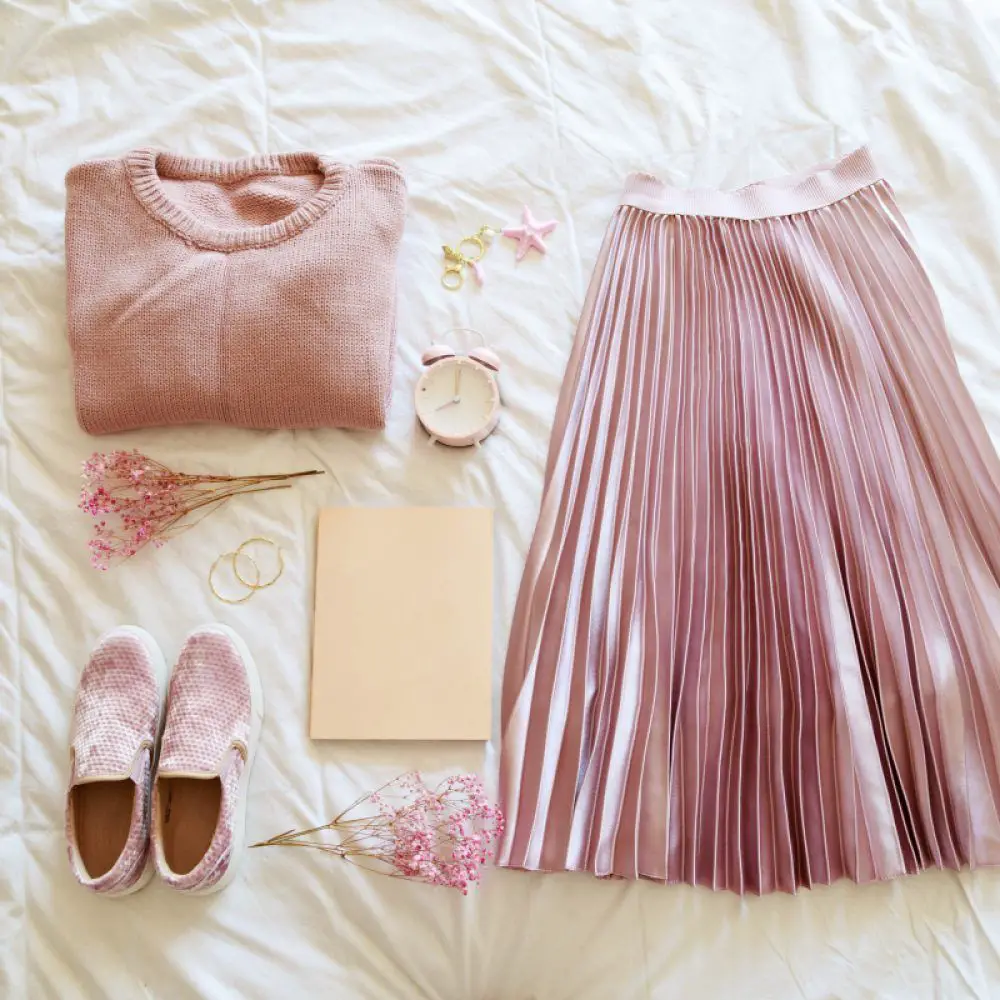 This post may contain affiliate links, which means I'll receive a commission if you purchase through my links at no extra cost to you. Please read full disclosure for more information.
1. Gather Inspiration
The first step in creating a colourful capsule wardrobe is to seek out inspiration. This helps you plan out your capsule wardrobe in advance.
Otherwise, if you just impulse buy a bunch of things you think you need, you'll probably end up with a capsule wardrobe, but not one that you like or that fits your style.
Gathering inspiration is also perfect if you're not sure of your style yet.
To save money, try to avoid throwing everything out of your existing closet if you can.
If you have some pieces that fit well and that you still like (and feel confident in), then set them aside and examine them.
Do they look like they came from the same person's wardrobe? What about them makes you feel confident?
Think about whether you would wear these clothes every day and if they fit with the style you want to portray.
Pinterest Inspo
One of the best ways to gather style inspiration is on Pinterest.
You can also gather inspiration from your favorite fashion bloggers, Instagram influencers, fashion magazines, and street style (either in real life or in the form of slideshows).
But my personal favorite way is Pinterest because it lets me make boards and gather inspiration from a variety of people.
To get started, make a board on Pinterest for your new wardrobe.
If you feel overwhelmed with all the options, try making a board for everyday outfits and another for special occasions and evenings.
This will help you sort out which types of pieces you like to wear when. You can also make two seasonal boards: one for spring/summer, and one for fall/winter.
I find that making multiple boards cuts out the overwhelm because it helps me clearly visualize which outfits I'd wear for which occasions.
For example, you may be a huge fan of jeans and a simple colorful top during the day.
But for eveningwear (such as dinner), you might love pairing colorful trousers with a colorful top in a complementary color.
Go by Aesthetic
If you're having trouble coming up with ideas, try researching or channeling a fashion aesthetic.
If you've seen words like "dark academia" and "cottagecore" online recently, then these are examples of fashion aesthetics that are popular right now.
Fashion aesthetics can refer to specific time periods (e.g. "Early 2000s") or a style of dress characterized by different looks and colors.
For example, the "Dark Academia" aesthetic features preppy clothes like tweed blazers, but with a dark color palette.
While many of the aesthetics have bright color palettes (like Kidcore or VSCO Girl), you can take the types of pieces you like from one aesthetic and combine it with your favorite colors.
This helps you take inspiration from popular outfits while still making the style your own.
And while every single outfit in your new colorful capsule wardrobe doesn't have to perfectly match the aesthetic, it's a good starting point.
If you find yourself drawn to a certain aesthetic, you can also search that aesthetic plus the words "color palette" and see what comes up. This will help for the next step of your colorful capsule wardrobe.
2. Create a Color Palette
Once you have your inspirations all in one place (preferably in the form of a Pinterest board), it's time to create your wardrobe color scheme.
Start by taking a look at your inspiration photos and see if any colors stand out to you. If any do, great! Those can be part of your color palette.
You can also upload your favorite photos to a color palette generator. These will create a color palette based on the photos you upload.
Another way to do this is by uploading your favorite photos and using a color picker. These use the eyedropper tool to let you pick out individual colors from a photo you upload.
Often, color palette generators can "suggest" additional colors based on what you've added to the palette. My favorite color palette generator is Coolors for this reason.
Another reason why I suggested looking up aesthetic color palettes is if you're not sure which colors go well together.
When you're deciding on a color palette, think about whether you want your colorful capsule wardrobe to focus on contrast or on complementary colors.
You can use a color wheel to help you figure this out. Here's a quick video on how to use the color wheel from Sarah Renae Clark:
When it comes to choosing wardrobe colors, contrasting colors are basically ones that are on opposite ends of the color wheel.
They look good together but offer more of a pop. An example of this would be blue and orange.
On the other side of the spectrum are complementary colors. These are colors that sit next to each other on the color wheel.
Examples are purple and blue or red and orange. These colors work well if you're trying to create a jewel tone capsule wardrobe.
You can also go for a less contrasting look by choosing colors in the same color family. These are either warm colors or cool colors.
For example, yellow and red are both warm colors and are in the same color family.
Finally, you can create a more understated (yet still colorful) look by mixing and matching complementary shades of the same color.
For example, a lavender top could look great with dark violet trousers. To make sure the look is cohesive, make sure you choose either warm, cool, or neutral colors and keep the color family the same.
With the example above, the colors are both cool, ensuring that you're creating a cohesive combination.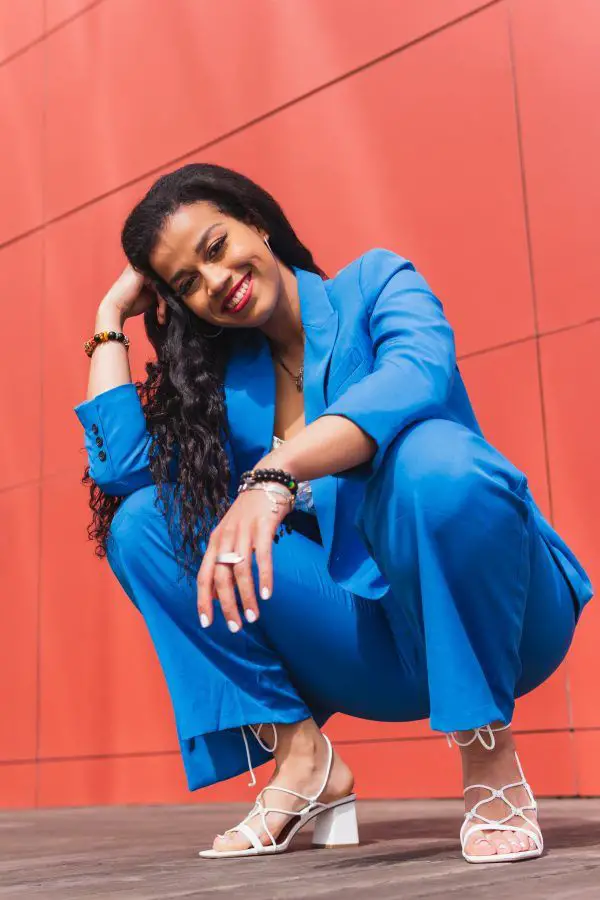 3. Decide on Your Preferences
The next step in creating a color coordinated wardrobe is figuring out how much color you want.
For example, do you want head-to-toe colorful outfits? Do you want one pop of color while keeping the rest of the outfit neutral?
Or do you want to focus your color choices on one piece of clothing (i.e. colorful shoes, colorful pants, etc.)?
For example, you may be a huge fan of colorful shoes and have quite the collection. A capsule wardrobe of neutrals and complementary colors to your shoes is the perfect way to showcase your collection.
When I wear color (which isn't too often), I tend to focus it on one area. For example, I have a neon chiffon button-up that I'll pair with a white tank and jeans.
I also have orange 1940s-style trousers that I'll also pair with a neutral top in black or white.
Here are some examples I found on Pinterest of how you can incorporate color into your wardrobe:
4. Solid Colors vs Patterns
Before you go out and buy your new colorful capsule wardrobe pieces, decide whether you want to focus on solid colors or patterns.
You may already be drawn to one or the other, but if you're not, it can be tough to decide.
On the one hand, colorful patterns can add a lot of personality and pizzazz to your outfit. They can also be fun to mix and match.
On the other hand, solid colors tend to be more versatile and can be mixed and matched more easily. They're also great for transitioning between seasons.
If you can't decide, why not choose a mix of both? This way, you can even pair your solid colors with your patterns to create a truly memorable colorful outfit.
A Note on Mixing Patterns
Another way to create eye-catching, colorful outfits is to mix your patterns. This can easily get overwhelming, however, so you want to keep a few things in mind as you mix patterns.
The first thing to remember is to pair simple and complex patterns.
For example, you can mix thin stripes (a simple, subtle pattern) with a large paisley pattern (a louder, more complex pattern) so you don't overwhelm the eye.
To keep the outfit cohesive, try using colors within the same color family or tonal range. For example, you could pair pastels like baby blue and baby pink, or pair lighter and darker shades of the same color.
Here are a few examples of pattern mixing with colorful outfits:
5. Pick the Right Neutrals
The final step to creating your color capsule wardrobe is picking the right neutrals to go with each outfit.
To start, take a look at your existing color palette. You'll want to choose 2-neutrals to complement your chosen colors (and maybe more if you want to focus on pops of color, which instantly elevate your outfit).
For example, if you're working with a jewel tone capsule wardrobe, you may want to add some cream and black into the mix.
These neutrals act as a blank canvas for your colorful wardrobe. They help to break up the colors and help them stand out.
You can choose more than 2 or 3 neutrals if you have lots of different, vibrant colors to add to your wardrobe. Add them to your digital color palette first to make sure they go together!
Here are some colors that go well with common neutrals:
Navy: orange/coral, red, fuschia, turquoise, yellow, green
Tan: mint, baby blue, lavender, baby pink, khaki, seafoam
Taupe: gentle blues like seafoam and sky blue, dusty pink, lavender, olive green, mango yellow
Cream: warm colors like peach, baby pink, custard yellow, aubergine, berry
Black/white: these look good with both warm and cool colors. Yellow and black, for example, offer a punch with high contrast
If I'm having a hard time visualizing which colors go well together, I tend to look at paint swatches or interior design color schemes online.
These are perfect for figuring out which neutrals you want to pair with which colors. You can even use a color picker tool to add the neutrals you like to your color palette.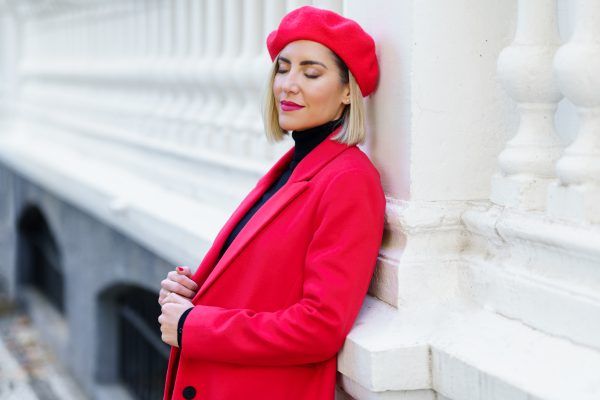 Create a Colorful Capsule Wardrobe with These Tips
Now that you know the basics of creating a colorful capsule wardrobe, it's time to put these tips into practice!
Start by taking inventory of your current wardrobe. See what colors you have and what colors you're missing.
Then, begin to build your capsule wardrobe piece by piece. Remember to focus on quality over quantity and to mix and match your colors and neutrals to create unique outfits.
With a little bit of planning, you'll have a colorful capsule wardrobe that perfectly reflects your personal style!
Related capsule wardrobe posts:
This post was all about 5 Steps to the Perfect Colorful Capsule Wardrobe