Picking your capsule wardrobe colors doesn't have to be a complicated or stressful process.
Are you sick of reading conflicting advice for choosing your capsule wardrobe color palette?
While investing in a capsule wardrobe is one of the best things you can do for your budget and style, picking the right colors is often what stops people from even starting.
And to really reap the benefits of a capsule wardrobe and make getting dressed a breeze, you need to have your capsule wardrobe colors picked out ahead of time.
Below, I'm sharing 7 easy tips for you to pick the perfect capsule wardrobe colours that suit your style!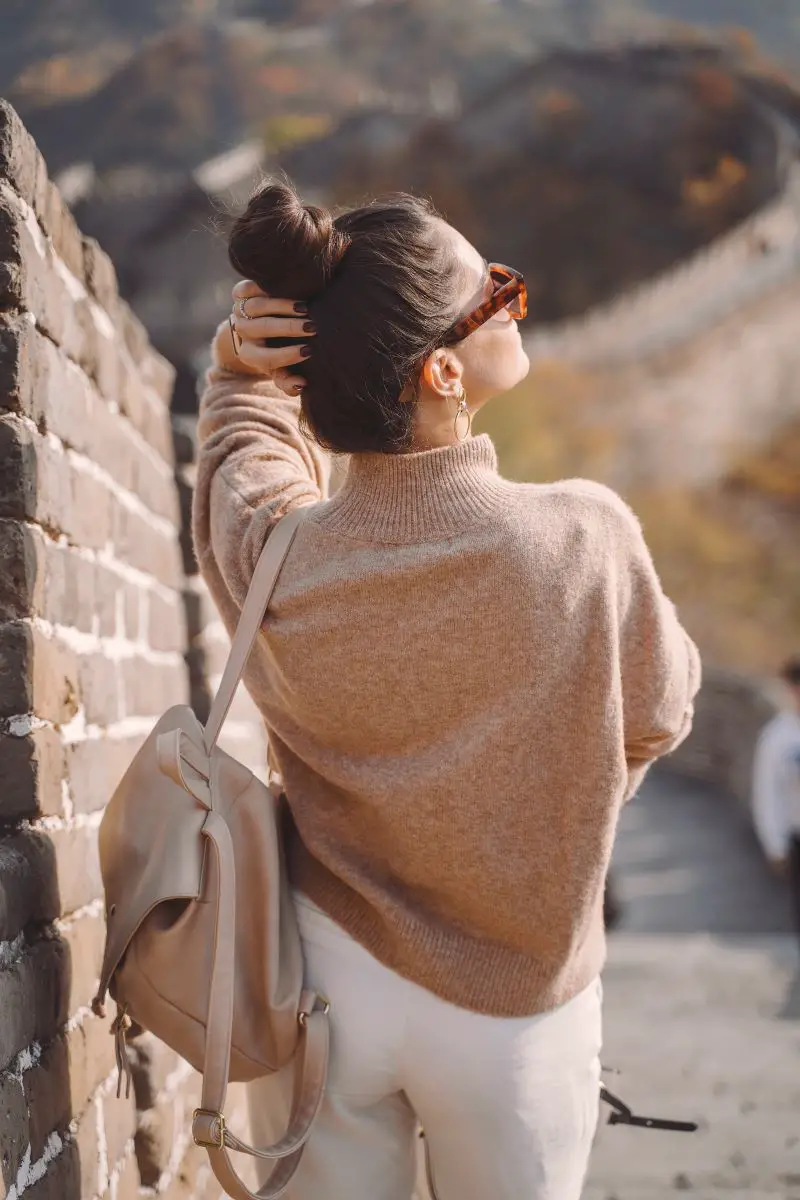 This post may contain affiliate links, which means I'll receive a commission if you purchase through my links at no extra cost to you. Please read full disclosure for more information.
1. Determine What Colors You like to Wear
When it comes to clothing colors, the common wisdom is that you should pick colors that flatter your skin tone.
And while I'm a firm believer that you should wear whatever you want, this metric does help if you're stuck on what colors to pick.
Usually, experts recommend finding your skin undertone. This helps you figure out which clothing colors will flatter you the most (this also extends to lipstick colors, hair colors, and even jewelry metals!).
Your skin undertone is the hue that's underneath the surface of your skin.
There are 3 skin undertones: neutral, warm, and cool. One of the most common ways to figure out your undertone is to examine the veins on your wrist.
If they're greenish, then you probably have a warm undertone. If they're more purple/blue, then you probably have a cool undertone. If it's hard to tell, then you probably have a neutral undertone.
If you're having trouble figuring out your undertone by looking at your veins, there are some other methods you can use as well.
For those with warm undertones, stylists often recommend earthy tones like olive green, warm red, mustard yellow, and neutrals like beige, cream, and taupe.
For cool skin tones, check out colors like jade green, dusty pink, medium blue, off-white, and shades of gray.
As for neutral skin tones, people recommend vibrant colors that aren't too bold, such as dusty mauve, peach, and mint green.
Here's a video from fashion designer Justine Leconte, which goes into a lot more detail about matching colors to your skin undertone:
Like I said, this doesn't have to mean you can never wear clothes outside of the color palettes that flatter you. I wear colors that aren't necessarily flattering all the time and I don't care because I like the clothes!
Instead, use these recommendations as a helpful template if you're stuck with creating a color palette and need a place to start.
It also helps you feel more confident while you're building your new wardrobe.
2. Choose a Palette of 7-8 Colors
A color palette for your wardrobe makes getting dressed in the morning a breeze because you'll never have to wonder if your clothes go together.
If you're just starting out with your capsule wardrobe, I would recommend creating a clothing color palette with 7-8 colors. This will reduce your sense of overwhelm, and you can always add more later.
And when it comes to capsule wardrobe colour palettes, I see a lot of bloggers and stylists recommending almost exclusively neutrals.
This doesn't suit everyone's taste, so don't think that you have to pick only shades of gray or beige.
However, it is important to have some neutrals in your closet even if you're a lover of bold colors and patterns.
These neutrals act as a base for you to mix and match your bold colors and patterns. This way, you create focal points for your outfits without overwhelming the eye.
It also makes it easier for you to buy as many colorful pieces as you like without worrying whether they'll match the rest of your closet.
For example, let's say you have a lot of colorful, patterned tops. You could get a few pairs of neutral bottoms to go with them, such as jeans, beige trousers, and a black skirt.
These bottoms make it super easy to pair almost any colorful top with them and make getting dressed super fast and easy.
You can also experiment with pairing shades in the same color family together. For me, I like to layer a taupe t-shirt with a brown cardigan, but you can do this with vibrant colors too!
Keep in mind that your color palette could also vary by season. For example, you might wear lots of bright colors in the summer but might prefer muted colors like wine red and dark heather gray for your winter wardrobe.
Base Colors vs Statement Colors
When you're creating your color palette, it's also helpful to think about which colors will act as base colors and which ones will be statement colors.
Base colors are the colors you'll build the rest of your outfit around. These are typically neutrals like black, white, navy, gray, and brown.
These will act as the base for your wardrobe and make it easier to mix and match pieces.
If you like wearing cool-toned colors like turquoise and purple, then varying shades of gray are a good choice for base colors.
For those that love warm colors like red and yellow, beige and camel/sandy tones are a good choice. And of course, black and white are perfect for both warm tones and cool tones.
Statement colors are the colors that you'll use to add a pop of color or interest to your outfit.
These are usually brighter or more vibrant colors like yellow, pink, green, and blue.
You don't need to have an equal number of base colors and statement colors in your wardrobe.
Instead, choose the colors that you love to wear and that make you feel good. Just make sure you have enough neutrals to pair your colorful tops, pants, and skirts with.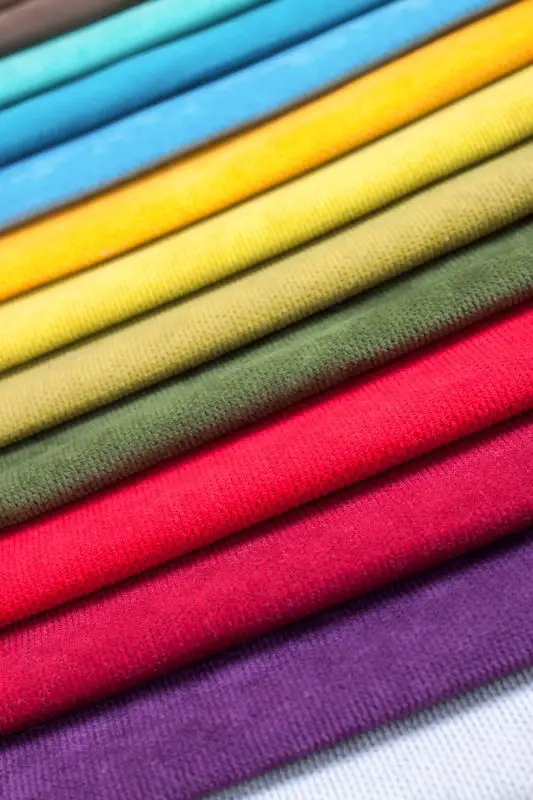 3. Get Inspired by Your Favorite Things
A key part of finding your style is figuring out which aesthetics, colors, and moods you're drawn to.
This is the part I think is the most fun when it comes to figuring out how to choose your color palette for clothing.
If your mind is drawing a complete blank for your color palette, then turn to the things that give you the most inspiration. They don't have to be clothes!
Here are a few examples of color inspirations taken from real life:
Colorful birds or other animals
Beaches
Deserts
Cars
Art
Architecture
Movies
Cities
Your favorite outfits
Celebrities whose style you admire
Runway outfits
The displays at your local clothing stores
Clothing or lifestyle aesthetics (e.g. cottagecore, early 2000s)
In essence, they're colors, moods, and aesthetics that you're naturally drawn to.
You might find joy in dressing in the color palette of your favorite fashion era, channeling your favorite movie characters, or just trying out different aesthetics depending on your mood!
4. Look at Your Existing Palette
Before you go and give all your clothes away, take a look at your existing wardrobe and see if anything can be salvaged.
This is hugely important if you're looking to redo your wardrobe on a budget.
But while this tip can help you save quite a bit of money, it only works if you actually like the colors that are already in your wardrobe.
If what you already have makes you feel frumpy and not confident at all, then you'll have to start from scratch.
For this step, it's helpful to take everything out of your closet. Separate your clothes into neutrals and bold colors/patterns.
Then, try pairing them together to see if the clothes look good. Also, figure out whether you've actually worn any of these combinations. If not, it may be time to give some clothes away.
For example, let's say you have lots of gray clothing in your neutrals pile. As for your colors, you have red, forest green, and orange clothes. Since gray is a cool tone, these warm-toned colors don't always make the best match.
The same goes for taupe and beige (warm) mixed with mint green, sapphire blue, and baby pink (cool).
In this case, you'd want to figure out whether you'd like to keep more of your neutrals or your colors. Trying each item on and seeing how it fits can help make this decision easier.
What you don't want to do is keep everything and then fall into the trap of buying an entirely new outfit for each colorful top you want to keep.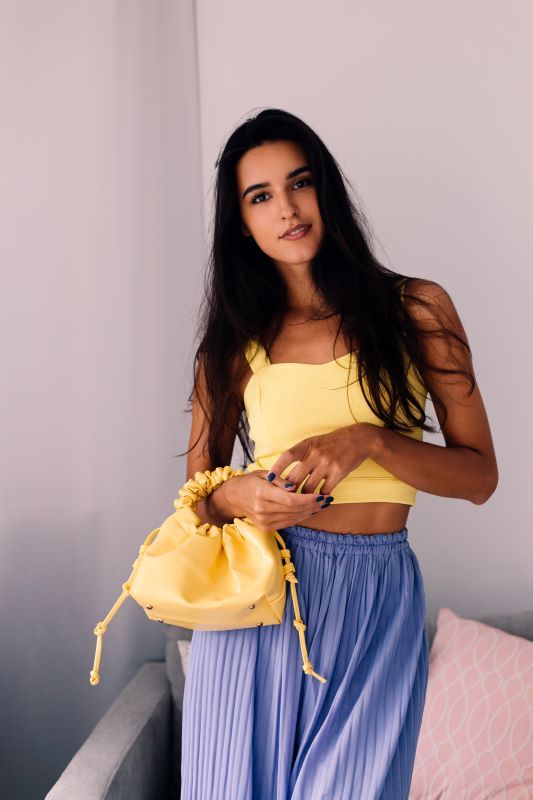 How Many Neutrals to Keep
When creating your color palette, you'll want to think about how many neutrals to keep in your wardrobe.
This really depends on your personal style and what you feel most comfortable wearing.
Some people love wearing all neutrals because it's easy to match them together. I personally love neutrals because they're understated and are a great canvas for bold makeup and accessories.
Others prefer a mix of neutrals and bold colors because they love how interesting and fun these combinations can be.
There's no wrong answer here. It really just comes down to what you prefer.
If you're not sure how many neutrals to keep in your wardrobe, start by picking out your favorite wardrobe colors.
Then, see which of your neutral/base color items you could pair with each item. Keep the ones you'll wear the most and give away something you'd only wear with one outfit, especially if you're not likely to get any more use out of it.
5. Play with Tone and Contrast
Once you have your colors picked out, it's time to start playing with tone and contrast.
This is where things can get a bit tricky, but it's also where you can have the most fun!
Tone refers to how light or dark a color is. For example, navy blue and baby blue are both blue, but they have different tones.
Contrast, on the other hand, is the difference between two colors. For example, yellow and purple have high contrast because they're on opposite ends of the color wheel.
Colors with low contrast, like navy and gray, will give you a more subdued look.
When picking out your capsule wardrobe colors, you'll want to consider both tone and contrast. Decide how vibrant or contrasting you want your looks to be.
For example, I really enjoy layering complementary shades of brown and beige. This doesn't give much contrast, but it's a really fun way to play with tones.
And if you love bold, statement pieces, then focusing on contrast (like black and yellow) may be a perfect choice.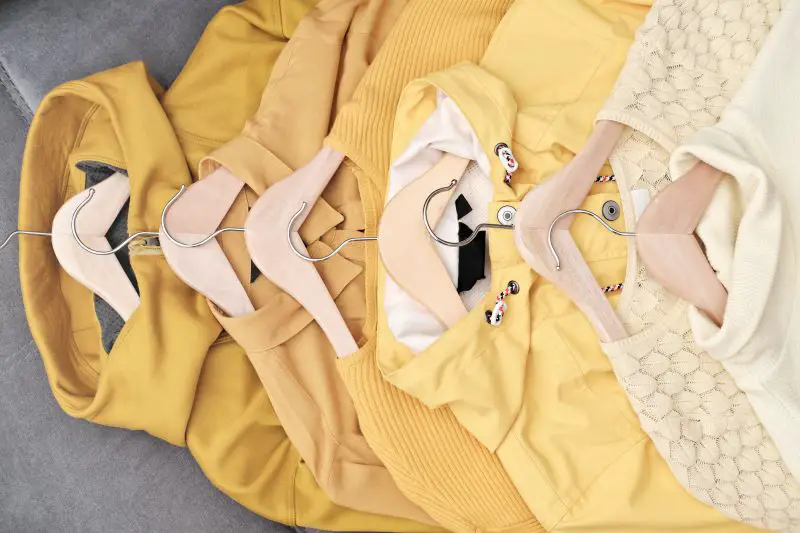 6. Use a Color Wheel
Color wheels are excellent tools for figuring out how two or three colors look when paired together. You can find color wheels online or at your local craft store.
To use a color wheel, start by finding the colors that you want to use in your palette.
Then, look at the color wheel and find the two colors that are next to each other. These two colors will usually create a nice, cohesive look.
You can also use the color wheel to create looks with more contrast. To do this, find colors that are directly across from each other on the wheel.
For example, dark turquoise and orange make a beautiful and eye-catching color contrast.
7. Build a Custom Palette
Your final step is to build a custom palette with the colors you've selected. When you see the colors together, you'll really get a feel for whether they work well or not.
You can also print out your color palette and take it with you when you go shopping. This makes picking out clothes much easier and helps you try on complete outfits right there at the store.
One way to start out with your palette is to find your favorite inspirational images and upload them to a color picker.
You can use the eyedropper tool to find the hex code for the exact colors you find in the image (which you can then upload to Canva).
You can also use color pickers to generate color palettes from the image you uploaded.
A great way to create your ideal wardrobe color palette is to create a document on Canva and add in 7 or 8 blank circles.
You can then fill in these circles with the colors of your choice. This will help you see if your chosen colors look good together.
An even easier option is to use an online color palette tool like Coolors. With this tool, you can create your own custom palette or have it generate one for you.
Example Capsule Wardrobe Colors
Here are some great example capsule wardrobe color palettes from Pinterest:
Create Your Perfect Capsule Wardrobe Colors
Now that you know how to choose the perfect colors for your capsule wardrobe, it's time to put your knowledge into practice.
Start by taking a look at your current wardrobe and seeing what colors you're already working with.
From there, start building your palette by adding in a few new colors that you love.
Remember to experiment with different tones, shades, and contrasts to create a wardrobe that's truly unique to you.
With a little bit of effort and experimentation, you'll have a capsule wardrobe full of clothes that you love to wear and that make getting dressed a breeze!
Related capsule wardrobe articles:
This post was all about 7 Easy Ways to Choose Your Capsule Wardrobe Colors (And Make Getting Dressed a Breeze)