Tired of only saving your blazer for the office? Here's how to find your perfect skinny jeans and blazer outfit so you can wear your blazer casually!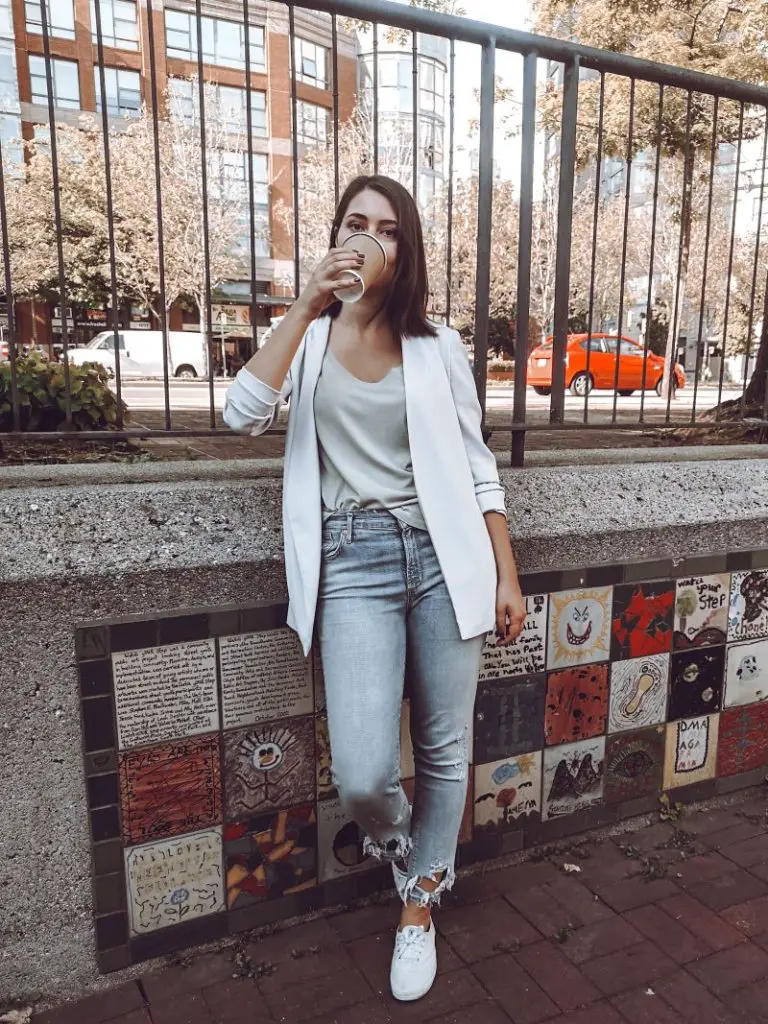 This post may contain affiliate links, which means I'll receive a commission if you purchase through my links at no extra cost to you. Please read full disclosure for more information.
A skinny jeans and blazer outfit is one of the best ways to get more wear out of your blazer.
We all have that one item we'd love to wear more often. It might be your favorite little black dress, a pair of heels, or a jacket. In my case, it's a blazer I bought at Aritzia a few years ago.
I love how artsy and cool it looks, but I'd only previously worn it to a New Year's party and to my university grad. Given that this blazer wasn't cheap, I couldn't just let it sit in my closet and develop the permanent scent of mothballs (I don't actually use mothballs, but you get the point).
So I challenged myself to wear this blazer more often by pairing it with jeans and sneakers. Whatever type of blazer you have, I guarantee you can find more uses for it than that one special occasion or those awkward family get-togethers where that aunt you haven't seen since you were two asks if you remember her.
These are my favorite tips for finding the perfect skinny jeans and blazer outfit that works with your style and closet. And yes, even for that blazer you impulse bought.
Tip #1: Look at What Style Blazer You Have
The first thing to when figuring out how to wear a blazer with jeans is to see what kind of style blazer you have. Is it a more formal style? Or is it already casual? What fabric is it made out of?
Look at the color and the cut. Is it warm-toned or cool-toned? How low is the cut?
For example, my blazer is fairly long on me and has very clean-cut lines. So, high-waisted jeans might create interesting, contrasting lines with the length of the blazer.
You also don't have to specifically look for blazers to wear with jeans—they literally
Whatever style of blazer you have, the vibe it gives off can help guide you in your choice of t-shirt, jeans, and shoes. My blazer gave me artistic vibes, so I opted for a kind of casual city artist vibe (if that's not a thing yet, I'm making it one!).
Blazer Ideas
Tip #2: Take a Look at the Jeans in Your Closet
Next, pick your jeans. I opted for these skinny jeans because the rips make them a bit more casual (as well as the cropped length).
I love my Sophie Crop jeans from Agolde (they don't have them anymore, unfortunately) because they're not skin tight and they're SO comfortable. Plus, the quality has held up for several years now, which I'm super glad about.
If you want to accessorize further, can also add a skinny belt to your jeans for added contrast.
You don't have to use light-wash jeans to make your skinny jeans and blazer outfit casual, though.
You can use any type of wash, from totally white to solid black jeans. To make the outfit more casual, you can go for a straight-leg jean that's slightly distressed, like these Levi's jeans. Just make sure that the wash of your jeans complements your blazer and the t-shirt you choose.
Tip #3: Choose the Right Shoes
For any blazer and jeans combination, you want to pick shoes that look good with skinny jeans. The key with this type of outfit is to keep it looking casual yet upscale, so the runners you wear to the gym probably wouldn't be the best option.
You can choose a more compact, low-profile sneaker or Converse in a solid, neutral color. If you have a pair of more casual Oxfords, those would work well, and so would loafers.
For this blazer and sneakers outfit, I'm wearing Keds' classic Champion sneakers in canvas.
I find them to be such a great shoe since you can wear them with pretty much anything. What's great about canvas shoes is that they start to feel as comfortable as socks once you wear them in a little bit.
FYI, my socks are from Muji. I used to get the Keds no-show socks, but they stopped selling the cotton ones (and cotton socks are a must to prevent sweating during the summer or when you're walking for long periods of time).
Tip #4: Pick a Shirt
To make sure the outfit doesn't look too formal, one of the best picks for your skinny jeans and blazer outfit is a t-shirt.
For this type of outfit, a v-neck t-shirt is a great idea to keep the outfit casual but not so much that it looks like sportswear.
You can also add a fun graphic tee if you want to add some whimsy and detail to the outfit. A graphic tee also helps keep things casual. Just watch that the neckline doesn't intersect at a weird angle with the top of your blazer.
You want to stay away from any shirts you'd wear to the office, as your outfit would probably end up looking more business casual when combined with your blazer.
At first, I thought the color combination of my gray blazer and mint green t-shirt was a bit too "off," but I found that they were quite interesting once I paired them together.
If you're experimenting with color combinations that are outside of your comfort zone, you want to try the items on together before you decide if you like the combination.
Tip #5: Add a Bag
For this outfit, I kept it simple and didn't add a bag, but a casual bag would work best to offset the "formalness" of the blazer.
An off-the-shoulder bag might work depending on the cut of your blazer, or a chunky shoulder bag (I'm thinking of something in the slouchy shape of Stella McCartney's large-size Falabella bags).
Make sure the color of your bag fits with the colors of your blazer and shoes. If your bag is leather, make sure the color and undertones of the bag match the leather of your shoes (if you opted for leather loafers).
Bag Ideas
The brown Matt and Nat Alik bag above would make a fantastic accompaniment to a casual black blazer and add just the right amount of contrast.
Tip #6: Add Jewelry (Optional)
For casual blazer outfits, I prefer to keep my jewelry minimal. This means a pair of stud earrings or an understated pair of dangling earrings.
This doesn't mean that you need to pick boring studs, though. You can choose something like round fire opals or something cool and studded to add extra detail to your outfit.
I also like to pair stud earrings with ear cuffs. These are great especially if you don't have a helix piercing.
If you have multiple ear piercings, you can mix and match studs to create more variety.
I like to put a round fire opal earring as the first piercing and then a small, dangly earring as the second piercing in one ear, keeping just the stud on the other ear.
And since my blazer has 3/4 sleeves, a thin bracelet or a watch would work well. You can roll up the sleeves of your blazer and see how this looks.
Jewelry Ideas
Some blazers come lined with a cool fabric (stripes are popular, for example), so definitely think about showing it off if it works with your outfit!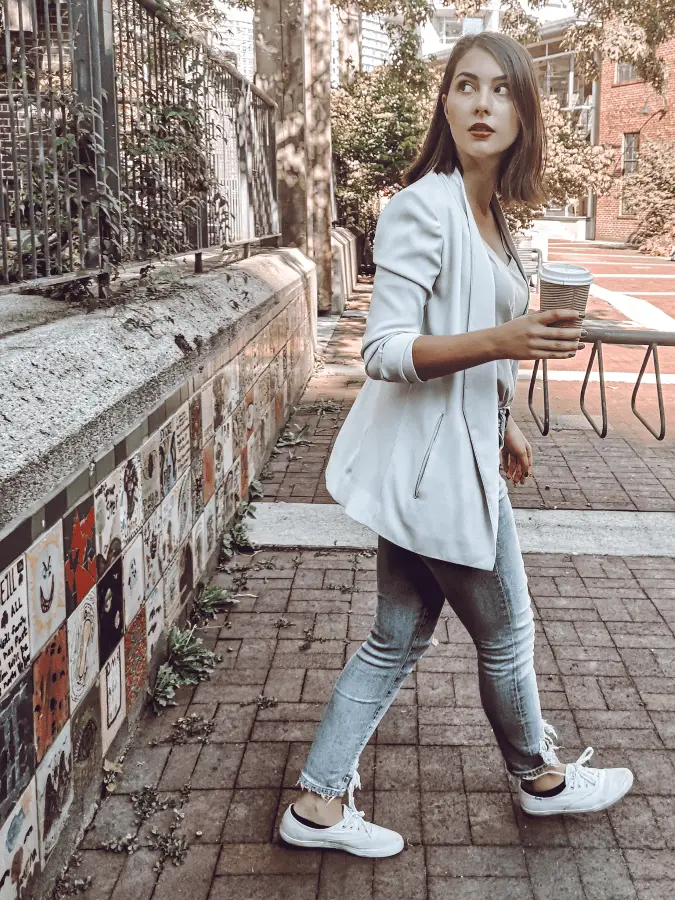 How to Find Your Perfect Skinny Jeans and Blazer Outfit – Conclusion
Finding the perfect skinny jeans and blazer outfit gives you so much more wear out of your blazer.
I also love how blazers give your outfit an instant boost without making it look too formal, especially if you pair it with sneakers.
Experiment and see which jeans you have that would work well with the blazer(s) you own, and see what kinds of unique combinations you can come up with! Sometimes, they're totally unexpected!
What's your favorite blazer and jeans combo?
Posts Related to Skinny Jeans and Blazer Outfits
This Post was All About How To Find Your Perfect Skinny Jeans and Blazer Outfit