Creating a summer capsule wardrobe is one of the best ways to create effortless outfits while saving you money at the same time! 
Are you tired of wearing the same t-shirt and shorts all summer? Do you wish that you could wear clothes that kept you cool and suited your style?
Then a capsule wardrobe for summer is the perfect solution for you!
A summer capsule wardrobe helps you reduce the number of clothes you own, which makes choosing outfits much faster. A capsule wardrobe also relies on your unique style rather than trends that will be irrelevant come next summer.
Ready to get rid of closet overwhelm and pick the perfect outfits to help you enjoy your summer? This guide will show you how to create a capsule wardrobe, give fabric tips, outfit inspirations, and more!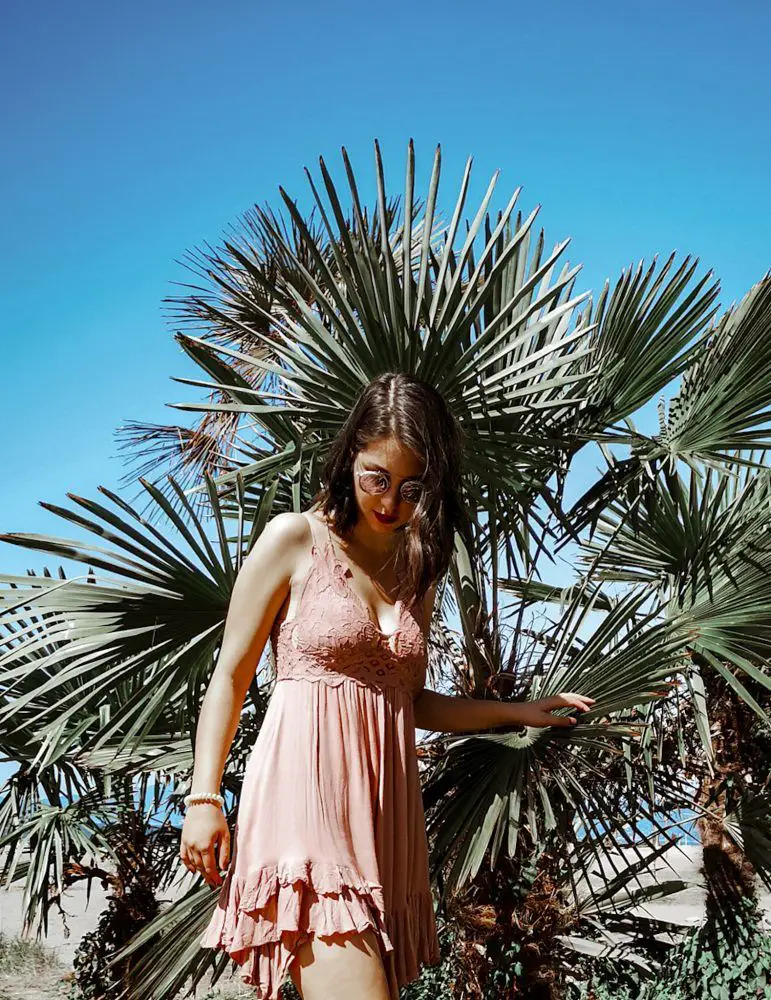 This post may contain affiliate links, which means I'll receive a commission if you purchase through my links at no extra cost to you. Please read full disclosure for more information.
Why a Capsule Wardrobe Is Perfect for Summer
Before we dive into creating the perfect capsule wardrobe, let's take a look at why it's the perfect solution for summer.
As with any capsule wardrobe (whether it's seasonal or year-round), your summer wardrobe helps you avoid the dreaded mountain of clothes that makes it impossible to see what you even have.
A summer capsule wardrobe is also lightweight and easy to pack, which makes it perfect for summer travel.
Plus, many of the pieces in any capsule wardrobe are purposely meant to be versatile. This not only saves you money, but you'll get more wear out of each item when you can wear it multiple ways.
And if you're super busy (who isn't these days?!), then you'll want outfits that you can just grab and go. This is how a summer capsule wardrobe can help you avoid fashion emergencies and get you out that door, pronto!
Finally, a capsule wardrobe can help you simplify your life and any shopping you need to do.
If you always find yourself in a panic when summer rolls around because you hate everything in your closet (trust me, I've been there), your summer capsule can help you avoid the panic and the inevitable dent in your wallet.
By taking the time to curate a wardrobe capsule that suits your style, you'll find that you don't actually have to go shopping every year. Instead, you'll have pieces you love and will wear again and again!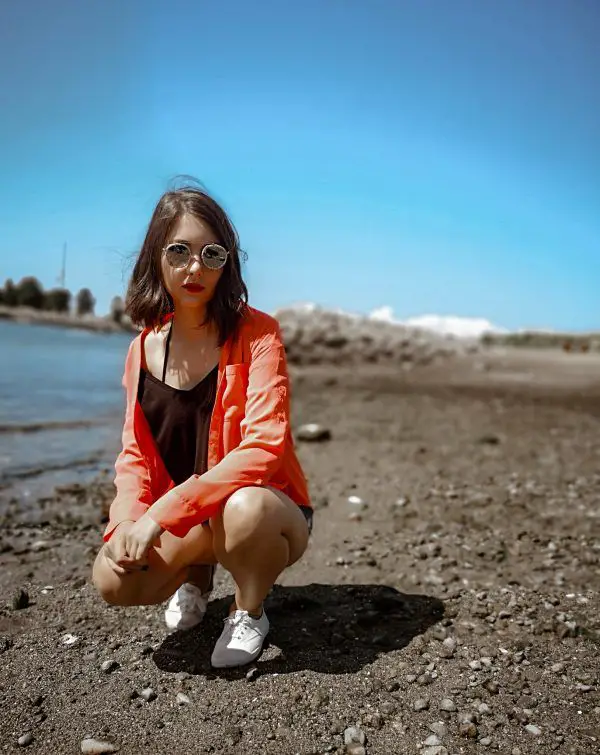 How to Create Your Summer Capsule Wardrobe
Now that we've covered why a summer capsule wardrobe is so essential, let's dive into how to create one.
This may seem overwhelming due to the number of pieces you have to put together, but it's very manageable when you take it step-by-step. Keep in mind that you may also have a lot of the pieces you need to get started!
And no matter which pieces you choose, make sure they suit your signature style.
Step 1: Start with Your Favorite Pieces
Choose items that you know you feel comfortable and confident in. Pay special attention to pieces made of summer-friendly fabrics like cotton, linen, lyocell, and denim.
Remember that you can also repurpose items from other seasons. These include tank tops, denim jackets, t-shirts, and maxi skirts.
Step 2: Consider Basics
A well-rounded capsule wardrobe should include essentials like basic tees, tanks/camis, and denim basics like shorts and a jacket.
The idea behind basics is to give you clothes to mix and match with fancier pieces. They're also great for dressing outfits up and down.
For example, let's take a plain white t-shirt. You can style it with denim shorts and sneakers for a casual look, or wear it with glittery pants for a standout evening outfit. Even the addition of a necklace can instantly take your outfit to the next level.
Step 3: Keep It Versatile
When deciding what to include in your capsule wardrobe, try to include as many versatile pieces as you can.
These include basics, but there are many pieces that can be versatile. For example, a t-shirt dress can be worn super casually with classic white Keds, or you can add a wide belt and heels to dress it up.
Other examples of versatile summer wardrobe staples include matching sets (awesome to wear together or with other pieces), button-downs (can wear buttoned up or with a tee/tank underneath), and crop tops (look great paired with jeans, fancy skirts, or athleisure pieces like biker shorts).
Step 4: Accessorize
Once you have the clothing part figured out, decide what accessories you want to include.
Don't forget items that give you sun protection, like sunglasses, a wide-brim hat/baseball cap, and long-sleeved linen tops if you have to be out in the sun during the harshest rays.
Make sure to also get a belt if you want to change the look of pieces like shirt dresses, shapeless dresses, and billowy tops.
As for accessories like jewelry, this is up to personal preference, but I find that some of the best jewelry for summer are stackable rings, necklaces, and stud earrings. A cool cuff bracelet is also the perfect statement piece to add to a jumpsuit or maxi dress for evening wear.
I tend to keep my jewelry pretty minimalist during the summer since I swim a lot, so for me, stud earrings or a pair of asymmetrical/mismatching chain earrings for non-beach days are enough for me.
Step 5: Make a List of What You Need
And once you've identified both what you have and what you need, make a shopping list! I find this to be a huge help in stopping me from impulse buying. It also makes the whole shopping process a lot less overwhelming.
If it helps you stay organized, you can also section your list by category (e.g. "tops," "skirts," etc.). Be sure to always check what you already have before you make your list or go shopping!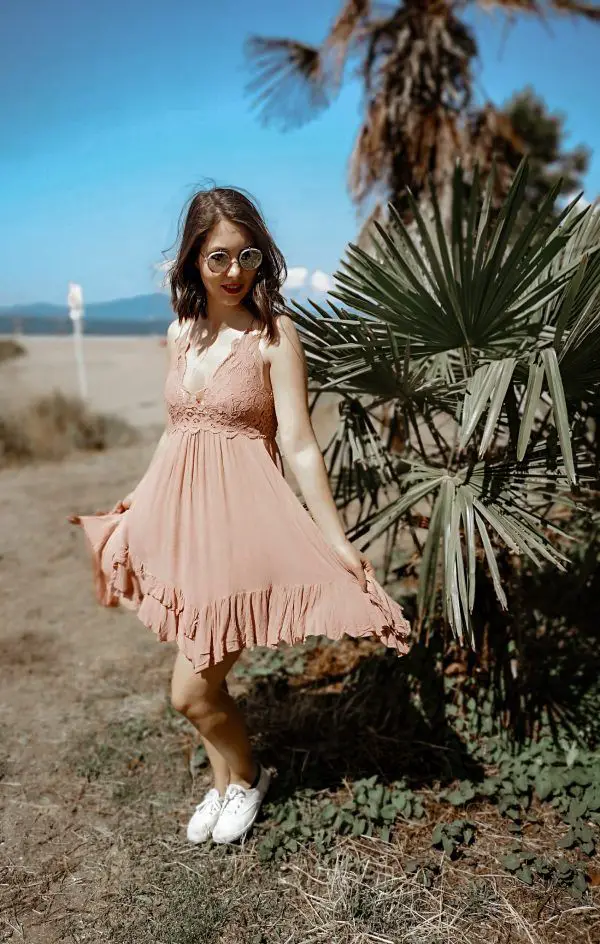 Best Fabrics for Summer
As you shop, make sure to consider summer wardrobe essentials that have breathable, comfortable fabrics (especially for those hot and humid days).
While some everyday fabrics like polyester are durable, they're a bad choice for summer as they're not breathable at all. Instead, look out for some of the fabrics below while you're shopping:
Cotton: Cotton is a lightweight, breathable fabric that is perfect for summer. It's available in a variety of colors and styles, so you can easily find the perfect piece for your capsule wardrobe. For a more eco-friendly option, opt for organic cotton instead.
Linen: Linen is another great option for summer. It's light and airy, and it helps keep you cool in warm weather. I often wear long-sleeved linen or linen pants for vacations or when I'm out during the harshest sun. Keep in mind that linen wrinkles easily, so try to hang your pieces up in your closet.
Lyocell: My favorite summer fabric of all time. This semi-synthetic fabric is breathable, moisture-wicking, and super soft. You can find it in pieces like shirts, jumpsuits, rompers, and lightweight jackets.
Denim: While denim isn't the most breathable fabric, it's a natural fiber that's excellent for layering or protecting you from windy days or cool evenings. It can be dressed up or down, and makes up durable yet comfortable staples like denim shorts. This fabric is perfect for summer days when you want to be comfortable but still look put-together.
Essential Pieces for Your Summer Capsule Wardrobe
Now that you have a good idea of the pieces that would create your ideal summer capsule, let's take a look at each type of piece in detail.
Remember to keep your lifestyle and clothing needs in mind as you go through the list. You may need more items in some of the categories and fewer in others (or none at all).
And remember—if it's not something you would wear, then there's probably no point adding it to your capsule wardrobe.
Tops
For tops, I like to focus on pieces that are easy to grab off a hanger, are comfortable, and breathable.
Graphic Tee
Having 1-3 graphic tees for summertime is one of the easiest ways to make an interesting, yet effortless outfit.
For example, I love wearing cotton band tees with a pair of Levi's 501 shorts during the summer. I pair these with my white Keds and some funky sunglasses and I'm good to go in a few minutes flat!
You can also experiment with graphic tees with cool patterns, colors, and oversized ones that you can wear loose or knotted.
Crop Top
I find crop tops essential if I wear a lot of high-waisted shorts. This way, I don't have to keep tucking long-sleeve t-shirts into my shorts.
Crop tops are also a great option for high-waisted skirts and jeans. I like to have one flowy crop top for those super hot days, and one tighter one for a super put-together look.
Cotton Shirts
While these can be any style or cut, I find that having 4-5 cotton tees gives me enough tops for the week (given that things get sweaty more easily during the summer).
These can be a mix of basic tees, colorful shirts, or something with your favorite pattern on it.
Linen Cardigan
My knit linen cardigan has been a lifesaver during summer evenings as well as on vacations where the sun is harsher than where I live.
It's also perfect if I'm going from the hot outdoors to an air-conditioned indoors (such as when I went to see a play this summer). Plus, linen cardigans are super easy to tie around your waist.
Given the stiff nature of linen, you may only be able to find a linen-blend cardigan. Avoid polyester and go for fabrics like viscose and rayon for more comfort.
Bottoms
I tend to keep my bottoms pretty simple during the summer as I want to be out in the sun as much as possible! This means items I can pair with pretty much any tops or shoes in my closet.
Denim Shorts
My go-to denim shorts are Levi's 501. Not only do they give a classic vintage look, but they come in lots of different washes.
They do start off a bit tight as they're 100% cotton, but I find that they stretch out to a very comfortable fit with wear.
If you're a huge fan of denim shorts, go for a pair in a dark wash and a pair in a light wash. One thing I love doing is matching my dark wash Levi's denim jacket with my light wash denim shorts for a 70s-style denim-on-denim look.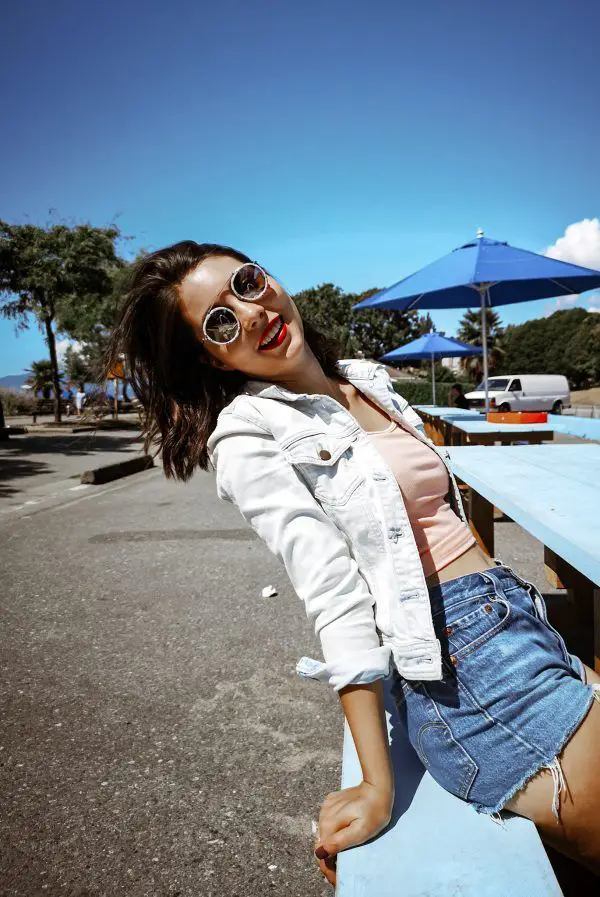 Elastic-Waist Shorts
These are for days when you're going to be active or just want to feel super comfortable.
I have two pairs of elastic-waist shorts: one blue paisley pair that's very boho, and my classic black biker shorts.
Loose, elastic-waist shorts are perfect for beach days where you still want to look put-together, and biker shorts are the perfect athleisure look for walking around or hiking!
Dresses and Rompers
Dresses and rompers are the perfect summer pick because you don't have to think too hard about your outfit. All you need to do is grab a piece, get your shoes, throw on a hat or bracelet, and you're good to go!
For summer, loose dresses are often a lot more comfortable. For rompers, structure is still okay for the heat as long as you get breathable fabrics.
Short-Sleeve Dress
This can be a midi, maxi, or mini dress, and the best options for summer are sleeveless or short-sleeve dresses.
One of my favorite stores for summer dresses is Free People. I love their effortless, boho style, and many of the designs are flowy and summer-friendly.
Romper
There are many styles you can go with in terms of rompers, but just remember to keep comfort in mind. If your romper is tight and you're walking around a lot, it might not be the best pick for summer as it'll get really uncomfortable when you start to sweat.
My two summer rompers are an army green lyocell romper that's got the classic utility look, and a structured, sculptural lavender romper for evenings out.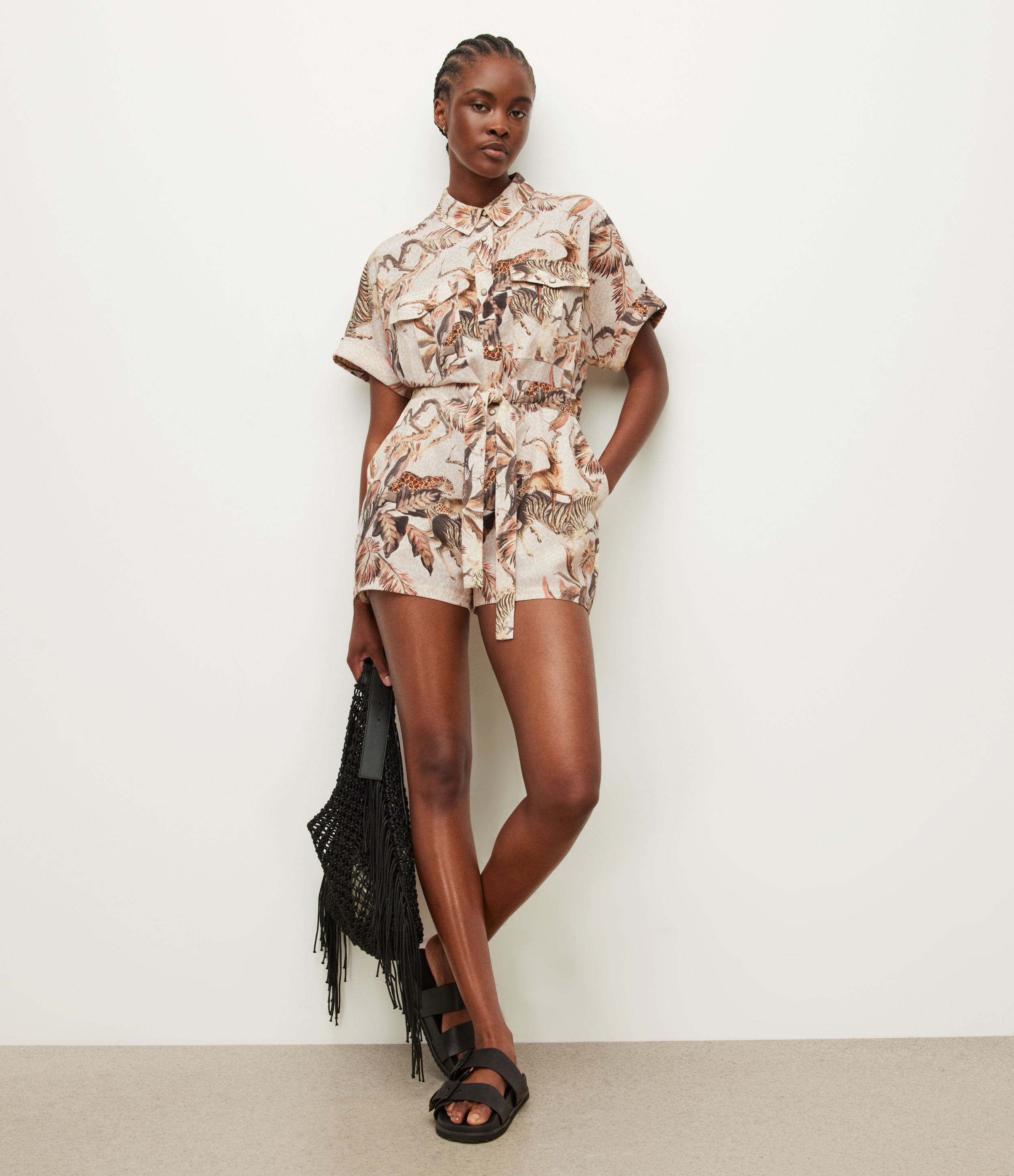 Shoes
Shoes are some of my favorite summer pieces because they can be so versatile and tend to be a lot more comfortable than boots.
While you can repurpose some shoes from other seasons (like heels and your gym runners), here are a few other summer picks I swear by:
Lightweight Sneakers
These help keep your feet cool while giving you comfort as you walk around during the summer.
My favorite go-to's for lightweight sneakers are a pair of white Keds because they're comfortable and go with anything. Converse are also another great option because they're also made of canvas, which is super breathable.
Toms, while not sneakers, are another great, breathable option for summer days where you want to walk around.
Sandals
One pair of sandals is usually enough for most folks (especially if you have a short summer like I do), but you may want to get one pair of flats and one pair of heeled sandals for fancier occasions or nights out. For added comfort, go for something like a neutral-colored block heel sandal.
I have high arches, so I was able to wear sandals during the summer for the first time this year by getting a pair of Birkenstocks.
I initially thought they'd be hard to style, but they look great with my regular shorts/graphic tee outfit and give any pairing an artistic vibe!
Flip-Flops
These are your classic flip-flops that you can literally get at the dollar store—nothing fancy here. I still have my Fred Meyer flip-flops that I got over 10 years ago!
These aren't great in terms of comfort for long-distance walking, but they're perfect for the beach and the pool.
Swimsuits
If you're a beach or pool person, then a swimsuit is a must. Whether you prefer one-pieces or two-pieces, there's an endless variety out there. For Canadians, I highly recommend La Vie en Rose for their special "D cup sizing" if this is something you need.
I like to have 2 pairs of swimsuits: one for sunbathing and one for the pool/beach. This is because chlorine and saltwater can warp and fade your swimsuit, so I don't use my favorite one for this purpose.
Accessories
Accessories are important for summer both for sun protection and
Since you can use your other bags for summer (e.g. crossbodies), I'm not including a section on it here (but I do find that large tote bags, especially canvas ones, are perfect for the beach).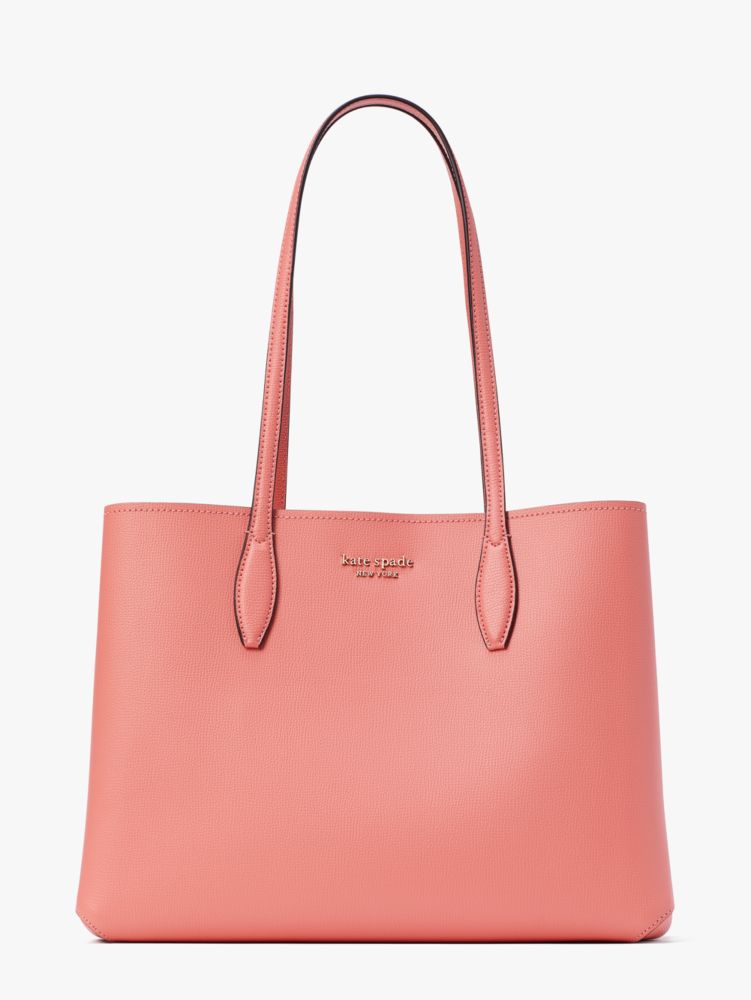 Those fanny packs that everyone is wearing now also fit perfectly with biker shorts or any other outfit (and save your shoulder from hurting from your purse strap!)
Here are some summer-specific essentials you can add to your capsule wardrobe for summer:
Sunglasses
You technically only need one pair of good, UV-protective sunglasses, but you can definitely add more to your summer capsule if you also use them as an accessory!
For example, I have 4 pairs of sunglasses, all of which I use regularly. One of the pairs looks like classic aviators, so I go for these when I want a timeless, classic look.
My Kate Spade sunglasses are more sporty, and my Free People ones look very eclectic. I'll choose a different pair depending on my outfit that day, and the sunglasses really enhance the look while protecting my eyes.
Baseball Cap
While I'm not a huge fan of baseball caps for everyday wear (and if you are, I'd highly recommend checking out Popflex Active's high ponytail caps), they are instrumental in protecting my face from the sun.
They're also great if you're swimming during some of the harsher hours of the sun, or if you're working, reading, or exercising outside.
Wide-Brim Hat
Finally, a wide-brim hat is perfect for protecting your face while adding a summery vibe to your outfit.
I love my straw fedora from Aritzia as it gives me great sun protection without too much of a brim. Of course, go for as wide a brim as you like! Just keep in mind that straw hats do not mesh well with water, so take your baseball cap to the beach or pool instead!
Tips for Packing Your Capsule Wardrobe for Summer
Another advantage of capsule wardrobes is that they're super easy to pack, even if you're traveling with just a carry-on or bag.
Here are a few tips to make the packing process easier:
Choose versatile pieces that can be worn in multiple ways. This will help you save space in your suitcase.
Roll your clothes instead of folding them. This will help prevent wrinkles and save space.
Use packing cubes or zip-top bags to organize your clothes. This will make it easier to find what you need when you're on the go.
Don't forget the basics! Be sure to include items like shorts, tanks, hats, and sun dresses in your capsule wardrobe.
Bring mostly practical items and a few pieces (including jewelry) that you can use to dress up your looks. So instead of bringing a bunch of fancy dresses, bring maybe one dress and a romper that you can dress up with some bold jewelry.
Take special care for any items that need to be protected in your suitcase (including anything easily scratched or
Here's a video to help you make sure everything fits in your suitcase:
Ideas for Affordable Capsule Wardrobes
Remember that a capsule wardrobe doesn't need to break the bank. The idea is to help you save money so you can use it for other things!
Here are some of my top tips for keeping your capsule wardrobe stylish and affordable:
Take a look at thrift shops for unique, one-of-a-kind pieces. This is my favorite strategy for getting some of my favorite brands (like Aritzia) at a fraction of the cost.
Mix and match items you already own. Chances are, you have more capsule-worthy clothing than you realize!
Buy versatile pieces that can be worn in multiple ways. This will help you get more mileage out of your clothes.
Look for sales and discounts. Don't be afraid to shop around for the best deals, and take advantage of seasonal sales! I always go right to the back of most stores so I can check out what's on sale first.
Invest in quality basics. A few well-made staples will last longer and look better than something that's trending and not well made.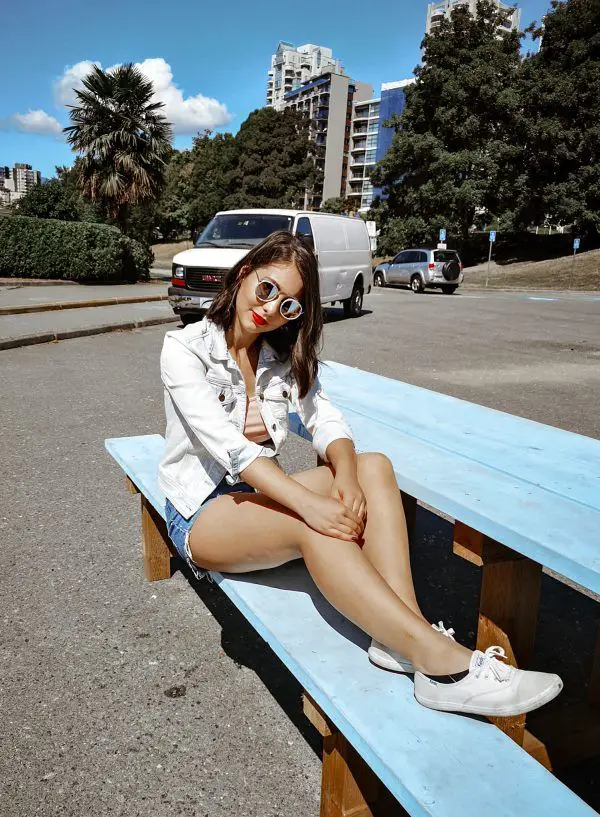 Frequently Asked Questions about Summer Capsule Wardrobe
How Do You Start a Summer Capsule Wardrobe?
The fastest and least overwhelming way to start your summer capsule wardrobe is to see what you already have.
Keep basics, pieces you love and wear often, and pieces that can be mixed and matched. Then, you can make a shopping list to buy anything you're missing.
How Many Pieces Are in a Summer Capsule Wardrobe?
This depends on the person, but a good number to aim for is between 20-40 pieces. It's always a good idea to start with less and then build up to more if you need it.
For example, I love summer a lot more than I do winter, so my summer capsule wardrobe has more clothes than my winter one.
How Many Summer Outfits Should I Have?
While many people say to have around 7, I'd double that (so 14). Things get really sweaty in the summer, and you'll probably have to do more laundry than usual.
This is especially true if you're going on summer vacation, as you may have to do several outfit changes throughout the day. Remember that you can create even more outfits if you have lots of versatile pieces to mix and match!
Summer Capsule Wardrobe: Final Thoughts
A capsule wardrobe for summer is a great way to simplify your life during those hot months. By starting with basics and adding in a few statement pieces, you can create multiple outfits that are stylish and flattering. Don't forget to accessorize for added interest! And most importantly, have fun putting together your perfect summer wardrobe.
Related capsule wardrobe posts:
This post was all about How to Create Your Dream Summer Capsule Wardrobe