Creating a winter capsule wardrobe isn't as complicated as it looks. By creating a more minimalist winter wardrobe, you'll have a much easier time getting dressed to go out while loving each outfit. It's a win-win!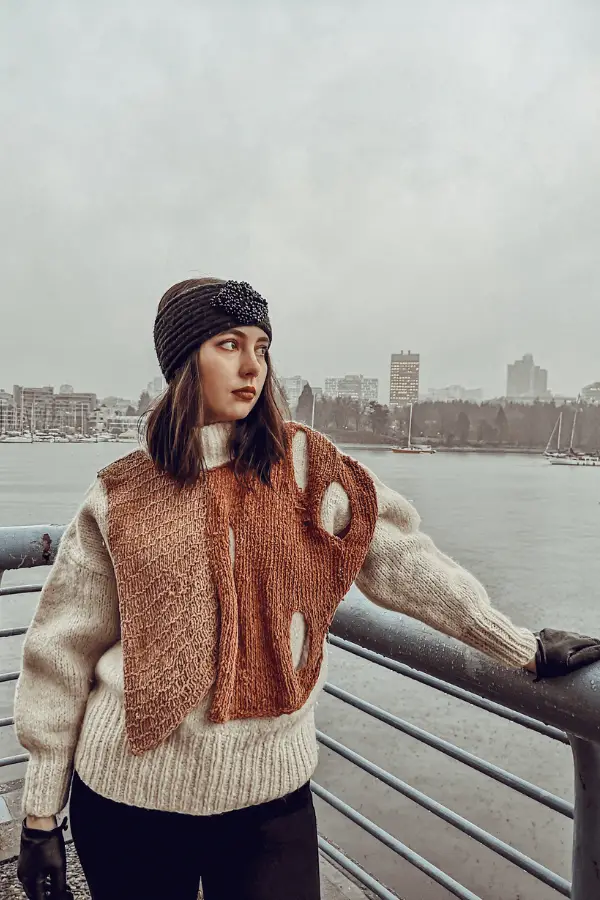 This post may contain affiliate links, which means I'll receive a commission if you purchase through my links at no extra cost to you. Please read full disclosure for more information.
If you're anything like me, you might dread the idea of winter. The cold, the snow, the endless layers of clothes—it's enough to make anyone want to hibernate until spring!
And if you love winter, maybe you have a really stressful time getting dressed every morning simply because of all the layers you have to put on.
Especially if you live in a place that requires you to have a deep winter wardrobe ready, it can be so easy to get overwhelmed by endless layers of coats, sweaters, and scarves that feel stuffy and make you look like the Michelin Tire guy instead of a human.
But this year, why not try something different? Why not build a winter capsule wardrobe that will keep you warm and stylish all season long?
A winter capsule wardrobe is a great way to make sure you're ready for anything the season throws at you.
And by taking steps to put together a versatile wardrobe that meets your needs, you'll be able to stay warm and stylish all winter long.
In this blog post, I'll show you how to do just that—and I'm going to break it down so the process is enjoyable, not stressful.
What Is a Capsule Wardrobe?
You've probably heard this term used a lot in fashion circles, especially with those looking to create a more sustainable wardrobe.
A capsule wardrobe is a wardrobe that's made up of a small number of pieces that you rotate throughout the season.
The idea behind a capsule wardrobe is that you have fewer items in your closet while having more ways to mix and match what you already have.
Because of this, the ideal capsule wardrobe pieces are:
Versatile
Timeless
Good quality
This saves you time and money because you're not tempted to go out shopping every week. A winter capsule wardrobe is also good for the planet because there's less waste.
One of the biggest benefits of having a capsule wardrobe is that you don't have to agonize over what to wear.
I can't tell you how long it used to take me to get dressed in the winter simply because of all the layers, not to mention how frumpy I felt because winter is not my season and my outfits felt like an extension of my gym clothes.
But when you have a wardrobe that's easy to mix and match, you just need to pick out one of each item and you're good to go!
How Big Should Your Winter Capsule Wardrobe Be?
There isn't a set number of pieces you must have in your winter wardrobe capsule, but it depends on your lifestyle and how many different outfits you want to make.
Most people find that having 20-30 pieces works best for them because it gives them enough variety without being overwhelming.
A "piece" in your winter capsule wardrobe refers to any one item (except jewelry). This includes sweaters, pants, coats, scarves, shoes, etc.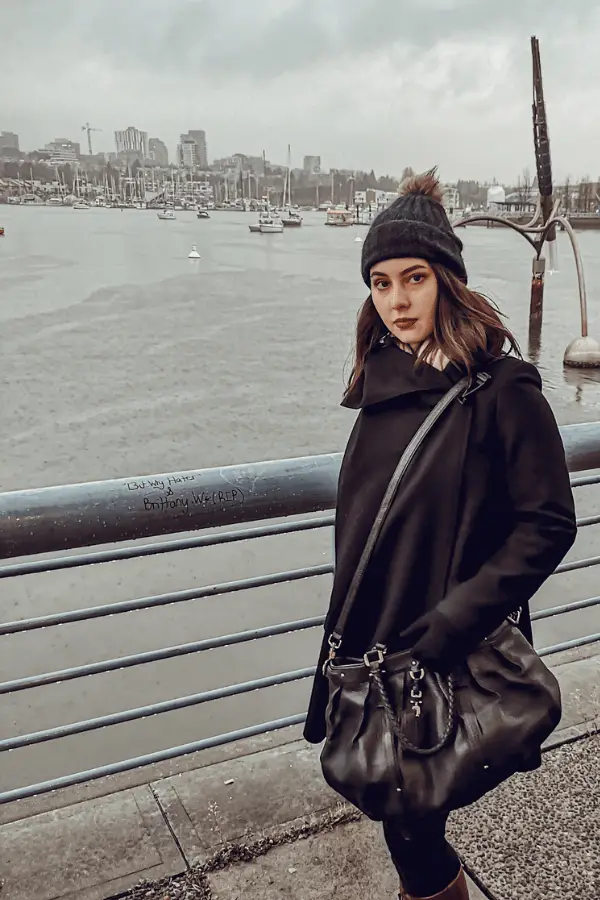 And if you need more or less, then this is fine too! Do what works for you—there's no set rule.
But if you're not sure how many pieces you'll need and are feeling overwhelmed, then start with 20 and go from there.
Keep in mind that if you live somewhere with a very mild winter, 20 pieces may be too much for you. In this case, you may want to start with 12 pieces and then re-evaluate.
Personally, I have fewer winter pieces than summer pieces because I just don't like winter. I find that rotating the same 7-10 sweaters is enough for me.
But at the same time, you may need more pieces if you love winter or need a deep winter capsule where you'll have to layer a lot.
How To Create Your Winter Capsule Wardrobe
Now that we've covered all the benefits of a winter capsule wardrobe, let's dive into how to actually create one.
We're going to take this step-by-step so that it doesn't get overwhelming. We'll start with the top things to keep in mind when you're planning out and creating your capsule wardrobe.
Once we've gone over the basic steps, I'll cover essential winter capsule pieces for you to include.
1. Define Your Style
What do you like to wear? What are your go-to outfits? This will help you figure out what type of clothes you need for your capsule wardrobe.
You also want to keep this specific to winter clothes. What kinds of winter clothes do you a) gravitate towards, and b) feel good in?
For example, I love simple pieces that are a bit androgynous in style. I also like tops that aren't too fitted, and prefer comfortable, chunky sweaters in winter.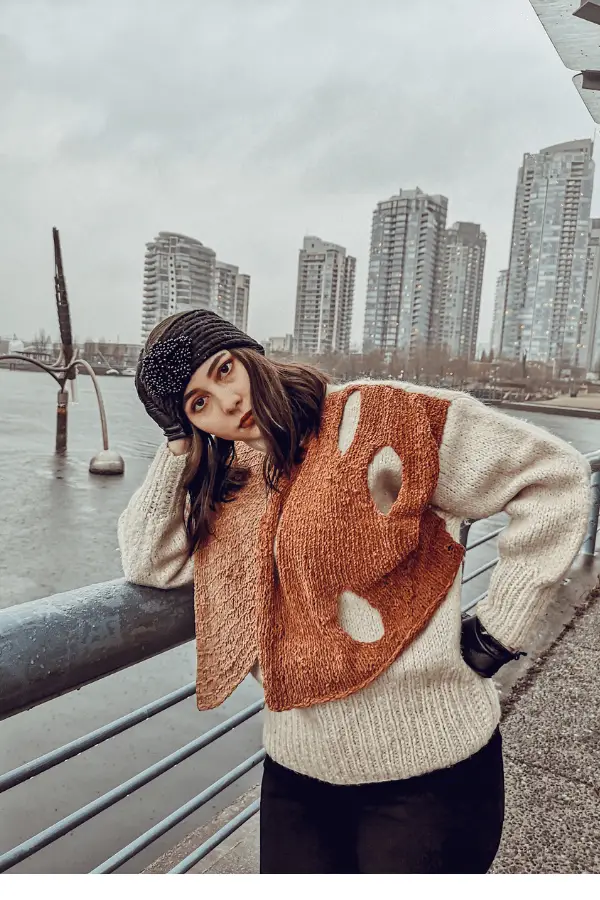 Maybe you like a classic, timeless look a-la-Audrey Hepburn. Maybe you like loose, 80s-esque sweaters (mine is vintage 80s), or perhaps you love sequins, embellishments, or bold color.
If you're not sure of what your style is, a good strategy is to start with words that would describe your style. Some examples are:
Bohemian
Sporty
Feminine
Minimalist
Androgynous
Vintage
Artsy
Grunge
As you can see, the possibilities with these are endless, but they're a great starting point for finding inspiration.
If you gravitate to any of the words above, try typing them into Pinterest and seeing what kinds of pieces you like in the outfits that come up.
You can also watch this awesome video by fashion designer Justine Leconte (love her) all about how to find your style:
2. Pick a Color Palette
Most of the winter capsule wardrobe guides you find online will tell you that you should pick neutrals because these are easier to style.
I disagree with this because not everyone likes neutrals. I do, but many people I know don't, and they can't imagine being stuck with only shades of gray and beige all winter long.
So, once you've figured out your style, you want to decide on the color palette you want to create.
Keep in mind that this could be a different color palette than your summer clothes, and that's ok!
But while your entire winter wardrobe capsule doesn't have to be neutral, you do still need some neutrals in there, no matter the color palette.
This is because you need something neutral to mix and match with your more colorful and patterned pieces.
Here are three sample color palettes you could consider for a winter capsule wardrobe: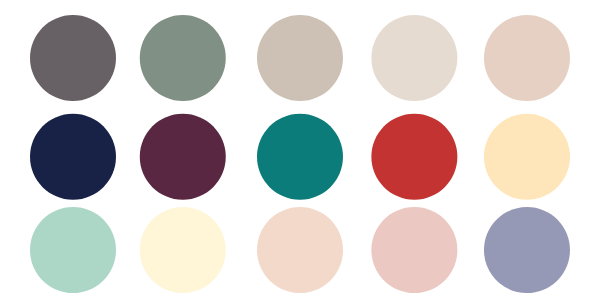 Notice how even the color palettes above have a few neutrals to balance out the stronger colors. You could even pick a color palette that's all neutrals but with pops of one or two strong colors like red.
Since winter is about layering, it's important to choose coordinating colors and patterns for each layer. It will make getting out the door a lot faster!
3. Consider Fabrics
Remember, one of the keys to a capsule wardrobe is that you don't want to keep having to buy new pieces for it. So, you want the pieces to last you a long time.
Focus on finding pieces made from natural fabrics, like cotton, wool, silk, or cashmere. These are great winter materials that will keep you cozy in winter. You can also shop these items thrift for a more budget-friendly (and ethical) option.
And while no fabric is 100% pill-proof, Merino wool is the least likely fabric to pill because its fibers are strong and woven together tightly.
For example, I have a sweater I love but that pills like crazy. This sweater is 63% acrylic, 32% polyamide, and 5% wool.
I have another sweater that's 68% cotton and 32% nylon. I got this one used, have worn and washed it a lot, and it hasn't pilled at all.
Of course, my synthetic, pill-y sweater is WAY warmer than the cotton one, so I wear the cotton one more so during the fall (or put a warm cardigan over it for even more layering).
Acrylic is a synthetic version of wool that is budget-friendly, but it does tend to pill a bit more. This is why it's essential to learn how to make your clothes last longer.
You can also get wool-blend sweaters for a more budget-friendly option that's still going to last.
And if your clothes pill, you can always get a de-pilling machine to remove them.
I also like to get a lot of fleece items for layering underneath my sweaters or pants for very cold weather.
4. Choose Versatile Key Pieces
The "key" pieces in a winter capsule wardrobe are the necessary items for your capsule wardrobe. These are also called foundational pieces.
This is where I would recommend going neutral in terms of color and style. You want your key pieces to fit with all the other things in your wardrobe.
Some examples of key pieces include:
Black or dark blue jeans
A neutral winter coat
A black cardigan
Black winter boots
Undershirts or t-shirts for layering
A long, neutral-colored skirt or knit dress
A black or white beanie
While you can add as much color and pattern as you want for your other items, these neutral pieces are necessary so you can mix and match your wardrobe without stressing.
You also want these pieces to be classic and timeless so that you're not having to replace them every year. Versatile pieces also include those that can be worn more than one way, like scarves and berets.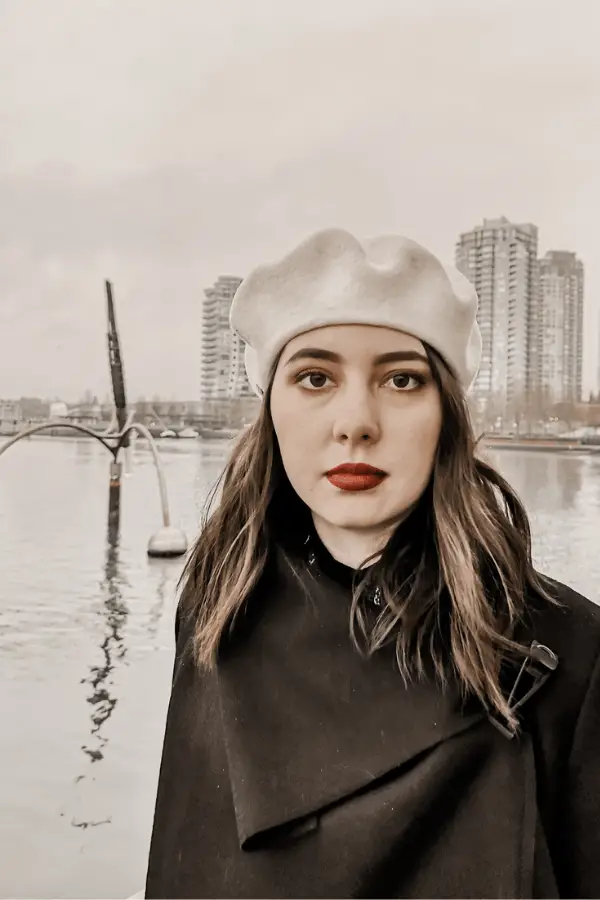 And before you go looking to buy anything new, check your closet to see which key pieces you already have. This can save you a good chunk of money when you go out and buy everything.
5. Plan for Winter Weather
Yes, winter may be cold, but there are varying degrees of cold, precipitation, and wind.
This is why you need to make sure that the clothes you're shopping for fit the type of winter for where you live.
For example, I live in a place that has a mild winter, and we tend to only get a bit of snow a couple of times a year (if even). Most of the time, I have to deal with freezing rain and wind.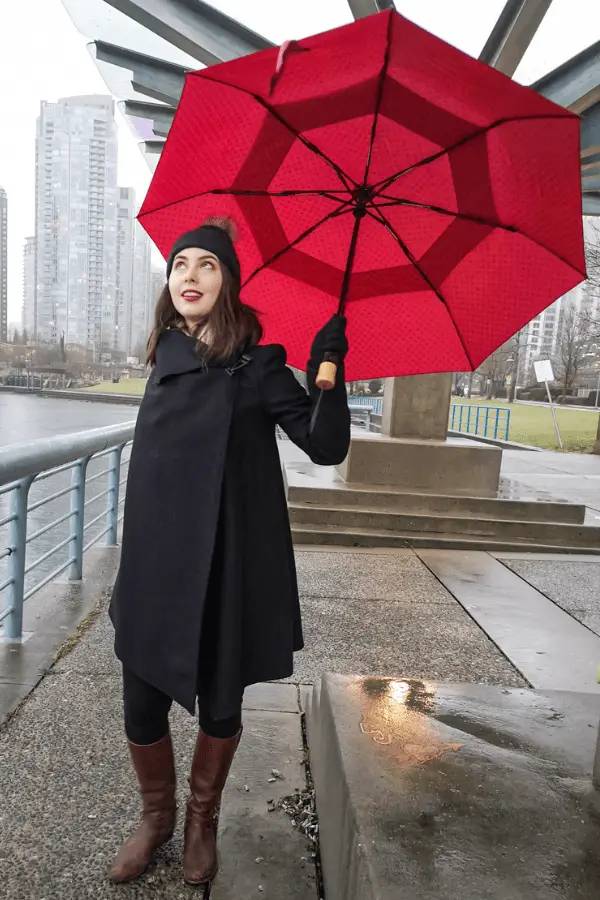 I also get cold really easily, so I need to wear more layers than some of my friends do. I focus on items like fleece leggings to wear underneath jeans, a pair of good-quality rain pants, sweaters I can layer, and a warm beanie.
So on top of thinking about the type of weather where you are, think about your personal needs and how you might factor them into your capsule wardrobe.
6. Consider Fit
Winter clothing tends to get bulkier, so make sure your winter wardrobe accommodates this extra layer by choosing items that you feel flatter your figure.
One helpful rule to stay comfortable without feeling frumpy is to choose whether you want your top or your bottom clothes to be loose. So if I pick a chunky sweater, I'll go with slim jeans.
I do enjoy wearing loose tops and loose jeans together, but I find this type of look to be better for other seasons as I don't have the added bulk of boots, a coat, and a scarf.
You also want to learn about the signs your clothes don't fit properly so that you can buy things that flatter you from the get-go.
7. Keep Fun in the Equation
Even if you're not too excited about winter fashion (like me….haha), you can still have fun with it.
Winter is a great way to experiment with new styles that you may not have thought of before, especially with cool coats, hats, pops of color, and layering.
One of my favorite ways to add to my winter look is to add a dark red or plum lipstick (darker than I would usually go). I find it such a fun complement to winter fashion and it looks great with a vintage-inspired hat, a chunky sweater, or a beret!
Winter Capsule Wardrobe Essentials
Now let's dive into the actual pieces that you want to incorporate into your capsule wardrobe.
To make it easier, I'm going to go by category and then give some example items in each category. The categories don't include jewelry, as this is more year-round.
Keep in mind that this is just a guideline. You don't need to have exactly what I list below, so always make sure to keep your wardrobe within your style and needs.
You also may want to have more than one item from each category. For example, maybe you only want to have 1 turtleneck, but you may want 5-7 knit sweaters so you can rotate them throughout the week.
Tops
Turtleneck
Cardigan
Thermal Long Sleeve
Knit Sweater
I like to have 5-7 knit sweaters for winter so I can rotate (and wash) them throughout the week.
I find that wool and acrylic tend to be warmer than cotton for sweaters, so keep this in mind when picking sweaters.
Acrylic and wool tend to be super warm, so I don't often need to wear a cardigan or insulating jacket over top of them.
Turtleneck
Turtlenecks can look super elegant and sophisticated, especially if they're fitted. Great colors for turtlenecks include olive green, navy, and heather gray.
They also help protect your neck from harsh winter winds.
Turtlenecks also make great base layer pieces underneath sweaters and cardigans.
Cardigan
While you should have one go-to black cardigan to match all your clothes (and to wear to work), you don't have to have only one cardigan in your winter wardrobe capsule.
For example, I have one go-to black cardigan, but I have several chunky/oversized cardigans. I'm a huge fan of these as they make me feel so warm and cozy! They're also easier to take off when I'm going from outdoors to indoors.
I tend to get neutral cardigans, but sometimes I'll go for a patterned one. This is another reason it's so important for you to have enough neutral tops to match your more colorful/patterned items.
Layering Long-Sleeve
Since these items are meant to keep you warm and aren't going to be worn on their own, the color doesn't matter too much.
While you can use the same long-sleeve that you wear during the fall and spring, I'd recommend getting a thermal long-sleeve, such as UNIQLO's Heattech long-sleeve shirt.
Button-Down
Button-downs are one of those items that you can use in each seasonal capsule wardrobe.
For winter, I wear long sleeves under my button-downs for added warmth. I also layer chunky cardigans over them, which makes it easy to transition between outdoors and indoors.
Some of my favorite button-downs include red flannel, which is super cozy and often made of soft fabric like flannelette!
Dresses/Skirts (If You Wear Them)
Knit Dress
Knit dresses are great for keeping warm in the winter, especially if they cover up your thighs.
They also make it super easy to get dressed on those cold, winter mornings.
Knit dresses may not look the best with shorter winter coats but may work depending on the style of the dress and the style of your coat.
Long, Warm Skirt
Long skirts are a great way to keep warm because they're easy to layer with warm tights.
If your skirt is ankle-length, then you can wear it with any boot length. If it's a midi length, then you'll want to wear it with ankle-height boots.
Bottoms
Fleece/thermal leggings
Warm sweats
Black Jeans
You can get either fully black pants or black denim—whichever works best for you.
As for fit, think about a) whether a loose or tighter fit is more comfortable for you, and b) how you want to style the jeans with boots.
For example, I'll wear loose jeans in winter if I'm layering fleece tights underneath. I'll wear skinny jeans if I want to tuck them into boots or wear thick socks over my jeans.
Navy Jeans
With navy jeans for your winter capsule, darker is generally better.
Not only does this look better for the season, but it'll be easier to match outfits to the darker color.
Fleece Leggings
Thermal leggings, whether they're fleece or another thermal material, are a winter essential.
You can wear them underneath knit skirts, sweater dresses, and underneath jeans for optimal warmth.
Faux Leather Pants
I love the look of faux leather pants. Not only are they warm, but they also give me huge waterproofing perks when I don't want to wear my baggy rain pants.
You can either get them in a legging style or as looser pants like culottes or cargo pants.
You can also get real leather as well, although it will be more expensive. Make sure to take care of leather pants and condition them the same way you would leather shoes and bags (I use saddle soap for this).
Warm Sweats
Sometimes, you just want to be warm and comfy. For winter, I wear my warm sweats in the mornings and evenings when I'm walking my dog, as well as when I have to run a quick errand to the store.
You can also layer these with your fleece leggings if it's really cold out.
Shoes
Warm, Waterproof Winter Boots
These are a non-negotiable part of your winter capsule wardrobe. To pick out the best boots, look for insulation, comfort, and style.
I always go for black boots as these types of boots do tend to be more on the practical side, and I don't want them to stand out too much.
But most of all, I look for how warm they are and whether I can walk in them for long periods of time.
Knee-High Boots
Knee-high boots are another essential for your winter capsule. You can have both a black and brown pair, or pick one for now.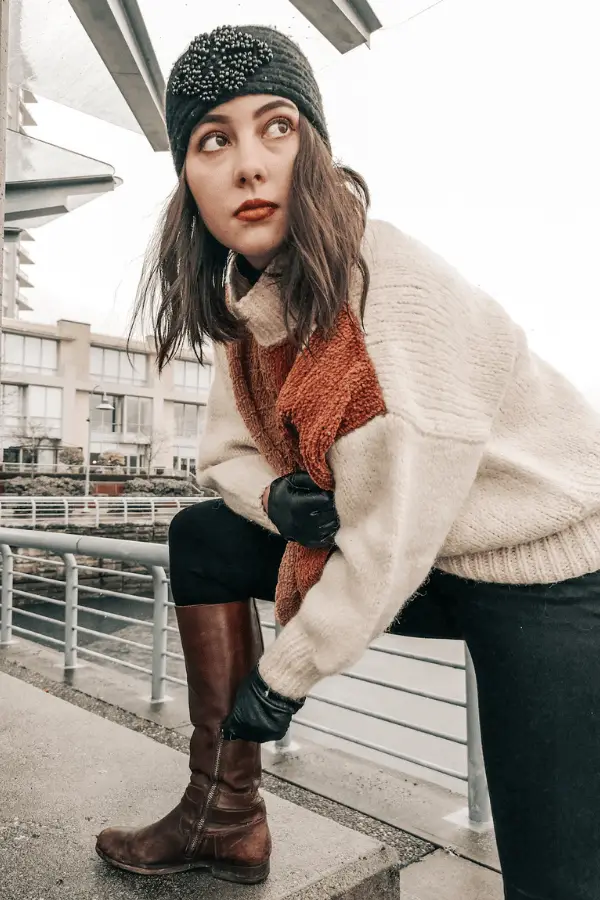 If you're picking one, think about whether you wear more warm tones or cool tones. If you mostly wear warm tones, go for brown. Also, think about what colors your purses are, and whether the leather or material on your purses will match the color of the boots.
Keep in mind that you can wear these boots in winter and spring too, so get something that matches your wardrobe for these seasons as well.
Ankle Boots
The same color suggestions go for ankle boots as they do for tall boots.
I love ankle boots as they're super versatile, comfortable, and great for both daytime activities and a night out.
I also tend to go for a 2″ chunky heel with my ankle boots so that I have more variety with my winter shoe wardrobe.
Coats
Long Puffer Jacket
I say "long" to refer to mid-thigh or midi length. This will keep you much warmer than a waist-length jacket, especially on windy days or when there's heavy snow.
Ideally, your long puffer jacket will be waterproof, especially if you live somewhere where it rains a lot.
And for folks in the UK and Europe, check out this awesome recycled polyester puffer jacket from Aligne. It'll keep you warm while helping you be more eco-friendly!
Wool/Wool Alternative Coat
These are for those really cold days and are also awesome for snow.
Wool isn't ideal for rain, so make sure to bring an umbrella if this is the case.
For a more budget-friendly and sustainable option, you can go to some of your local thrift stores and see if they have any gently-used coats that you like.
For a capsule wardrobe, I'd recommend a black, gray, or beige coat. Black is the best option for matching with everything, but keep in mind that it does attract lots of pet hair! I keep my black wool coat in a garment bag in my closet to prevent this.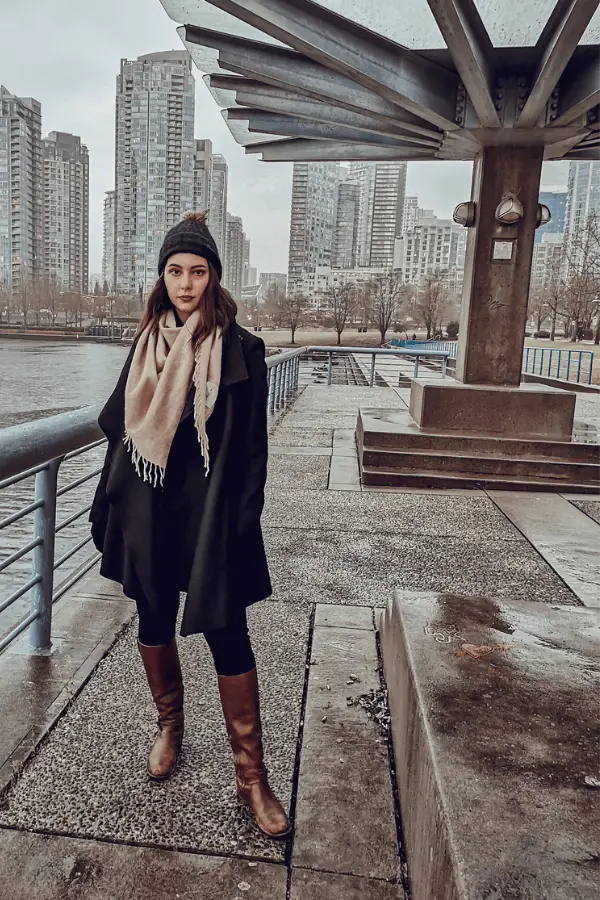 And again, for folks in the UK or Europe, Aligne has a sustainable, wool-alternative midi-length wrap coat.
Not only is the design super classic, but the coat is made from deadstock, which is fabric that hasn't been used for more than 12 months and is essentially rescued and re-made into an amazing garment!
Insulated/Fleece Jacket
For those of you who have cold winters (or just get cold really easily like I do), you'll want to get a light, warm jacket as an additional layer underneath your winter coat.
This could be in the form of a fleece/sherpa jacket or a thin jacket with that metallic insulation stuff on the inside. Mine is the latter and it came as a detachable layer on a snowboard jacket.
You should be able to find these types of jackets at a sports store. I don't worry too much about how they look as I don't wear them on their own.
Accessories
Blanket Scarf
Blanket scarves are not only gorgeous with a coat or sweater, but they're super warm. I like to get triangle-shaped blanket scarves and then put them on so that the scarf creates a thick layer in front of my chest and neck.
If your coat, pants, and shoes are neutral-colored, you can choose a bold color or pattern for your blanket scarf.
Another Warm Scarf
I always have another scarf handy in case it's really windy and I need an extra scarf to layer over my mouth and nose.
You also may not want the added bulk of a blanket scarf, so having a regular, rectangular scarf on hand is a must.
Beanie
Beanies (or touques, or simply winter hats), are a winter essential, especially if you're not a fan of earmuffs.
I'll usually opt for either a wool-blend beanie or a fleece-lined one. For really cold days, I like to layer two of them (this protects my ears and sinuses).
For a vegan option, check out this organic cotton hat and scarf set from Matt and Nat.
Gloves
Leather or alternative leather gloves are the best option if you have to deal with a lot of rain (especially freezing rain).
For deep winter, snow, and frigid temperatures, I opt for thermal fleece gloves for optimal insulation.
A Note on Accessories
To keep this capsule wardrobe guide simple, I haven't included accessories like jewelry and bags.
This is because these items are usually good for all seasons, and I didn't want to make things unnecessarily complicated.
The handbags you wear every day, for example, should be just fine to wear with any combination in your capsule wardrobe (and if you don't have a bag like this but want one, check out my blog post on how to choose a handbag for everyday use).
One thing I will note is just to be careful if you're wearing a backpack with a wool coat, as the friction from the straps could damage the wool.
The same goes for any handbags that have thick or textured straps.
What Not to Include in a Capsule Wardrobe
The majority of your capsule wardrobe should be timeless clothing that you can mix and match easily.
What you don't want a lot of is:
Novelty sweaters (like tons of ugly Christmas sweaters that you only wear to that one office party every year because you always win the prize)
Trending items that you know you won't wear next season
Things you don't like or don't feel comfortable in
Things that aren't practical for the season
Too many colors/patterns that don't go together
This list doesn't mean that you can't include these items—it's just that having too many of them defeats the purpose of having a capsule wardrobe.
While it's fine to have a few statement pieces that you love, such as a red wool coat, make sure the rest of the pieces in your wardrobe can match that piece.
How to Stay Stylish During Winter
This is something I struggle with A LOT. Unless I'm on a lovely, snow-filled walk with my dog and camera, winter makes me want to crawl under the covers and hibernate (preferably with a bag of salt and vinegar chips. Or chocolate).
This is, of course, because I'm cold. So I've found that the best way to help me stay stylish during the winter is to layer my clothes.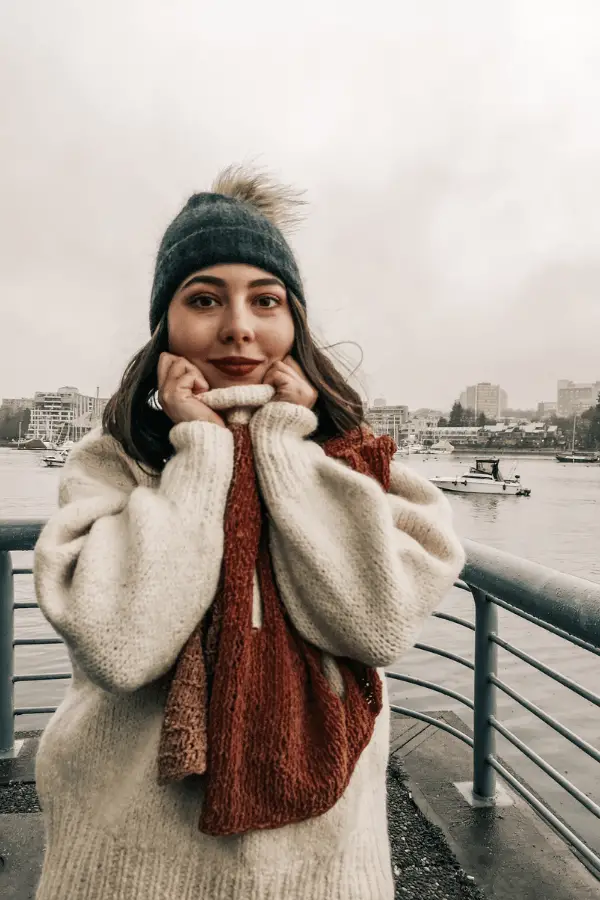 Items to help keep you warm include:
Turtlenecks
Fleece-lined leggings
Cargo pants/sweatpants/leggings
Long sleeve shirts under short sleeve shirts
Long sleeve shirts under winter dresses
Scarves and winter hats
Warm socks
Make sure your winter coat is large enough to layer with all of the items in your winter capsule wardrobe or it will make you feel bulky rather than warm.
Money-Saving Tips for Winter Clothes Shopping
No matter where you shop, the best way to save money is to set a spending cap for yourself and buy winter clothes that will last you winter after winter.
Even if you're shopping for a minimalist winter capsule wardrobe, winter clothing shopping can be stressful because of the sheer number of items you need to buy.
This is where you want to keep the motto, "buy less, buy better" in mind.
You also want to try to get items that you can wear during other seasons. These items include jeans, knee-high boots, and long-sleeve shirts.
Another way to save money when shopping for winter clothes (and a capsule wardrobe for winter) is to look for sales online and try different styles of winter clothing before going out to shop.
My top recommendation is to buy clothes during end-of-season sales. Not only do you get a better deal, but you often get higher quality as well.
What I do is go into more expensive stores and head straight to their sale section, where I get something that's better quality at a better deal than a fast-fashion item at full price.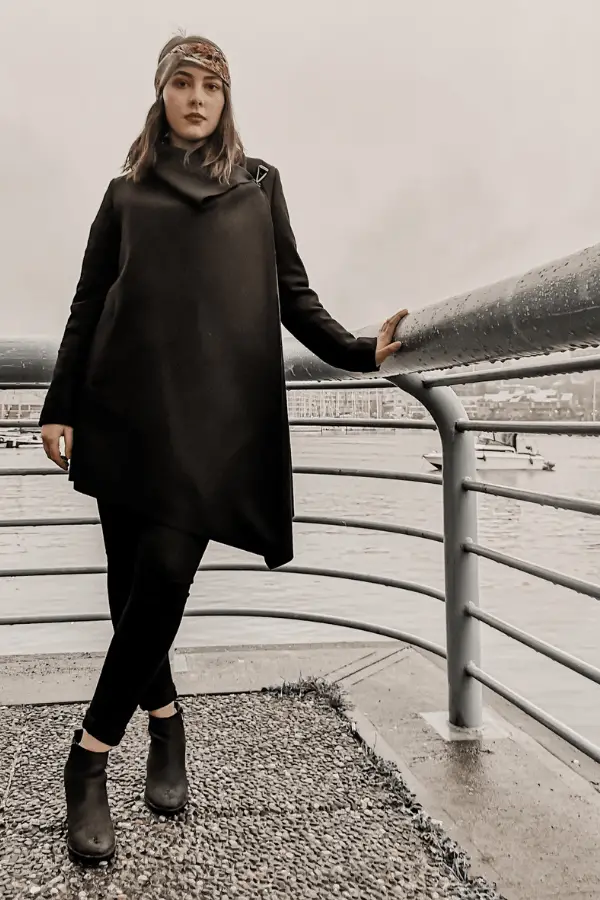 You can also check out the online sales of your favorite stores and then filter the sale by the biggest discounts (40-50% is great) and by your size. Make sure to join their mailing list so that you're the first to be notified of any sales.
You can also buy some of the more expensive items like sweaters and coats at the thrift store (check out my thrift shopping tips for more info).
And whatever you do, only get clothes that fit with your style. It doesn't matter how trendy or expensive the item is.
Even if it's super practical, I can guarantee that you won't wear it (or feel confident in it) if it's not your style and doesn't make you feel good.
You'll just end up wasting money and giving away all these clothes in the end, so always stick with your personal wardrobe aesthetic!
Final Thoughts on Creating the Perfect Winter Capsule Wardrobe
When winter rolls around each year, you want to meet it prepared, not stressed out.
This means it's time to start thinking about how you can simplify your life and save money by investing in a winter capsule wardrobe.
A winter capsule wardrobe will help keep you warm during the chilly months ahead while still providing plenty of stylish options for everyday wear.
It also takes the stress out of getting dressed because you know you can just mix and match your everyday pieces!
I'd love to hear about your favorite winter capsule wardrobe pieces in the comments!
Related Posts You Might Like:
This post was all about The Beginner's Guide to Creating a Winter Capsule Wardrobe (That You'll Actually Like)