A spring capsule wardrobe is one of the best ways to freshen up your wardrobe without having to spend tons of money every year.
One of the best ways to freshen things up and embrace spring is by creating a spring capsule wardrobe.
A capsule wardrobe is a collection of clothes that you can wear all season long. You won't have to worry about what to wear each day because you'll already have a selection of outfits that work well together.
This will save you tons of time while stopping you from buying things that you'll never end up wearing.
Even if you're familiar with creating a capsule wardrobe for all seasons, you'll free up closet space (and budget) by separating your capsule wardrobe into seasons.
Let's go!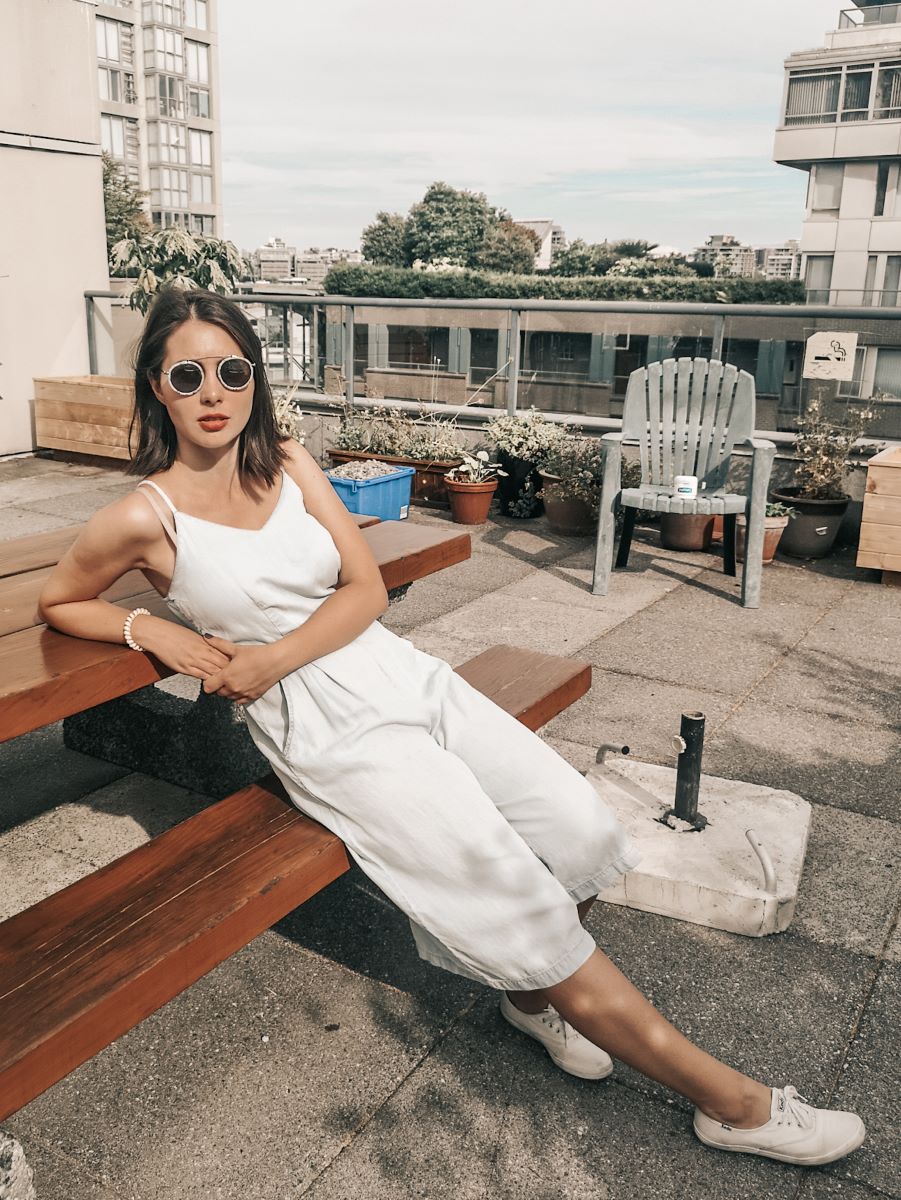 This post may contain affiliate links, which means I'll receive a commission if you purchase through my links at no extra cost to you. Please read full disclosure for more information.
What Is a Capsule Wardrobe?
The term "capsule wardrobe" was first coined by Susie Faux, the founder of Boutique 21, in the 1970s.
Faux's idea was to create a smaller number of higher-quality pieces that could be mixed and matched to create a variety of outfits.
In 1985, American fashion designer Donna Karan popularized the capsule wardrobe with her first line, which she called Seven Easy Pieces.
The models all started out with a black bodysuit and kept adding layers of clothes until they had different outfits! Pretty genius, and for the time, pretty inventive.
Originally, capsule wardrobes were meant to help professional women pick out clothes for work. Now, capsule wardrobes have grown so much in popularity that you can use them for any season, occasion, or style.
Plus, the beauty of a capsule wardrobe is that you can tailor it to fit your own needs and lifestyle.
Remember that there is no one-size-fits-all capsule wardrobe. You can choose how many pieces you want to include, and you can mix and match different items to create different outfits.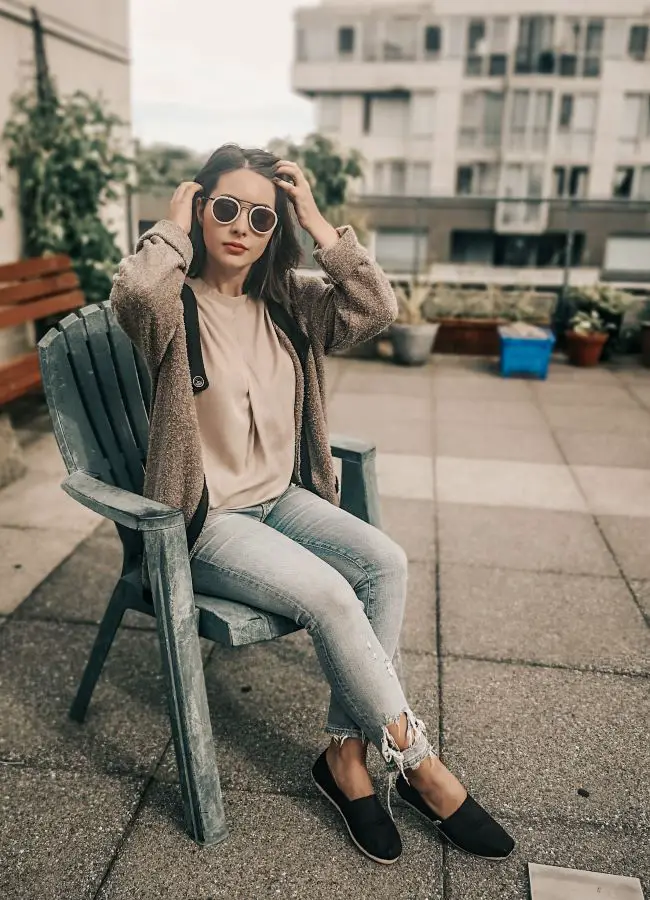 A capsule wardrobe is not only about having a smaller number of clothes, but it's also about planning your outfits ahead of time.
This way, you can save time in the morning and avoid having to stress about what to wear. If you have a set of clothes that always work well together, you won't have to spend time standing in front of your closet trying to figure it out.
This type of wardrobe can also help you save money and closet space.
When you have a capsule wardrobe, you don't need to buy a lot of clothes each season. You can just rotate the pieces in your wardrobe to create new outfits.
Why Build a Spring Capsule Wardrobe?
The advantage of doing capsule wardrobes by season is that you can save a ton of closet space. This stops unnecessary closet clutter and helps you pick outfits more easily.
For example, the climate where I live is cool for most of the year, with mild, rainy winters and warm summers that aren't usually hot. This means that I can pair my fall and winter capsule wardrobes together.
When the seasons change, I put the fall/winter wardrobe into storage and pull out the spring/summer clothes. This way, I can layer my outfits while stopping my closet from overflowing with sweaters and other bulky items.
This approach will also save you money because you'll have a simplified wardrobe. Since you'll know exactly what you have, you won't end up with a cluttered closet full of items you've only worn once or twice.
Finally, capsle wardrobes are also sustainable. If you only buy a few pieces of clothing each season, you'll end up using them for longer and creating less waste.
What to Include in Your Spring Capsule Wardrobe
Now that we've talked about why you should build a spring capsule wardrobe, let's talk about what to include in it.
The most important thing to remember is that you want to focus on quality over quantity. It's better to have a few well-made pieces of clothing than a lot of clothes that you end up wearing once and then throwing away.
Outerwear
The weather in spring can be really unpredictable, so it's important to have a few pieces of outerwear that you can layer.
A light jacket, a raincoat, and a warm coat are all essential items to include in your spring wardrobe.
Trench coats are a great clothing option for spring because they can be layered over other clothes to keep you warm. They're also a great way to stay stylish during unpredictable weather.
Tops
A spring capsule wardrobe is the perfect opportunity to stock up on some tank tops and T-shirts.
You'll want to have a variety of colors and patterns so that you can mix and match them with different bottoms.
Some examples of tops you can wear in the spring are tank tops, T-shirts, and blouses. Tank tops are perfect for layering, and you can wear them with a variety of different bottoms.
T-shirts are also a versatile option, and you can dress them up or down depending on the occasion.
Blouses are a great option for work or formal events. They're dressy enough to make a statement, but still comfortable enough to wear all day long.
Bottoms
In the spring, you can wear both pants and skirts. If you live in a warmer or humid climate, you might want to focus on lighter-weight fabrics like linen or cotton.
Jeans are always a good option for spring because they can be dressed up or down depending on the occasion.
You can wear them with a T-shirt and sneakers for a casual look, or you can pair them with a blazer and heels for a more formal outfit. You can even pair a blazer with jeans and sneakers for the perfect elevated yet casual look.
Skirts are also a great option for spring. A lightweight cotton skirt is perfect for warm weather, and you can also wear it with tights and boots when it's colder. This makes long skirts great transition pieces that you can wear for more than one season.
Jumpsuits are also a great option that you can wear during fall, spring, and summer because they're so easy to layer.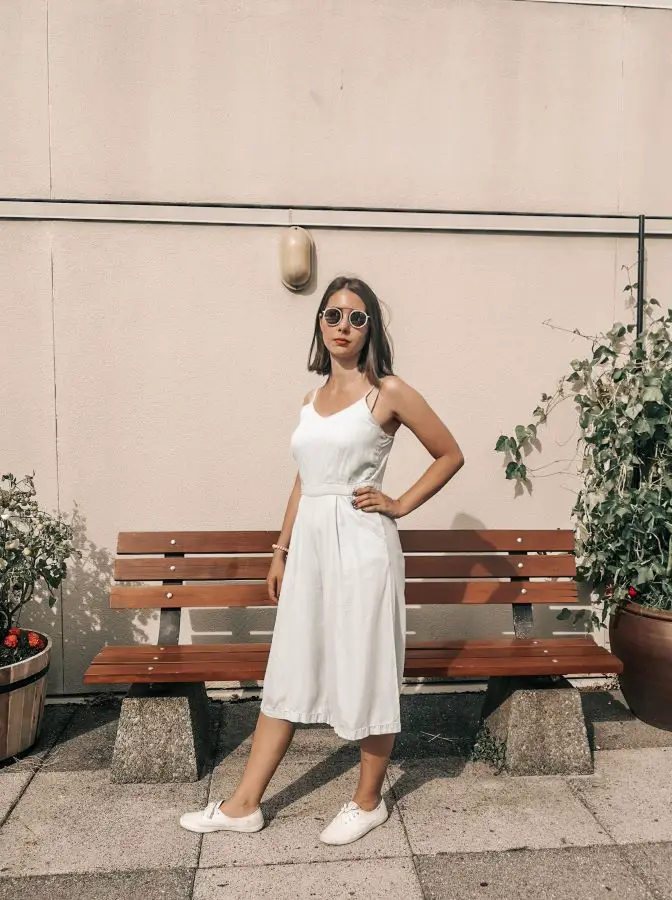 Shoes
Depending on the climate where you live, you might find that sandals are appropriate for spring. But if the climate is cooler, you might need to keep those ankle boots out of storage for a little while longer.
You'll also need a pair of comfortable walking shoes as the weather gets nicer.
Lightweight canvas shoes like Converse or Keds are my spring go-to. Not only are they comfortable to wear, but they look great with pretty much any outfit (especially one of my favorites—90s jeans).
If you live somewhere with a lot of rain, opt for leather Keds or canvas sneakers that have a waterproofing treatment.
Accessories
Accessories are a great way to add your own personal touch to an outfit. They're also the perfect way to take a simple outfit to the next level.
A spring capsule wardrobe can also include a few statement pieces like a scarf or a hat.
Since it's not as cold, you can get a little more creative. I love wearing vintage-inspired hats and berets for spring because I don't necessarily need the full ear coverage of a wool beanie.
Some places get really windy in the spring, so you might want a lightweight cotton scarf to protect your neck and chest.
A Note on Capsule Wardrobe Color Palettes
Many people recommend that your spring capsule wardrobe contain only neutral colors.
Neutral colors are a great way to mix and match with different outfits, and they're also versatile enough to wear for any occasion.
If you're not sure what colors to choose for your spring wardrobe capsule, here are a few suggestions:
Black
White
Beige
Gray
Navy blue
Brown
Tan/camel
But I disagree with the idea that your spring capsule wardrobe should only have neutral colors. While these are important for mixing and matching, they're not a good option if you love wearing colors and patterns.
If this sounds like you, use neutrals as a way to complement the colors and patterns you love to wear.
Choose one statement piece that's the focal point of the outfit, and then use neutrals to build the rest of the outfit around it.
For example, I have a neon pink dress shirt that's made of a thin, chiffon-like fabric.
Spring is the perfect time to wear it, but to make the shirt the centerpiece of the outfit, l wear neutrals like jeans, a black tank top, and white Keds with it. I also love pairing this look with a black leather jacket.
Regardless of whether your capsule wardrobe is going to have more neutrals or lots of bright colors, make sure to pick colors that mix and match well together.
This means using colors that complement each other, whether they do so through contrast or by being similar shades.
This is also important because it's near impossible to find that same shade to match what you already have.
For example, if you wear lots of yellow, black is an excellent contrasting neutral to pair with it. If you like a more understated wardrobe, then gray and camel are great colors to pair with your black clothes.
A great way to create cohesion in your wardrobe is to choose a color palette. A color palette is a group of colors that work well together.
When you're picking out clothes for your spring wardrobe, try to stick to three or four colors from your color palette. This will make it easy to put together outfits without having to think too much about it.
If you're not sure what color palette to choose, here are a few examples:
Monochromatic: This color palette is made up of different shades of one color. This is where lovers of neutral colors like white, beige, off-white, taupe, and black get their inspiration.
Analogous: This color palette is made up of colors that are next to each other on the color wheel. For example, you might like wearing yellow and green together.
Complementary: This color palette is made up of colors that are opposite each other on the color wheel. One good example is blue and orange. These colors go well together but contrast enough to make a statement.
Triadic: This color palette is made up of three colors that are evenly spaced on the color wheel. This one's a little more complicated, so it's best not to start with this if you're just starting out with building your capsule wardrobe. An example of a triadic palette would be turquoise, magenta, and yellow (take a look at these triadic decorating ideas for more clarification).
When you're picking out clothes for your spring wardrobe, try to stick to three to five colors from your color palette. Then, complement these with neutrals.
And if you're a lover of neutrals, try picking five colors and shades that look good together.
If you're not sure, you can take a look at a color wheel or a color palette cheat sheet to see what colors look good together (and see if they're colors you'd like to wear).
Here's a video from Emma Losey about creating a color palette for your capsule wardrobe:
Good Fabrics for Spring Clothing
When choosing fabrics for your spring clothes, it's important to pick materials that are lightweight and breathable. This will help you stay comfortable in warm weather.
Some good fabric choices include denim, lightweight sweaters, and anything else that allows you to layer your clothes. I also like having a thin fleece zip-up hoodie for this purpose (especially for those windy days).
Staying away from synthetic fabrics is also a good idea because they can cause you to sweat more.
Some good fabric choices for spring include:
Denim
Lightweight sweaters
Linen
Cotton
Flannel
One of my favorite spring outfits is wearing a graphic tee underneath a loose, denim shirt or denim jacket.
Graphic tees also make for great spring wardrobe essentials because they're super easy to throw together into an interesting outfit! I like to pair mine with comfortable jeans and Keds for a casual, yet cool look.
Putting It All Together
Now that you have an idea of what to include in your spring capsule wardrobe, it's time to start putting it all together. Here are a few tips:
Start with the Basics
A spring capsule wardrobe should include a few key pieces that you can mix and match with any outfit.
Examples are t-shirts, tank tops, jeans, canvas sneakers, and denim/leather jackets.
Add in Some Seasonal Staples
As the weather gets warmer, you might want to add in a few pieces that are specific to spring.
These include lightweight hats and scarves, denim shirts, and ballet flats.
Don't Forget Accessories
Capsule wardrobes don't have to be boring and look like everyone else's wardrobe.
Even a basic tee and jeans can look unique with the right jewelry or a unique hat.
Experiment with Different Combinations
The best part of a spring capsule wardrobe is that you can mix and match the pieces to create endless possibilities.
Spring Capsule Wardrobe Essentials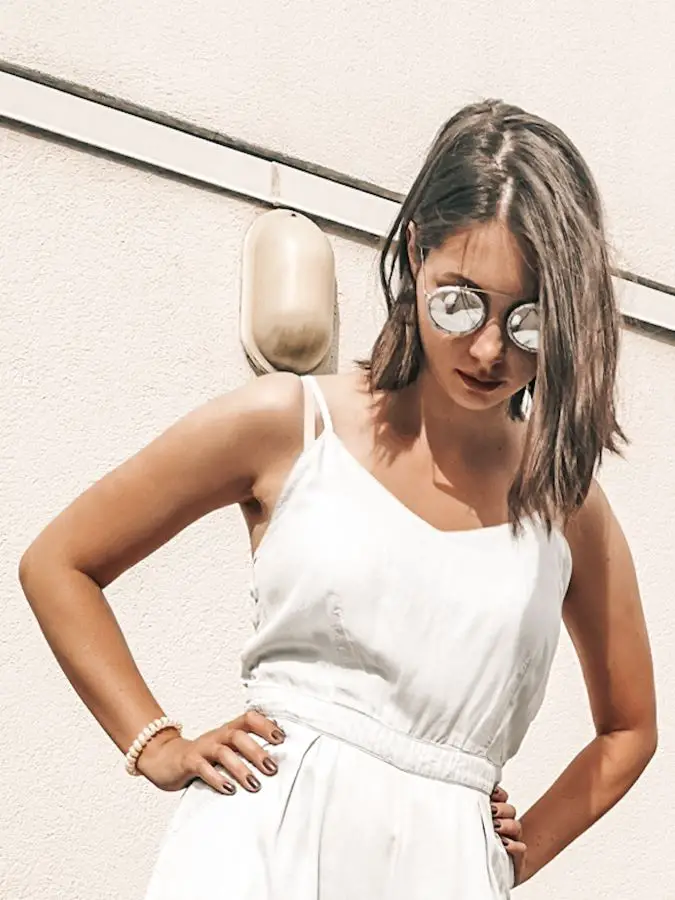 Tops
White t-shirt
Neutral tanktop
Neutral long-sleeve
Button-up shirt
Denim shirt
White T-Shirt
A white t-shirt is a spring essential for a reason: it's versatile and can be styled in many different ways. You can wear it with jeans, skirts, shorts, and pretty much anything else in your spring wardrobe.
My favorite way to style a white t-shirt is by wearing it with boyfriend jeans and Converse sneakers.
This look is great for weekend errands or going out for a walk. To make the look more interesting while keeping it casual, I'll add stack a few rings and add statement stud earrings.
Neutral Tanktop
Neutral tanktops are important for all seasons. For example, you can put them underneath sweaters to stop the wool from rubbing against your skin.
You can wear them underneath your spring denim shirts, underneath dresses for more warmth, underneath sheer tops, and anything in between!
Neutral Long-Sleeve
You can repurpose your winter long sleeve for spring by wearing it on its own with an unbuttoned shirt over top.
For example, if you have a flannel button-up shirt, you can wear the long sleeve underneath for added warmth and wind protection.
To get the most use out of it, keep the color of your long sleeve neutral. This will let you pair it with everything in your closet year-round.
Button-Up Shirt
These are my absolute favorites for spring. I love getting see-through button-up shirts that let me wear crop tops or tank tops underneath.
This is also a time where you can go bold with colors and patterns because you'll have the necessary neutrals in your closet already!
Denim Shirt
Another one of my faves. You can wear these buttoned-up, loose and open, or button them up and tie them at the bottom to make the length cropped.
You can also layer the shirt with a chunky knit cardigan if spring is cooler where you live.
Outerwear
Denim jacket
Lightweight jacket (e.g. bomber jacket)
Denim Jacket
This is the warmer version of the denim button-up shirt. You can get a sherpa-lined denim jacket if you need more warmth, and these have a great vintage look as well.
Denim jackets come in loose and cropped variations, so there's one for literally everyone's style!
Lightweight Jacket
This could be a trench coat, a cotton jacket, or a bomber jacket.
Again, go with a style and length that you like, and try to go for a neutral color because this item is going to be a staple in your spring wardrobe!
Dresses/Jumpsuits
Midi-Length Dress
A midi dress can fall anywhere from two inches below the knees to right above your ankles. This makes this dress length perfect for windy and chilly days.
Midi dresses can usually be worn with anything from knee-high boots to flats, so they're super versatile.
You can wear midi-length dresses during pretty much any season provided you layer them properly, so they're a great investment in your year-round capsule wardrobe.
Jumpsuit
I'm a huge fan of jumpsuits because they make it so easy to get dressed. All you have to do is pick a pair of shoes, optionally throw on a jacket, and you're out the door.
When you're picking out a jumpsuit, make sure to figure out what types of shoes you'll be wearing it with.
If you're only going to wear it with heels, you may want to go for a longer pant length. Anything that's the perfect length for flats may end up being far too short for heels.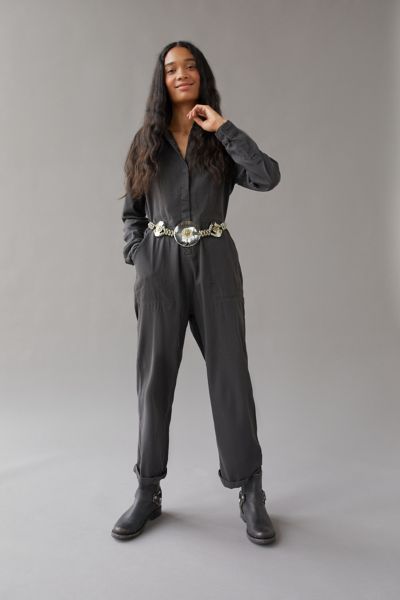 Bottoms
Cropped jeans
Maxi skirt
Leggings
Cropped Jeans
I love cropped jeans because they let you put more emphasis on your shoes.
They're also great for petite folks because it's less likely that you'll have to roll up your jeans, which can be super annoying and add unnecessary bulk.
Maxi Skirt
Like the midi dress, the maxi skirt is another staple that you can wear year-round as long as you layer.
Maxi skirts should fall right to the ground or right above your ankle at their shortest. It can be a challenge to find one for your height, so do your best to buy these in-store where you can try on a lot of styles.
Leggings
Black leggings are perfect for keeping outfits casual and super comfortable. Plus, you can wear them with pretty much any type of footwear.
I just wear one pair of leggings (my exercise ones because they're so flattering), but if you wear leggings daily and they're an important part of your lifestyle, then you can definitely add two or three pairs to your wardrobe so you have a pair to wear while the other is in the wash.
Shoes
Ballet flats/loafers
Booties
Ballet Flats/Loafers
Ballet flats are perfect for both work and social events, which is what makes them so versatile. To get the most use out of them, go for a neutral color like black or beige.
I have a pair that's a light blush pink, which gives them a bit more of a "ballet" look without making them too difficult to pair with other items.
Booties
Whether or not you get these will depend on the climate where you live.
If it's chilly, go for ankle boots that you can walk in for a long time. You can also go for suede booties for a nod to boho style, or peep-toe booties if the climate allows for it.
Accessories
Lightweight Scarf
These make for fun accessories while protecting you from those chilly spring winds. This is also another area where you can easily add a pop of color or a fun pattern.
Use a Checklist for Clarity
The items listed above are the minimum you might need for a spring capsule. This is to keep you from buying too many things you don't need and to stop you from buying things that don't fit your style.
So if there are other items you need to add, then be sure to tailor this list to your preferences!
In this checklist, I've also purposely added pieces that are most specific to spring. But depending on what the weather is like where you live, you can add in some summer or winter pieces to supplement the capsule wardrobe.
For example, if your spring is cooler (like mine), you can keep a beanie and ankle boots in your spring capsule wardrobe. But if your spring is more like an early summer, you might want to wear more cotton t-shirts and lightweight fabrics.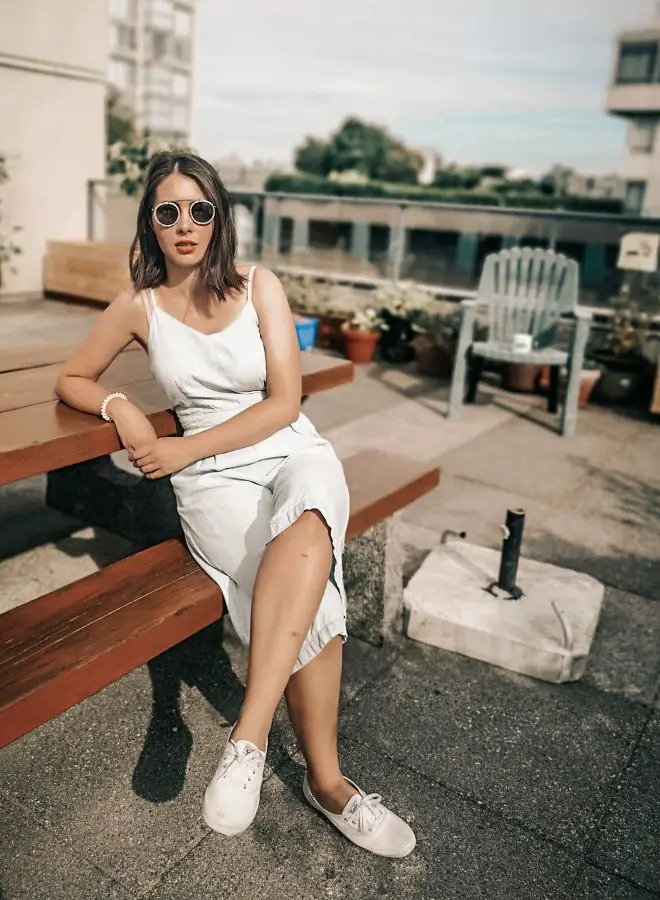 How to Mix Items from Other Seasons into Your Spring Capsule Wardrobe
While a spring capsule wardrobe should include a few key pieces, you don't have to get rid of all of your clothes from other seasons. There are a few ways you can mix items from other seasons into your spring wardrobe:
Add Staples from Other Seasons
Some of the staples from other seasons that I always carry into spring include my leather jacket (fall), my denim jacket (summer), Keds (summer/fall), long cardigans (fall/winter), and t-shirts (summer).
Experiment with Different Combinations
 The best part of a spring capsule wardrobe is that you can mix and match the pieces to create endless possibilities. So try mixing in your favorite chunky cardigan from fall, add booties to a knee-length dress, or add a beret to your denim shirt outfit!
Layer up When It's Cold
A spring capsule wardrobe shouldn't be limited to warm weather items. You can still wear jeans and a T-shirt when it's colder outside. Just add a jacket, chunky cardigan, or scarf to stay warm.
Accessorize for Spring
You can wear most of your jewelry during all seasons, so don't put away your earrings or bracelets!
How to Save Money on Your Spring Capsule Wardrobe
One of the best things about a spring capsule wardrobe is that it's a great way to save money. Here are a few tips for how to save money on your spring wardrobe:
Choose Affordable Fabrics
Cotton tends to be quite an affordable fabric that's super breathable for spring. Linen and flannel are also great options that aren't too pricey.
And while denim isn't the most affordable fabric, good-quality denim is very durable and should last you for years to come.
Shop Secondhand
Shopping secondhand is a great way to find affordable clothes without having to sacrifice quality. Plus, you can find some amazing, unique finds when you shop thrift.
Do a quick Google search for thrift stores near you, or shop online at places like Poshmark for your favorite brands.
Get Creative with Accessories
Accessories are a great way to add personality to any outfit, and they're also an easy way to change up your outfit without spending any extra money.
For example, a statement necklace and a pair of studs can instantly take an outfit from casual to elevated for a night out!
Stick to a Small Number of Key Pieces
A spring capsule wardrobe should include 15-30 key pieces that you can mix and match.
By sticking to a few key pieces, you'll save money while still having a versatile wardrobe.
Build the Perfect Spring Capsule Wardrobe
A spring capsule wardrobe is the perfect way to transition your wardrobe from winter to spring.
It can also help you save money on clothes while still having a stylish and versatile wardrobe.
By following these tips, you'll be able to put together a spring wardrobe that's perfect for you. And with a little bit of planning, you can have everything you need to have a wardrobe that reflects your style all season long.
What are your essential spring wardrobe items? Let me know in the comments below!
Related posts you might like:
This post was all about How to Build the Ultimate Spring Capsule Wardrobe