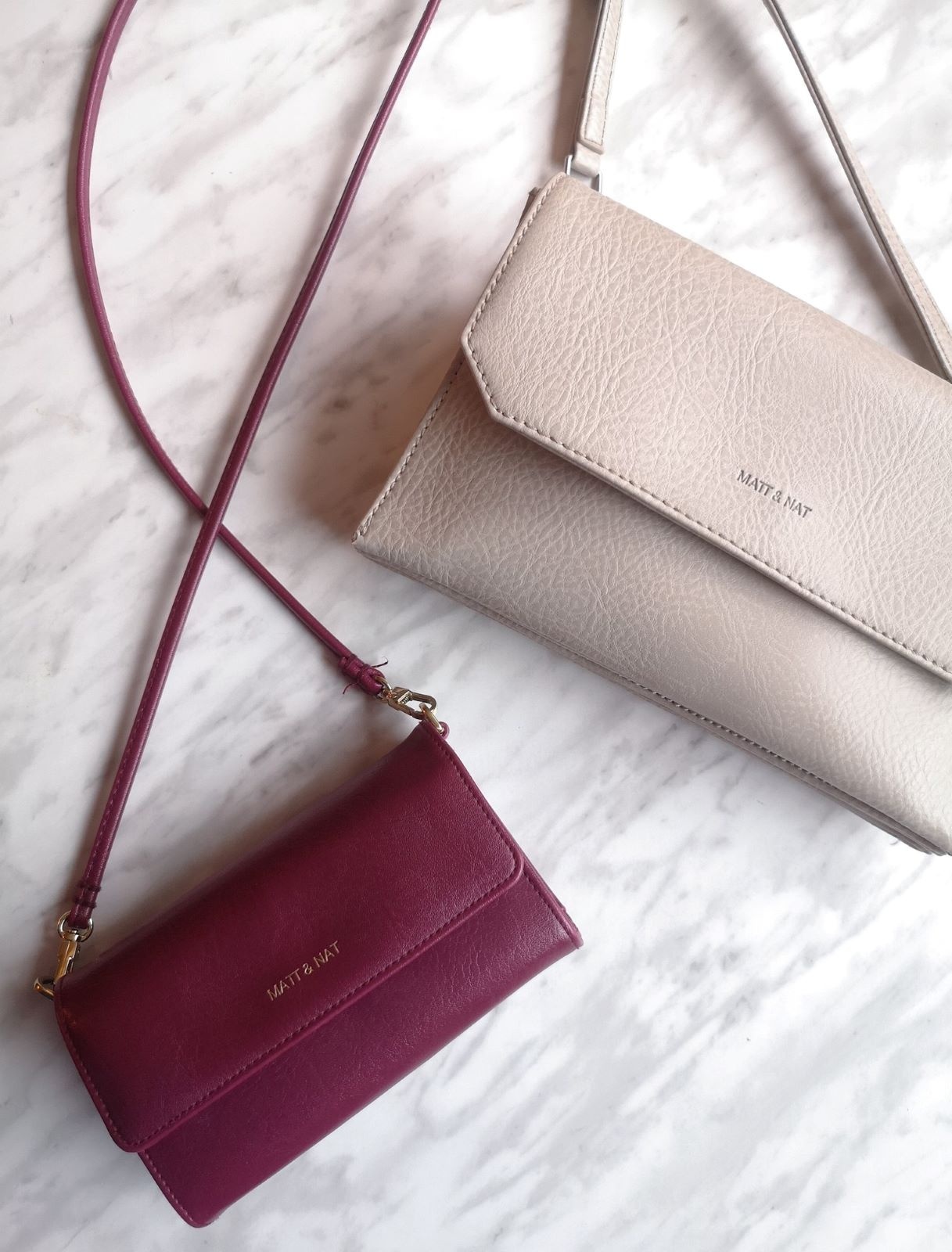 This post may contain affiliate links, which means I'll receive a commission if you purchase through my links at no extra cost to you. Please read full disclosure for more information.
Figuring out how to choose a handbag for everyday use not only saves you precious closet space but spares you from pre-outing outfit meltdowns that make you more than fashionably late and the classic "I don't know what to wear!" slogan that we've all uttered at some point or another.
And let's not forget those awful closet moments where we've opened up our closet only to promptly shut it because the pile of bags on the shelf threatened an impulse-buying induced avalanche on top of our heads.
Before I found which bags I could use as everyday bags (those two handbags are pictured above, by the way), I was literally opening my closet, picking from a multitude of piled up bags, seeing which one matched my outfit, taking all the stuff out of my old bag (wallet, cards, lip balm, breath mints, tissues, Advil, etc), and piling it into the new one.
Yeah, no one has time for that. This strategy ended with me just using the same bag for 10 years and leaving the rest to turn into stiff, dusty leather in my closet.
If this sounds like a problem you also struggle with, I'm here with your rescue guide. Here's how to choose an everyday bag so you don't have to keep shuffling things around every time you need to go out!
How to Choose a Handbag for Everyday Use
Picking an everyday bag doesn't mean you have to throw out all your old bags. It just means you're not constantly having to shuffle your stuff and can just grab your bag and go.
Now, I have two everyday bags (pictured above) that I hang on my doorknob. Whenever I go about my everyday life, I just grab them and don't waste any time.
But if you pick a bag that's not your style or that just doesn't fit with your wardrobe, you're not going to use it, no matter how good of an everyday bag it is.
Let's start with the basics:
Color
The best colors for everyday bags are ones that are neutral. This includes black, white, gray, brown, navy, and beige. Some other colors that could be fairly neutral are deep tones like wine red and pale versions of colors like moss or olive.
The second thing is that you want to check if both the color and the color tones (warm or cool) fit with your existing wardrobe.
I'm thinking here of my Longchamp bag, which is navy blue with brown handles. It's definitely a great bag, but since I don't wear a lot of brown leather or warm tones, I don't reach for it every single day.
And unless you get a plain black bag, you may not be able to wear it with absolutely every single outfit. But if you can wear it with 90% of your outfits, then I'd say it's a great choice for an everyday bag.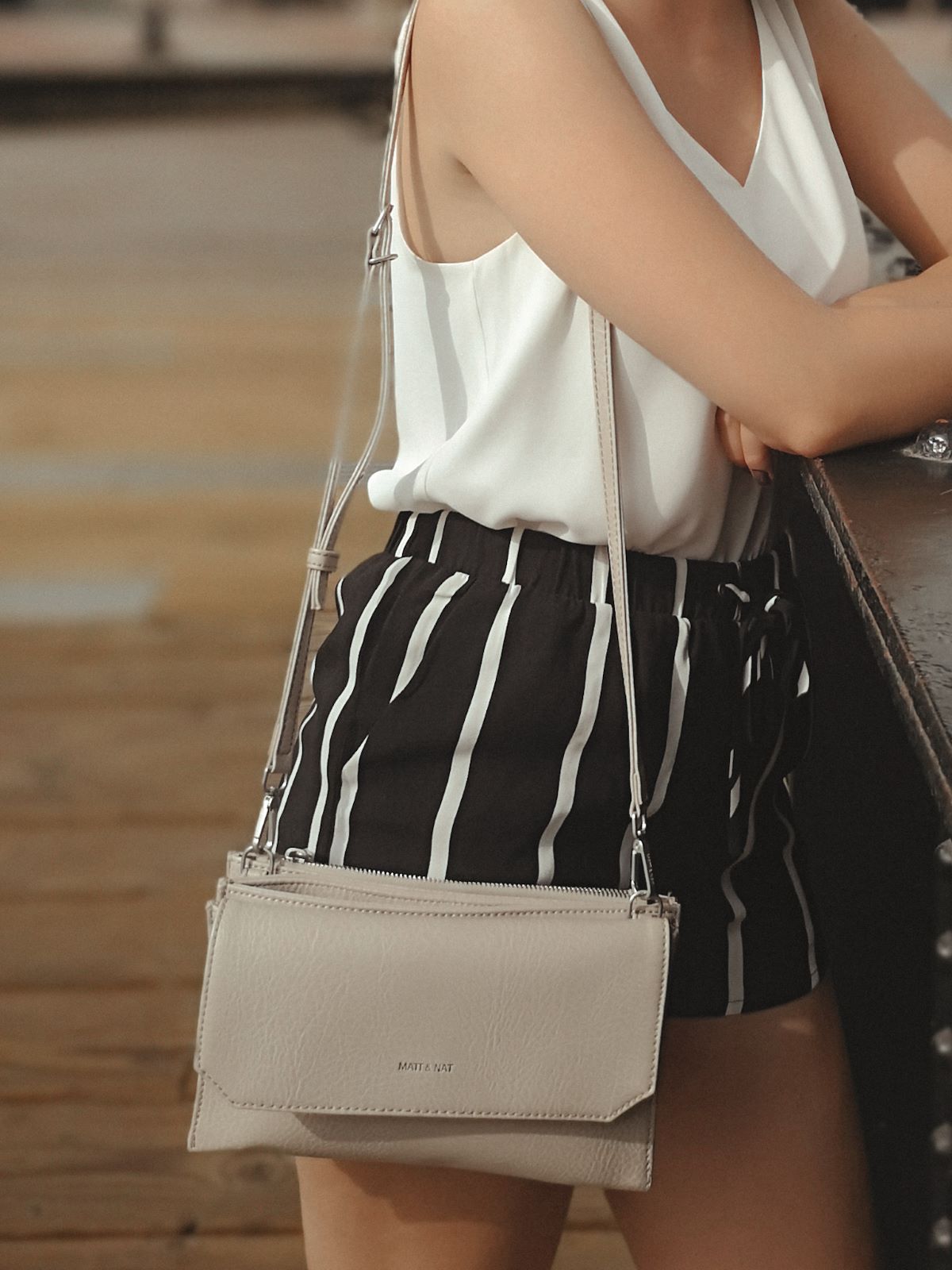 The aim here is to save time while keeping your outfits looking good, so for the rare outfit that may not match the bag, you can just switch to a different bag (and get more use out of that bag!).
For example, my small Matt and Natt Drew Crossbody bag (the red one in the photo) fits with 90% of my clothes. But if I want to wear it with a lavender romper, say, I'll just switch to a different bag.
I wear a lot of neutrals, so this approach works for me. This is why it's super important to choose a bag that fits with the colors you already have in your closet.
Neutral bags are also a great option if you're looking to create an aesthetic outfit like a 90s outfit—this way, the bag complements your outfit without taking away from the centerpieces.
Size
Now, purse sizes make a huge difference as to whether a bag will be an everyday pick for you or not.
If you find yourself doing a lot of walking, then a small purse would be better as you don't want to make your shoulder sore. A small purse is also great if you're going out somewhere and don't need to carry too many essentials.
But if you have lots of things you need to keep in your bag, then a larger bag like a tote bag would be a better option.
Keep in mind how organized you need your items to be as well. Most purses have built-in pockets, zipper pockets, and organizers, but you may need to get a separate purse organizer if you need both a larger bag and better organization.
Handbag Type
There are more handbag types than I'm listing here, but I've kept the list relevant to the types of bags you're most likely to use for an everyday bag.
These are shoulder bags, tote bags, crossbody bags, and satchels.
Shoulder Bag
As the name suggests, shoulder bags are meant to sit on your shoulder and have a strap just long enough to sit mid-waist or hip, depending on the bag.
You can also wear shoulder bags on your bent elbow to change up the look (my best friend hates this, so I always troll her with it, haha).
Although shoulder bags tend to be small, they most often come in medium to large sizes, which is perfect for carrying all your daily essentials such as your phone, keys, and even a water bottle.
They also make for great work bags as you can get some really professional-looking styles.
Everyday Shoulder Bag Ideas:
Tote
Totes are one of the most popular types of casual bags, but they differ from traditional shoulder bags by their boxier, rectangular shape.
You can get large shopping tote style bags, or you can get a professional tote bag style called an executive tote.
These bags are excellent if you need to carry lots of things around, and some of them can even fit a laptop or notebook, which makes them ideal for work and business meetings.
Everyday Tote Bag Ideas:
Crossbody
Crossbody styles are my favorite types of casual bags because they are so versatile, easy to wear, and stay securely on my body.
Crossbody bags are also easier to carry if you're going to be doing a lot of walking, as you don't have to worry about holding the bag with your hands. They're also great if you're going somewhere with the kids, as you'll then have your hands free.
Crossbody bags range from sporty to fancy, so there's something out there for whatever style you're looking for.
Everyday Crossbody Bag Ideas:
Satchel
Satchels are great everyday bags that are similar to crossbody styles but are characterized by their square, boxy shape.
They also tend to have a handle at the top so you can choose whether you want to wear the bag with the strap or hold it by the handle.
Satchels often have a zip or clasp to close them, so think about how securely you want your bag to close and if you have any concerns about things falling out of your bag.
Satchels that close with a clasp may also have a zipper inside for added security, so make sure to check this if it's something you're worried about.
Everyday Satchel Ideas:
Material
Next up, think about what type of material would work for you. If you go for canvas or fabric material, keep in mind that this can get dirty, so be especially careful when choosing light colors or when wearing jeans (I once had the blue dye of my jeans stain my Coach bag!)
Leather is very hard-wearing and durable, but you may need to treat it with a leather cream if you want it to be more water-resistant, supple, and help it last longer.
Vegan leather is great for rainy climates as it's low maintenance and repels water (I love Matt and Nat for their affordable vegan handbags).
Your Wardrobe and Personal Style
At the end of the day, no matter how appropriate for every day a bag is, you're not going to wear it if it's not your style and doesn't fit with your wardrobe aesthetic.
Remember that even neutral-colored everyday bags come in all sorts of styles and aesthetics (e.g. minimalist, edgy, classic), so you'll still be able to find one that fits your style.
A Note on Cardholders and Wallets
Cardholders and wallets are a huge part of my time-saving purse strategy. With my smaller everyday Matt and Nat bag, I have to use a cardholder as it can't fit a wallet.
Actually, the bag is so small that it can pretty much only fit my phone, keys, and cardholder if I position them right.
But I purposely got a small bag because my shoulder kept hurting from the weight of my purse whenever I'd go on a long walk with friends. This bag has been a lifesaver for that reason.
And when I do need some more space in my bag for more items, then I simply switch my cardholder to the bigger bag and go.
This is also why I like to have two everyday bags. So if you tend to switch between several everyday bags or use your other bags often, I'd suggest getting a cardholder or wallet so you can easily switch between bags.
I'm also a huge fan of this strategy because it helps me get more wear out of my other bags.
A cardholder is a great idea if you have about 4-ish essential cards that you use regularly, while a wallet is better if you have a lot of cards and need to carry cash and/or change.
Wallet and Cardholder Ideas:
How to Choose a Handbag for Everyday Use – Conclusion
Learning how to choose a handbag for everyday use can help you save money, time, and closet space!
Plus, you'll be able to keep all your essentials (wallet, lip balm, transit card, etc.) in the same bag and quickly grab it and leave the house.
Posts Related to Everyday Handbags:
This post was all about how to choose a handbag for everyday use