You don't have to spend hundreds (or thousands) of dollars to refresh your wardrobe.
Do you groan every time you open your closet? Do you pull items out and just hate each piece?
In those moments, it can be easy to feel like a new wardrobe is out of reach. After all, who has the money to be constantly throwing out the contents of their closets and buying new stuff all the time?
The good news is that you don't have to throw everything out. In fact, a few simple tweaks are enough to give you a wardrobe that feels totally fresh and new. And the best part is that you don't have to spend all your hard-earned savings to do it (or grandma's birthday present money).
Let's dive in!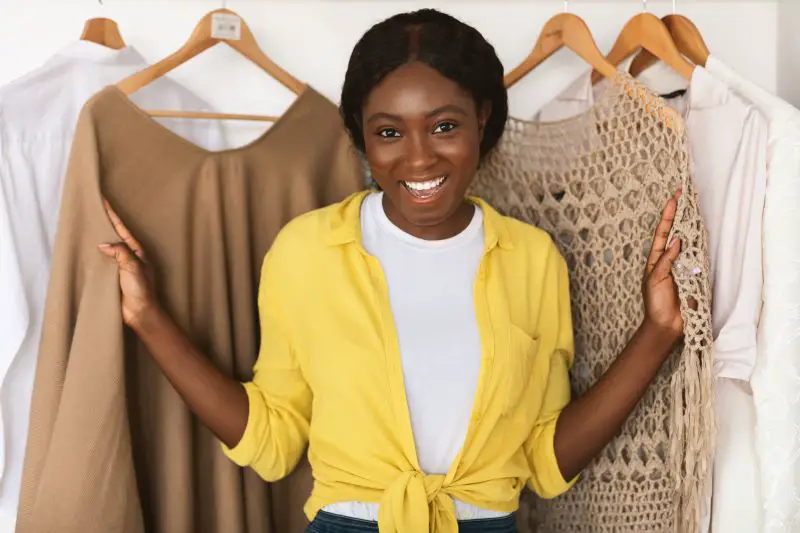 This post may contain affiliate links, which means I'll receive a commission if you purchase through my links at no extra cost to you. Please read full disclosure for more information.
1. Clean Out Your Closet
Believe it or not, the first step in refreshing your wardrobe is to do a closet cleanout. 
Now, I don't mean throwing every single thing in your closet out. That's not practical (nor affordable) for most people.
Nor am I suggesting that you clear your weekend schedule because you're going to need it to do a full-on closet organization revamp.
What I mean is removing anything that's causing obvious clutter in your closet and preventing you from reaching the clothes you actually want to wear.
The most common culprits are clothes that don't fit you well, clothes you don't like, and clothes that are falling apart (which you can still find uses for).
Once you've sorted out which clothes you're going to donate, make a mental note of whether you see any patterns. For example, you might have a habit of impulse-buying jeans, but find that you only reach for one or two pairs regularly.
Learning how to minimize your wardrobe will also help you avoid buying more clothes you won't like or wear.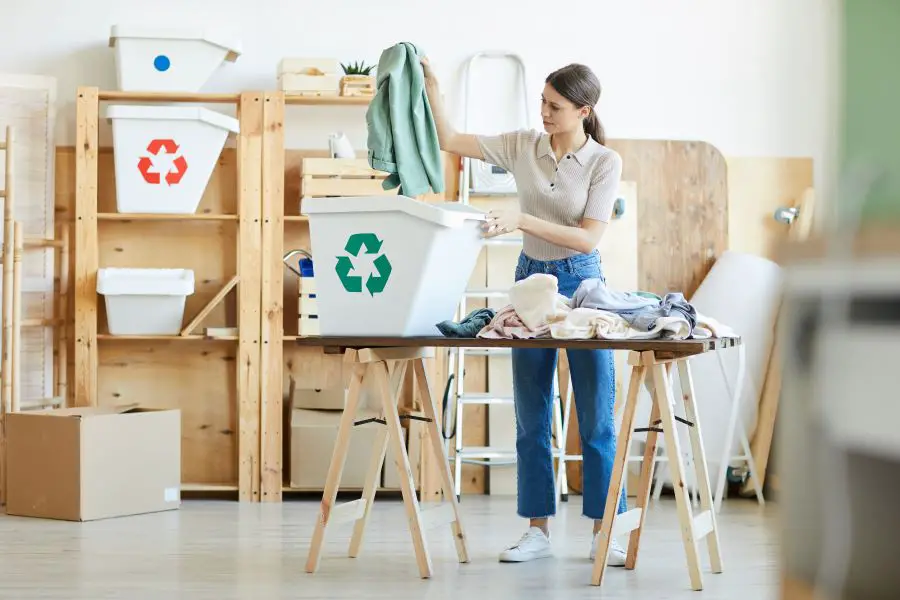 2. Put Your Favorite Pieces into One Pile
This step is important because it helps you figure out what you'd like to buy more of (and what makes you feel the most confident + comfortable).
Keep in mind that you only want to put two types of pieces in this pile:
Clothes you regularly reach for and wear
Clothes that are practical for you/that you want to wear but have forgotten about due to clutter, etc.
You DON'T want to put pieces in here that you *think* you're going to wear.
For example, I find so many cool looks on Pinterest and in magazines where I'm like, "wow, I'd love to wear that" but then don't because it's just not practical for my lifestyle or for the climate where I live.
If you're not sure about a piece, try it on with things you'd wear it with. Try making a complete outfit, and see if it fits with other pieces in your wardrobe.
Most importantly, contemplate how you feel in a piece. As Marie Kondo says, if it doesn't spark joy, get rid of it (unless, of course, it's a practical piece of clothing like a work uniform).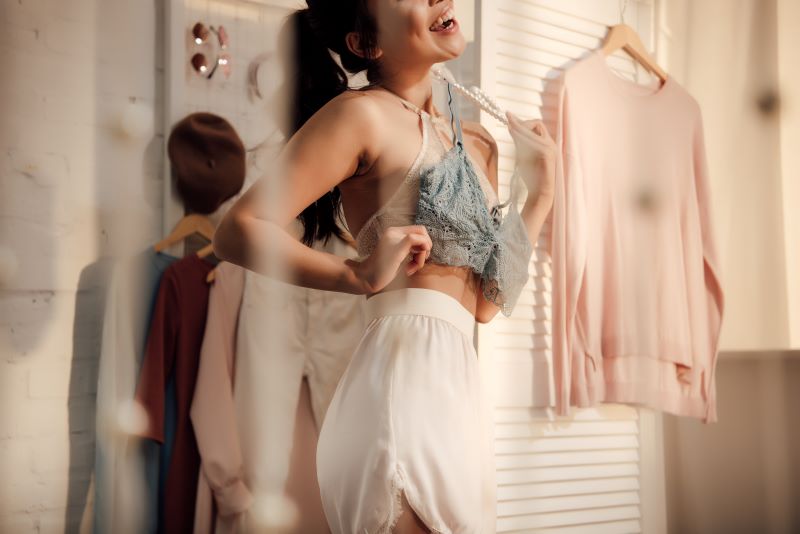 3. Figure Out What Key Pieces You're Missing
Next, you'll want to update your wardrobe with all the key pieces you don't have (or needed to donate because they don't fit anymore).
For this step, the two most important categories are:
Practical, everyday clothes
Special occasion clothes
Obviously, you'll want to have more of the former, but both categories should be clothes you actually like. For example, you could love A-line dresses, but if you only wear them to birthday parties and weddings, you probably don't need more than two or three.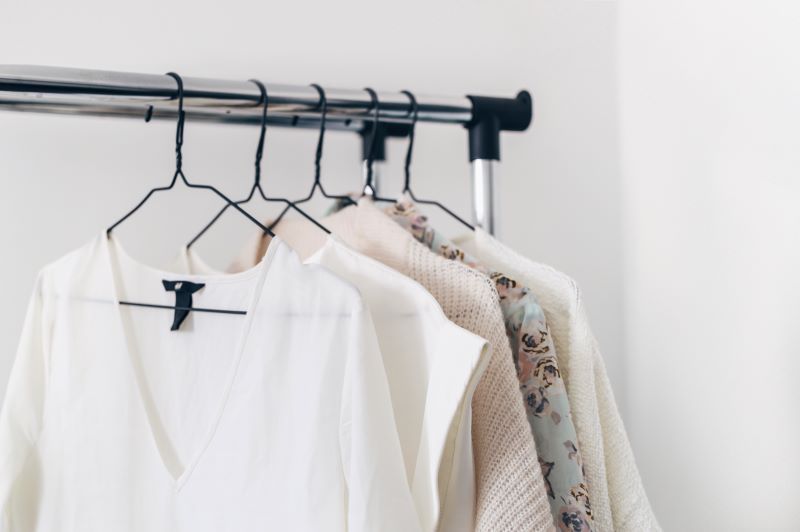 As for everyday clothes, let's say you work in an office. Even if your everyday outfits are borne of necessity rather than choice, you should still love your clothes.
I was watching an episode of Queer Eye where the guy wanted to wear a suit, and then Tan said "Fine, but don't make it a boring suit." Then, he dressed up the guy in the most awesome suit combination ever.
And keep in mind that this doesn't mean you have to wear a neon suit to work that will land you a trip to your supervisor's office where they will "tsk tsk" you and point out the corporate dress code.
You can still be creative with small details like jewelry, hems, cuts, and shades instead of bold colors.
For example, I recently went to a corporate dinner at a fancy restaurant. Aside from feeling like the main character in The Princess Diaries, I was able to come up with an interesting office outfit by utilizing the power of unusual color combinations (in this case, a purplish-gray blazer and blush pink dress pants).
Regardless of whether your everyday practical outfits consist of leggings, suits, or a uniform where your only creative freedom is your choice of footwear, you should still love your wardrobe.
So when it's time to shop for new clothes, I find it most helpful to make a list on a sticky note. This helps me save money by buying pieces I actually need. Most importantly, it helps me avoid impulse buying.
4. Get More of What You Love
Do you really wear all your clothes all the time? I doubt it. In fact, the right side of my closet (the part that's easiest to reach when I open the door) is where I put my most-worn pieces.
These are the pieces that make me feel best and give me the most confidence.
Here's an analogy. Maybe it's just me, but whenever I hear a great song, I download it and listen to it way more than the other songs currently on my phone. As humans, we tend to love novelty, and that extends to our clothes.
For example, I just went on a miniature shopping trip. I couldn't afford to buy very much, but I hadn't gone shopping in a while and wanted to treat myself a little bit.
One of the pieces I bought was a cropped fleece sweater that was perfect for wearing with high-waisted bottoms and cooler evenings. I loved the color (dark, dusty rose) and how comfortable it was (it made me feel like I was wearing a warm hug and sipping tea on a rainy day).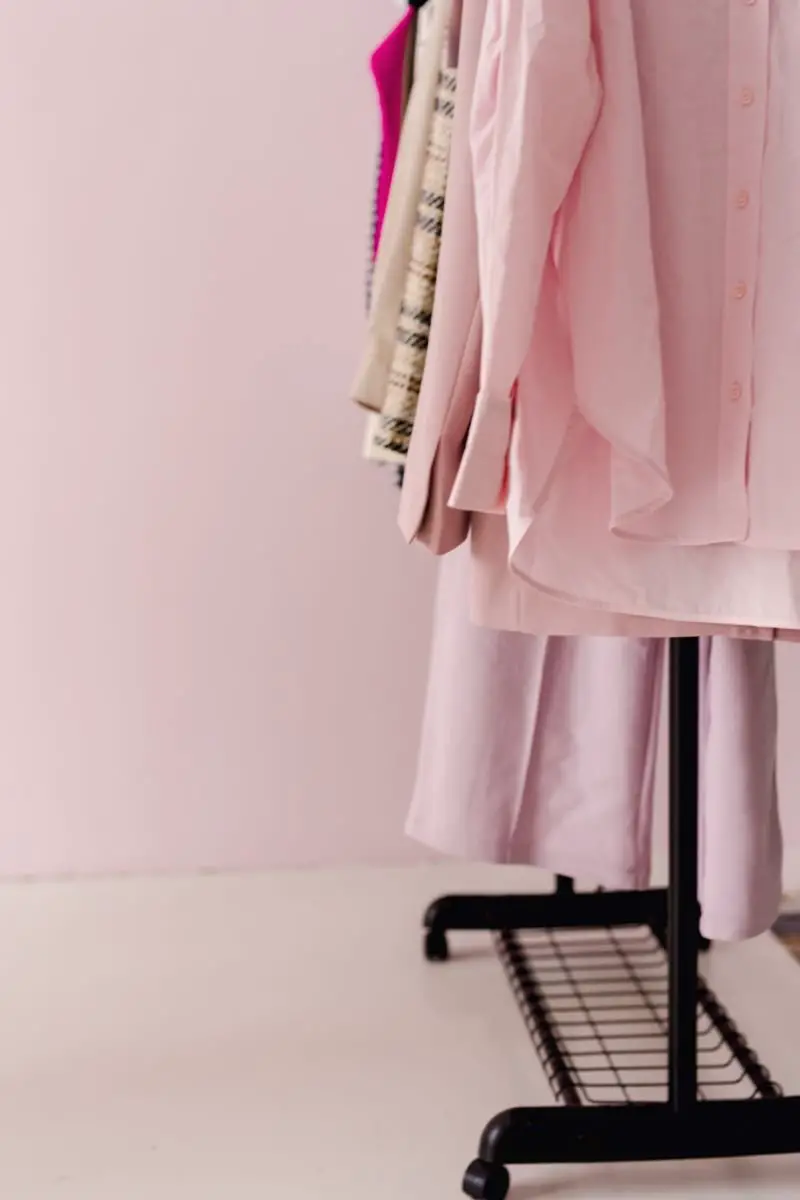 And since it's new, I find myself reaching for it pretty much every day. I also have so much fun pairing the sweater with the other items in my closet.
As a result, I feel like I got a new closet even though I only bought 3 new things.
This is also a good strategy to use when you want to get more wear out of your seasonal pieces.
And if you're not sure what you love, it may be that you just need to spend a bit more time figuring out what styles you like. Here's a helpful video from BestDressed on how to find your style (and feel confident while wearing it):
5. Put Your Favorite Pieces Front and Center
Let's go back to the example of my pink sweater. I put this sweater on the right side of my closet where I could most easily reach (and see) it.
And since I can see it every time I open up my closet, it doesn't end up getting lost somewhere at the back, tags still on and all.
This is also important as you bought the piece because you like it now. You may not like it anymore in a couple of years, and it might not fit the same way, either.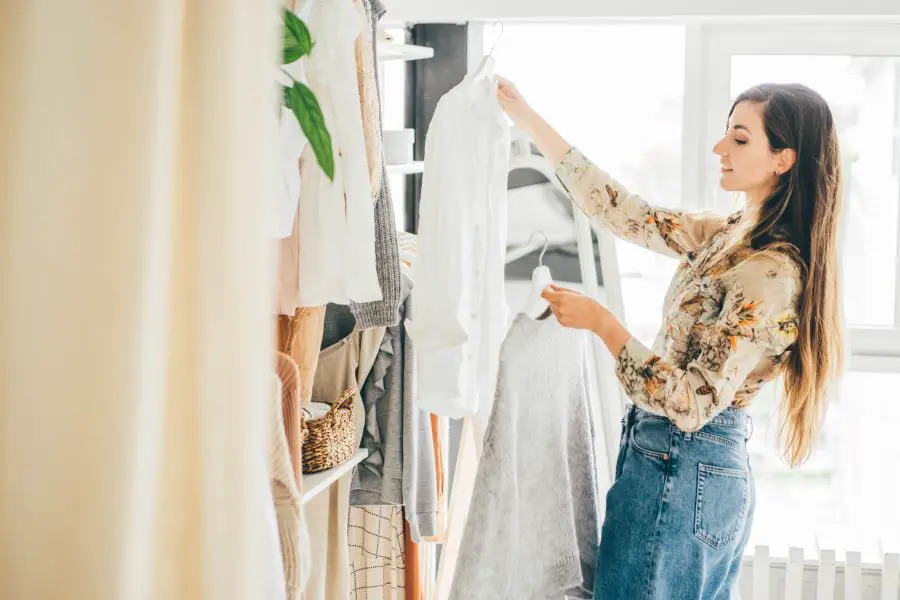 And sometimes, we spend a ton of money on a really nice piece and are afraid to wear it because we don't want to ruin it.
Totally understandable (and if you're like me, food stains are attracted to your clothes like a moth to a flame), but I promise you that fun novelty will wear off and you won't be as happy wearing the piece in three years as the week you bought it.
So to avoid wasting money on new stuff, just put it somewhere you can see it and wear it. Right. Now.
Refresh Your Wardrobe with These 5 Easy Steps
I hope this blog post gave you some ideas for how to change your wardrobe without spending more than you're comfortable with.
Remember that the best way to refresh your wardrobe can just mean getting a few new items you love and want to wear the heck out of.
And if you find yourself getting overwhelmed, just go back to these 5 tips and work on them one at a time.
And once you get into the habit of keeping only the things you like in your closet, you'll have a much easier time keeping your clothes feeling fresh and exciting with minimal spending!
Related Blog Posts You Might Like:
This post was all about 5 Simple Tips to Refresh Your Wardrobe Without Breaking the Bank.