Getting rid of too many clothes isn't as hard as you think. All you need are the right processes!
If you open your closet only to see a frightening pile that's about to fall on your head, you're not alone. And if you find yourself saying "I have too many clothes," it's a doable fix in less time than you think!
Oftentimes, we keep sentimental items or things we'll wear "someday" until they end up in a forgotten pile at the back of our closets. And before we know it, we start to hate our closets altogether.
Thankfully, you can end this overwhelm in as little as a day with a carefully-planned closet cleanout.
Here are my 5 easy steps to getting rid of too many clothes so you can create a closet you love!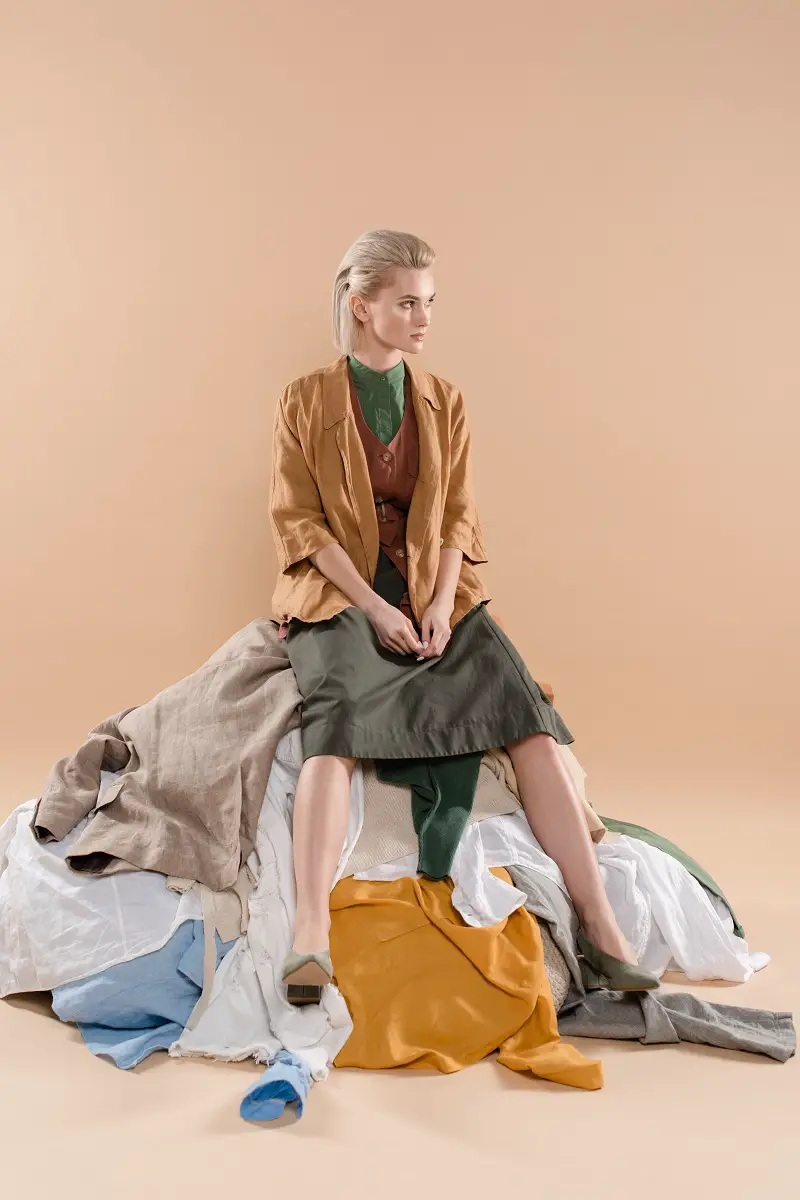 This post may contain affiliate links, which means I'll receive a commission if you purchase through my links at no extra cost to you. Please read full disclosure for more information.
Identify Why You Have Too Many Clothes
Before we get into how to get rid of too much clothing, let's talk about why you might have ended up with an overflowing closet in the first place.
Here are some of the most common problems I see people talk about:
Forgetting What You Have
When your closet is overflowing, it can be super difficult to find things. This in turn means you're more likely to buy duplicates of things you already have without realizing it.
And in the end, you end up with 5 of the same white t-shirt or ten pairs of similar jeans.
Not only does this take up valuable space in your closet, but it's money you could have spent on other things.
One of the most common reasons this happens is a disorganized closet. When you can't see what you have, things get shoved to the back of your closet or buried underneath piles of shirts and pants.
When this happens, the clothes you like end up at the back of your closet (forgotten), and the stuff you don't like often ends up at the front.
This creates the illusion that you don't like everything in your closet when in reality it's just a few things.
I'll Wear It "Some Day"
The most common issues here are getting clothes that:
Aren't your style
Are trendy (but you don't actually care about them)
Don't fit the climate where you live
Look good but aren't comfortable
Need alterations (but you never took them to the tailor)
My biggest problem is getting too many summer clothes. I'm most comfortable when it's warm out, so I tend to buy items that I would totally wear if I lived in a warmer climate, but that just aren't practical for where I live.
Another big one is clothes that look great on your favorite Instagram influencer or on the store's website but that are super uncomfortable in real life. This most often applies to overly tight items or super high/uncomfortable heels.
Now, an important exception to this rule is expected weight fluctuations (e.g. from medications, pregnancy, etc.)
In this case, you'll want to keep some clothes in your old size and put them in storage.
You may end up donating them anyways, but it's still a good idea to keep them for a year or two so you don't end up having to buy new clothes if you don't have to.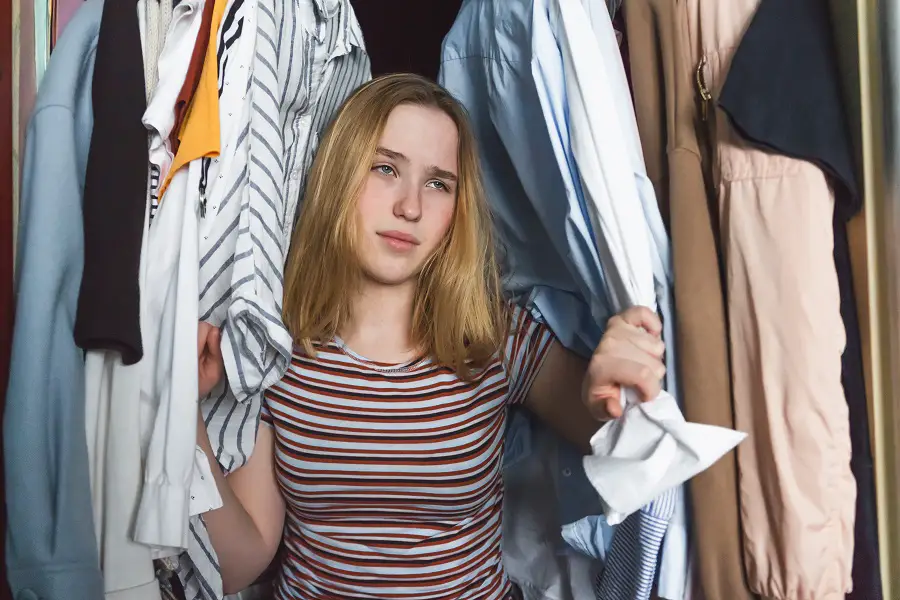 Impulse Buying
If you're anything like me, you'll know how difficult it is to resist a good sale.
The thing is, even if you're getting a good deal, buying things you don't need is still wasting money. And the more clothes you have, the harder it is to keep everything organized and looking good.
This is why I always suggest making a list for your future shopping trips. You can write down things you really need on one side and create a wishlist on the other. I find that this technique helps me avoid impulse buying.
So if you're someone who tends to impulse buy, it might be a good idea to unsubscribe from store emails. You'll also want to avoid going into stores when you don't need anything and give yourself a 24-hour "cooling-off" period before making any big purchases.
This is especially important during your closet cleanout. The last thing you want to do is add to the pile of clothes you need to get rid of!
You Don't Want to Get Rid of Sentimental Items
I get it—it can be really tough to part with clothing that has sentimental value.
Maybe it's the dress you wore on your first date with your partner or the shirt you got from your best friend when you graduated college.
You shouldn't feel pressured to get rid of all your sentimental items, however. This is only applicable if you have a lot of them and they're taking up valuable space in your closet.
And if they're ripped up and unusable, there's a limit to how many sentimental items you can accumulate. Personally, I have a small bag of sentimental items that I keep in my storage room. I keep the items limited to what can fit in the bag.
Another way to honor sentimental items is to take a picture of the item and then donate it. That way you still have the memories associated with the clothing, but you're not actually keeping the item itself.
You can also try repurposing sentimental clothing into other items like a quilt or a pillow. Creating a memory quilt is a perfect way to honor the item while giving it new life.
This way you still get to keep the item, but it's not taking up space in your closet.
I also like to follow Marie Kondo's method of "thanking" the item for what it has done for your life. Her Netflix show (Tidying Up with Marie Kondo) was a huge help for me when it came to learning how to declutter, so I highly recommend it if you have Netflix.
If you can't seem to get rid of any sentimental items and are overwhelmed by clutter, consider developing a ruthless mindset for cleaning out your closet.
You Haven't Found Your Style
Finally, one of the biggest reasons you might be buying too many clothes is that you're not sure of your style yet.
For example, you might think you want a minimalist style because it's trending, so you buy a ton of minimalist items. You end up hating them and stuffing them in the back of your closet.
This cycle can continue for years—you buy items you think you'll like, only to wear them a few times, hate them, and then never look at them again.
If this is your main problem, then I'd recommend determining your signature style first. This doesn't mean buying stuff right away but just assembling enough inspiration so that you have a good idea of where to start.
My top tip for this is to create several Pinterest boards. You can create one for everyday looks, one for fancy looks, and maybe a few seasonal ones.
Another great way to figure out your style is to go window shopping. Try on the things you're drawn to and examine how you feel in them.
Then, you can start assembling a wardrobe of items you feel super confident and happy in.
How to Get Rid of Too Many Clothes
Now that we've covered some of the main reasons you might have accumulated all those clothes, it's time to get rid of them.
While it's doable to complete all the steps in a day, it's not necessary. So if you're too busy to do it all in one day, that's okay! You should be able to do it in two weekends, even if you work in chunks.
The important thing is to take it step-by-step to reduce overwhelm.
Step 1: Take Everything Out
The first step is to take every single thing out of your closet. You need to be able to see everything you have before you can start getting rid of anything.
This is going to be messy, so make sure you have some space cleared out in your bedroom (or wherever you keep your clothes) to put everything.
Once everything is out, sort it into categories. You can do this either by clothing type (e.g. "jeans" or by occasion (eveningwear, formal wear, everyday wear, sports clothes, etc.).
Make sure to get at least three large garbage bags. Label them "yes," "no," and "maybe."
I also like to put on a fun soundtrack, album, or lighthearted movie that I can listen to. This makes the task a lot more bearable.
If you can't do all the steps in one day, then simply sort your clothes by item type (e.g. "jeans," "t-shirts") and put them in labeled bags.
Then, allocate an hour or two to work on your closet. Take each step one at a time and work around your schedule if you can't do everything in long chunks.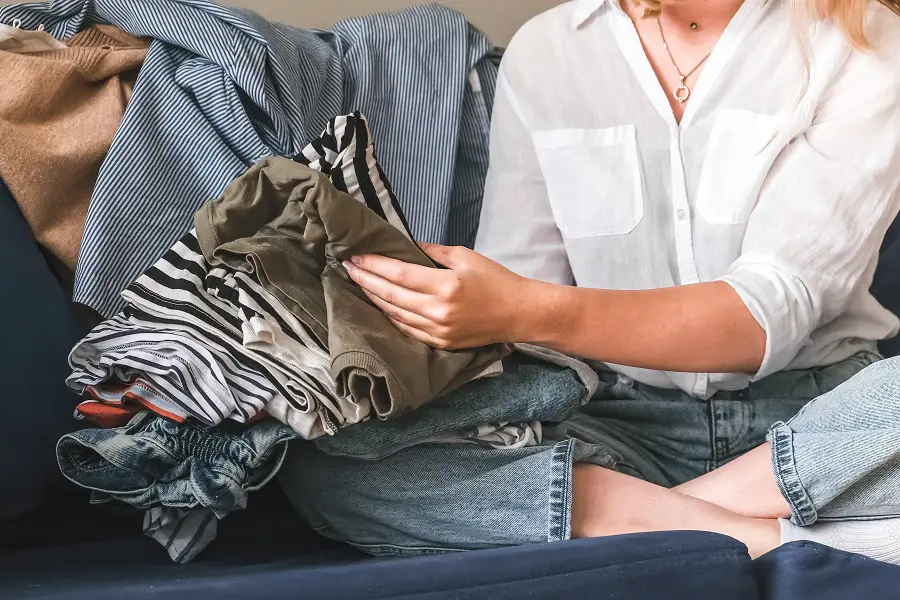 Step 2: Figure Out What You Wear Most
So how many clothes should I have, you ask. The answer starts with what you actually wear and what you don't.
A great way to figure out what you actually wear is to do a clothes audit. This is where you take all the clothes out of your closet and dressers and put them on your bed.
Then, go through each item and think about when you last wore it. Put everything you wear frequently and that makes you feel confident in the "yes" pile.
If it's been more than six months, then it goes in the "maybe" pile. This pile also includes items that need minor alterations (like hemming or replacing missing buttons).
These items shouldn't go back into your closet because you'll just forget about them again. Alternatively, you can put all the items that need alteration in a bag and put it by the front door. This will remind you to take them to a tailor ASAP.
If you can't remember the last time you wore it or if it doesn't fit well, then it goes in the "no" pile.
Once you've gone through everything, put the "yes" items back in your closet and dresser. The "maybe" pile goes in a box or bag to be stored away somewhere (not in your closet!).
Don't store your "maybe" pile for more than 6 months. If you don't wear these items by then, it's time to give them away.
What to Do if You Do Wear Everything You Have
One note I'll bring up here is that there are a few rare cases where you have too many clothes but you actually wear everything.
And unless you have a large walk-in closet, chances are you're short on closet space and it's tough to avoid clutter. In this case, separate your clothing by season and put the rest in storage.
For example, I always rotate my wardrobe between spring/summer and fall/winter. Once a year, I'll take out the upcoming season's clothes and put the rest into storage. This saves me a lot of closet space.
And if this is you, try not to shop too much. Instead, focus on wearing out what you have before you add any more to your wardrobe (unless it's an essential item you need).
You can also streamline your wardrobe by getting rid of duplicate items that serve the same purpose and that you don't really need.
Separate Work and Essential Clothing
Next up is to separate all your essentials, as these might be necessary to keep even if they're not your style.
If you're wondering "how many clothes do I need?", then this is your key to figuring it out.
For example, if you work in an office, you'll want to keep a good number of shirts, pants, skirts, or dresses that you need for work but wouldn't necessarily wear on the weekends or evenings.
Keep in mind that some items, like blazers, work really well with jeans and heels for fun evening wear and can really elevate your outfit!
If your job requires activewear, then these can double as clothes for the gym or an evening walk.
The only time I'd suggest getting rid of essentials is if you have so many that they're not leaving room for any fun or going out pieces.
You'll also want to get rid of anything that fits badly, is uncomfortable, that makes you sweaty, that's ripped beyond repair, or that you plain hate.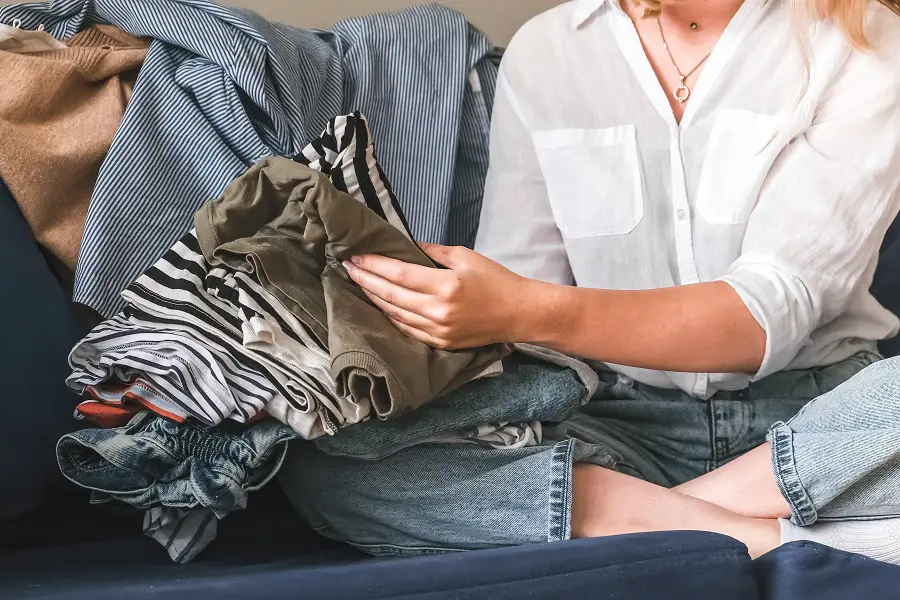 Step 3: Try Everything On
Now that you've gone through everything and separated it into piles, it's time for the next step: trying everything on!
I recommend doing this in front of a full-length mirror so you can see how each piece looks.
This is also a good time to get rid of anything that's too small or too big. If it doesn't fit well, then it goes in the "no" pile!
And if you're on the fence about something, ask yourself these questions:
Do I love it?
Is it in good condition?
Does it make me feel confident?
Is it comfortable?
Do I feel like myself when I wear it?
Does it fit with my lifestyle?
Is it appropriate for the climate/seasons where I live?
If the answer to any of these is "no", then it goes in the "no" pile.
You might also want to consider if an item is versatile and can be worn multiple ways. That's always a good sign that you should keep it!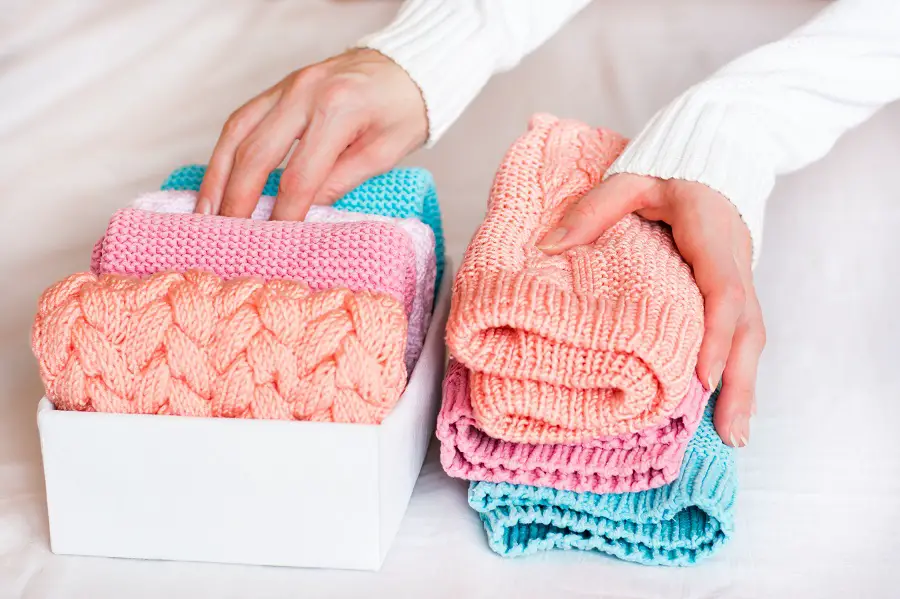 Step 4: Donate or Sell Any Clothes That You Don't Want
This step is the most gratifying, in my opinion. It's such a great feeling to empty all that clutter out of your house and feel like you have a clean slate to work with.
As for the clothes you're getting rid of, you can donate them to charity, give them to friends and family, or even repurpose them into fun DIYs!
If you want to give back to the community, you can find charity thrift stores near you that you'd like to support and donate to.
Another fun way to give away clothes is to host a clothing swap with some friends. I've gotten some of my favorite pieces from clothing swaps and love seeing how happy everyone is with their new clothes.
And if you have any expensive/designer items or things with the tags still on, check out sites like The Real Real for reselling designer items, and Poshmark for other items!
And for any clothes that are beyond repair, I cut some of them up into cleaning rags or repurpose them for DIY projects like rag rugs.
Step 5: Create an Organization and Storage Routine
The last step is to create an organization and storage routine for your clothes. This will help you keep your closet tidy and make it easier to get dressed.
Sticking to your closet organization routine will also stop you from ending up with this problem again.
The first recommendation I have is to hang up all the clothes that wrinkle easily. You also want to hang up everything you wear quite often and put these items within easy reach.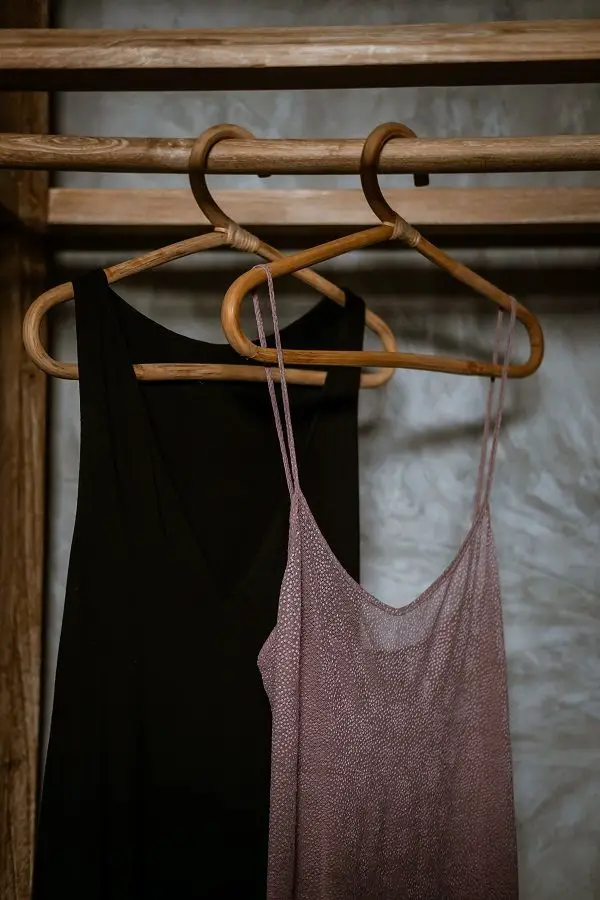 To make my closet look more aesthetically pleasing, I'll also organize my hanging items by type and loosely by color. For example, I'll hang up all the jeans in one area (to avoid wrinkling and make everything easy to grab and go).
Then, I'll hang up long-sleeved items I wear most often like cardigans, jackets, and my casual blazer.
Next to that, I have my short-sleeved shirts loosely sorted by color. You don't have to be super detailed with this, but I do find that it helps me choose outfits much quicker.
Be careful when hanging sweaters and stretchy items—sometimes they're okay, but other times the shoulders stretch out if you use the wrong hangers.
For items you can fold, store them neatly in labeled bins or drawers. Always put the things you wear most often in easy-to-reach places, and put the rest away in drawers.
I'm a huge fan of the KonMari folding method as it's saved me so much drawer space and it's fast. Here's a video showing you how to do it:
Say Goodbye to Too Many Clothes
It's normal to feel overwhelmed when you're dealing with too many clothes. When this happens, focus on one step at a time and work with your schedule.
Remember that you don't have to throw everything away—you can repurpose many items to your current style and can donate the clothes you don't want. The idea is to make your closet function for your current lifestyle and make things easy to find.
And with these five actionable steps, you'll be on your way to a more organized and clutter-free closet in no time!
Do you have any tips on how to get rid of too many clothes? Share them in the comments below!
Related organization posts:
This post was all about How to Get Rid of Too Many Clothes