Not sure what to do with old clothes? These tips will help give your clothes a second life without throwing them into the landfill!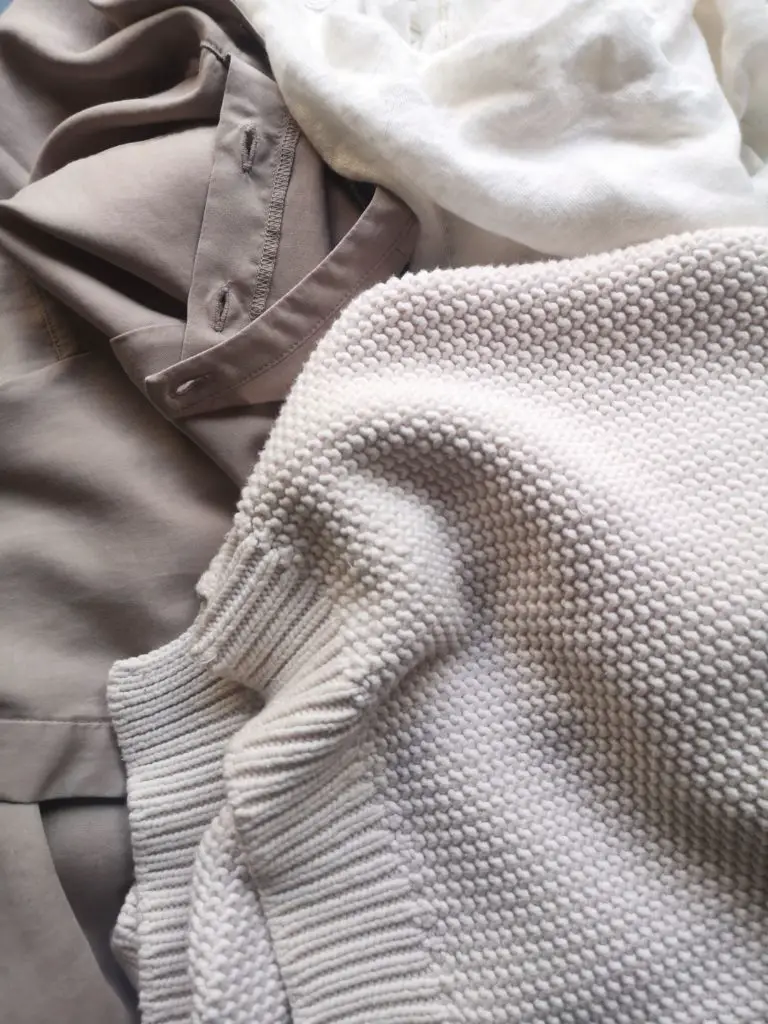 This post may contain affiliate links, which means I'll receive a commission if you purchase through my links at no extra cost to you. Please read full disclosure for more information.
So you have no idea what to do with old clothes and find yourself sitting in your house with several bags filled to the brim.
Surrounded, perhaps. And completely, totally at a loss. You're tired of these clothes, but you don't want to just throw them into the trash.
So what do you do with the stuff you just got rid of? After all, you're certain that your best friends wouldn't want that teen idol t-shirt you haven't worn since you were thirteen.
All jokes aside, there are actually a ton of things you can do with old clothes. Check out these 5 tips for how you can pass on your old clothes and keep them out of the landfill.
1. What to Do with Old Clothes: Fix or Repurpose Them
This is my first line of defense when I'm faced with clothes I haven't worn solely because they've gotten damaged in some way (and given how clumsy I can be, this happens a lot).
For example, if there's a button missing or a hem loose, consider taking the clothes to a professional tailor to fix them for you, especially if it's something you'd otherwise wear.
If it's a sweater that has some pills forming on it but is otherwise perfectly fine, consider getting a de-pilling machine if this is something that happens to your sweaters often (they're usually not that expensive and can save your otherwise perfectly good sweaters).
You can also consider upcycling the clothes in some way. For example, if you have a dress that you might like to wear as a skirt, you could take it apart or take it to a professional and repurpose it in this way.
This is a great idea if you're trying to figure out what to do with old leggings, for example—these are super stretchy and great for repurposing.
On the other hand, if it's a simple stain that's stopping you from wearing an item, consider getting a stain removal soap like Vanish.
What I do is wet the stained area, rub the soap in well, and put the item in the washing machine with some other clothes.
Then, I leave the stained, wet garment to dry out in the sun to see if the stain will come out (this combination has helped me with several items, including a particularly bad kimchi stain on my jeans!).
Just watch out when using stain removal soaps and make sure to read all the instructions. Some of them may contain bleach, so you just need to make sure you can use it on the clothing item in question.
2. Donate to a Thrift Store or to a Shelter
If the clothes are still in good condition, consider donating them to a thrift store near you. This is a perfect option if you're wondering what to do with old jeans, for example.
Rather than donating to a chain thrift store, see if you can find a charity thrift store in your area that supports a cause you're passionate about. That way, you'll feel like you're not only cleaning out your closet but supporting a good cause, too.
You can also consider phoning a local shelter and seeing if there are specific items they need (e.g., mittens and sweaters in the winter, etc.).
Once you've done this, you can then have one or two go-to places that you'll donate clothes to every time you clean out your closet (and you won't need to keep researching).
Too many times I see perfectly good clothes, shoes and bags in the garbage room of my building that could have gone to someone in need, so having a go-to place to donate to will benefit both you and a good cause in the long run.
3. Sell the Items
This method works best if you still have the tags still on or if the items are in very good condition.
You can sell your clothes on Craigslist, Kijiji, Facebook Marketplace, or at a consignment store if the goods are higher-end/luxury.
This is perfect if you're not sure what to do with old pants when you have in-demand or higher-end brands. Selling them is a great way to earn some extra cash!
You can also join resale websites like Poshmark. While you might not be able to get that much for an item, it's worth a try if you're in need of some extra cash.
Here's a helpful video from BestDressed on how she sells her clothes online:
4. Give Them Away
The trick to learning how to donate old clothes is to figure out who would want them or who could best use them.
The quote "one person's trash is another person's treasure" really rings true here. While you might not know what to do with unwanted clothes, you'd be surprised at how they might just what someone else was looking for.
I love it when people give me the things they don't want anymore, as it's always exciting and feels like I've won the jackpot! You can give your items away to friends, mention that you're giving them away on social media, or put up a free ad on Craigslist or Facebook Marketplace for anyone who wants them.
I've gotten several great items of clothing from people who simply didn't want some of their items anymore, and have also given away some as well.
It makes me happy when the other person is happy about receiving the item, so it adds a great feel-good component to cleaning out your closet too.
5. Use Them as Rags if They're beyond Repair or Donation
If you're not sure what to do with old clothes that cannot be donated, then you can use them as rags. This works very well with items that are completely beyond repair or are too worn, ripped, or stained to be donated.
Obviously, you don't have to do this with all of the clothes as you'd end up with a giant pile of rags, but picking out a few worn-out tank tops or cotton shirts can be a great option for some good cleaning rags.
I use these for tasks such as cleaning oil/spills from my kitchen floor, cleaning the dust and grime from my blinds, and any deep cleaning on top of my cupboards.
That way, you can toss them in the washing machine and reuse them, or, if you're cleaning something really, really dirty, you can always toss the rag in the garbage instead of wasting a washcloth you just bought.
If you have a ton of old clothes that you can't really salvage for donation, try making a DIY rug from them! Here's a super cool tutorial on how to make a DIY rag rug (plus, they're really pretty!). 
What to Do with Old Clothes – Final Thoughts
Hopefully, these tips gave you some ideas on what to do with old clothes so you can give them a new life somewhere else.
While there's no need to feel bad if an item of clothing simply isn't salvageable and has to go in the garbage, these tips will help you keep this option as a last resort.
Now that you've removed some items from your closet, check out my blog post on changing up your wardrobe on a budget.
Have any tips to add? I'd love to read about them in the comments!
Related Articles on What to Do with Old Clothes:
This post was all about what to do with old clothes