Learning how to spice up your outfit lets you take any look from boring to showstopping in seconds.
Are you sick of looking at your wardrobe because all you have are basics?
The good news is that you don't have to break the bank for an entirely new wardrobe.
In fact, all it takes to take an outfit from frumpy to fabulous are a few simple tricks. And by investing in a few key accessories, you can create unique outfits that make you feel confident and are true to your style.
Here are my 7 top tips for how to spice up your outfit!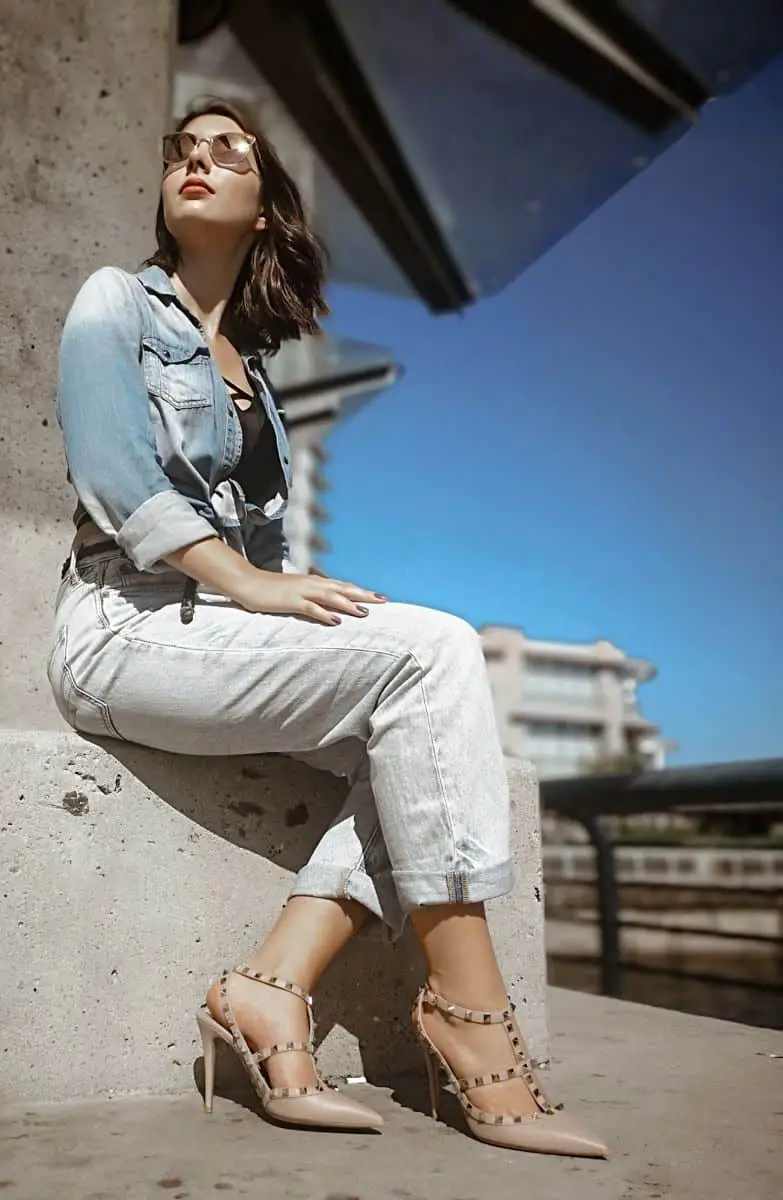 This post may contain affiliate links, which means I'll receive a commission if you purchase through my links at no extra cost to you. Please read full disclosure for more information.
1. Create Shape
If you want to learn how to make your outfit look better, then one of the first things to do is try and create shape.
One of the main reasons your outfit may look frumpy and decidedly unfabulous is that there's no shape to it.
This often happens with our most comfortable clothes, like shapeless dresses, oversized tees, and loose-fitting jeans like boyfriend jeans.
And while there are times you want to wear the item loose (I love wearing my shapeless dress as-is after a day at the pool), sometimes you want to add a bit more flair.
One of the easiest ways to create shape in your outfit is to cinch it with a belt. This looks especially great with high-waisted items like jeans and skirts.
You can also control the shape you create by choosing where to place the belt (i.e. at the natural waist or lower down) and trying out various belt widths.
Other ways to create shape with your outfit include cropped jackets, shoulder pads, and items like blazers that have interesting lines and shapes in their designs.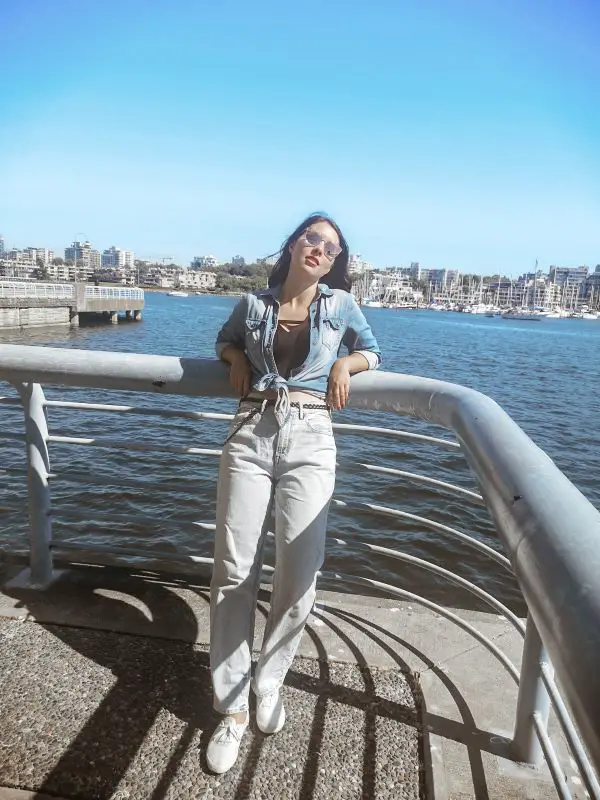 2. Try Sunglasses
Learning how to spice up an outfit with sunglasses can completely change the look of your outfit. And this is just with one accessory!
For example, let's say your outfit consists of light blue skinny jeans, a white t-shirt, and white Keds. You don't need to add a fancy blazer or a statement necklace that doesn't suit your outfit (or your style).
Instead, think about adding sunglasses to your look. These could be classic Aviators or a pair of unique statement sunglasses you found at the thrift store.
If you're looking to buy unique sunglasses, look for some of these features:
Geometric shapes
Unique tints or colors
Contrast/color blocking
Nods to decades or trends (like cat-eye glasses)
Remember that you don't have to pick sunglasses that are too far out of your comfort zone.
If classic Aviators fit perfectly with your style, go ahead and wear them—they'll still spice up your outfit and add a good dose of visual interest.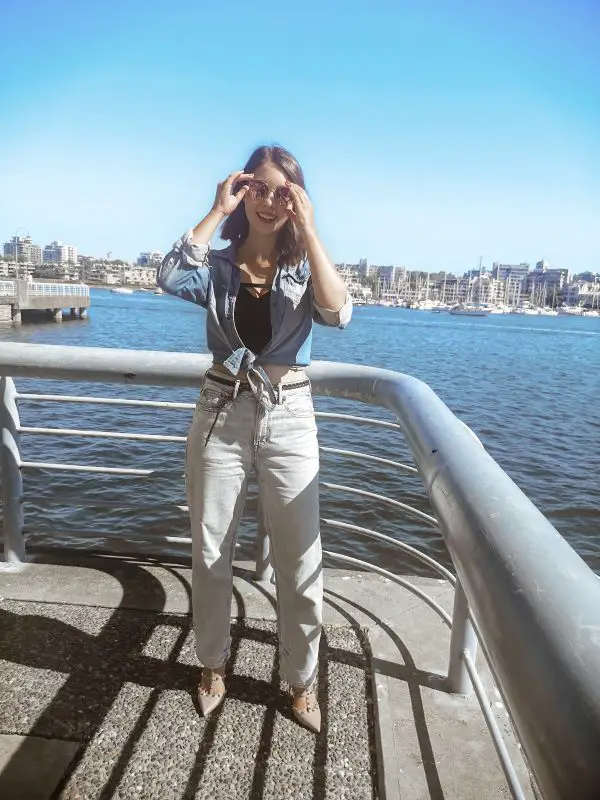 3. Accessorize with Jewelry
Wondering how to make cute outfits? Then one of your best bets is to add jewelry!
While a statement necklace might be the first thing you think of when it comes to creating an outfit that pops, it's not your only option.
Only do so if it fits with your style and the aesthetic you're going for with your outfit!
Minimalist jewelry (which I love) can also pack just as much of a punch, even if it's in a more subtle way.
Some ways you can add visual interest with minimalist jewelry include:
Stacking rings
Wearing asymmetrical earrings
Playing with different metals
Wearing necklaces of 2 or more lengths
Adding a unique watch
Wearing multiple studs (if you have multiple ear piercings)
If you love statement pieces but are afraid of going over the top, then focus on one statement piece and create a focal point for your outfit.
Keep the rest of your outfit neutral and add understated accessories to complement your jewelry "centerpiece."
So if you choose a statement necklace and want to complement it with jewelry, try adding simple studs or a simple ring in the same metal finish.
If you want to dress simple but stylish, then go for well-fitted and comfortable basics like jeans and t-shirts.
Accessorize this with a pair of simple mules, an understated chain necklace, and stud earrings and you're good to go!
4. Add Contrast with Colors and Patterns
If you don't want to focus on a statement piece like a necklace or a purse, then adding contrast is a great way to go.
There are many ways to create color contrast, from choosing colors opposite each other on the color wheel to contrasting between cold and warm colors.
For bold contrast, you can go for color combinations like blue and orange. If you're a fan of neutrals, add contrast with black and white or varying shades of gray or beige.
Here's a helpful video on color contrast to help you:
Another way to add contrast is by playing with different patterns.
This includes pattern mixing (my two favorite examples of designers who use this are Project Runway contestants Mondo Guerra and Dom Streater).
Here's an example of one of Dom's pattern-mixed runway looks from Project Runway All Stars:
If pattern mixing doesn't fit with your aesthetic, try picking one patterned piece as your statement piece and layer it over some basics.
Even something as simple as a patterned jacket can help take an outfit to the next level and make it super memorable!
And finally, another way to add contrast is by combining items of different styles. I love how the Pin below showcases a grunge aesthetic with the fishnets and combines it with a loose, flowy top:
5. Focus On Texture
In addition to colors and patterns, textures are another great way to add interest to your outfit.
Textures are also a great choice if you want to add subtle details to your outfit while keeping it minimalistic. But of course, you can also go as bold as you like!
Some ways to incorporate texture into your outfit include:
Wearing different fabrics together (think: denim and leather, wool and cotton, etc.)
Pairing items with different finishes or treatments (like distressed jeans with a silk blouse)
Wearing items with different textures or embellishments (like a sequined skirt with a chunky knit sweater)
As you experiment with adding texture to your outfit, make sure you consider the overall look you're going for.
An outfit that's too chaotic or busy will detract from the textures you're trying to showcase.
A good rule of thumb is to stick to two or three different textures. Then, decide if you also want to add color contrast or keep a complementary, yet understated color palette.
Here are a few examples of textured clothes pulled from Pinterest:
6. Experiment with Layers and Lengths
If you're bored with your clothes but don't want to go out and buy anything new, then get creative with how you wear your existing pieces.
This is a great way to keep your closet feeling fresh without ruining your budget.
Layers are also perfect for cooler weather and let you wear your spring and summer clothes in the fall and winter.
Some layering ideas include:
Turtleneck underneath a button-down (I see this look in kdramas all the time)
Button-downs under sweaters
Sweater vest over a dress
Hoodie under wool or puffer jacket
Jacket over biker shorts and crop top
Long-sleeve shirt underneath a spaghetti-strap dress
Denim jacket under a wool jacket
If you don't have ideas for layering the items in your closet, then think about heading to Pinterest for inspiration.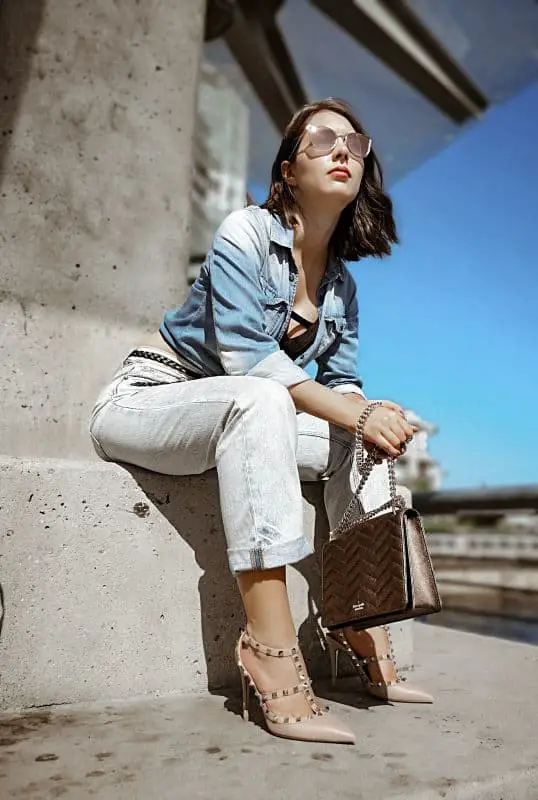 Sometimes layering two items together might sound ridiculous on paper, but you might be surprised when you see a photo of the look in real life.
You can also pair items of different lengths for a subtle contrast. Many of these combinations are also quite flattering (such as pairing a cropped sweater with high-waisted jeans).
Some clothes even come in asymmetrical designs. The most common of these are high-low dresses and asymmetrical skirts.
Another way to do this is by playing with proportions, such as wearing an oversized top with a fitted bottom, or vice versa (one of my personal favorites).
7. Switch up Your Hair and Makeup
You may wonder why I'm suggesting a non-clothing hack in a clothing-related blog post, but hear me out. This is my key tip for how to make any outfit look good and it's forever changed my style game.
Just like how you might wear different hair and makeup for a special event, you can change these up to match your outfit.
For example, I'll wear my hair down in loose waves if I want to create an effortless, beachy vibe with my outfit (such as with a band tee and my all-time favorite Levi's 501 shorts). Then I'll add a swipe of summery orange lipstick and do my brows.
If I want a super casual vibe, I'll do a messy bun, leggings, sneakers, and a cropped sweater. I'll probably only add blush for this look.
But if I want to amp up the glam in an outfit, I might add red or plum lipstick, create a sleek bun, and add bold eyeshadow and eyeliner.
In other words, I treat my hair and makeup just like an accessory that complements the vibe I'm going for with my outfit.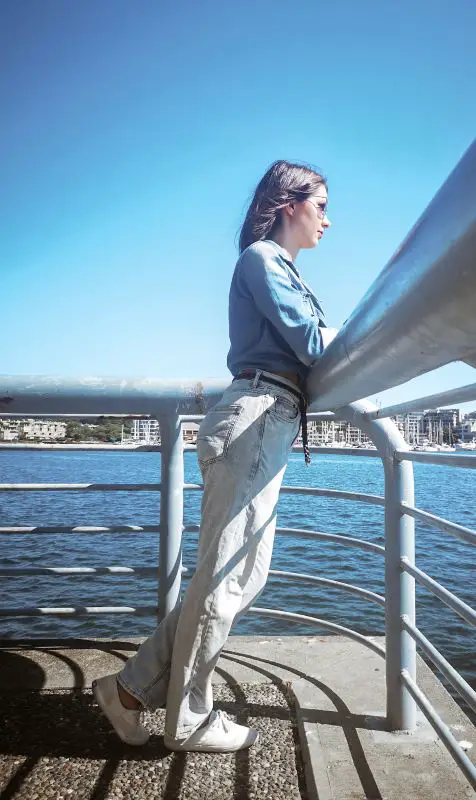 How to Spice up Your Outfit: Use These 7 Tips
There are many ways to make your outfits more interesting, and the tips I've provided are just a few examples.
With a little creativity, you can transform even the most basic clothes into something special.
And remember that when you're figuring out how to spice up your outfit, stray true to your authentic style.
So get creative, have fun with it, and don't be afraid to experiment! I'd love to see what you come up with!
More fashion hacks you might like:
This post was all about How to Spice up Your Outfit in 7 Easy Ways