Learning how to be ruthless when decluttering clothes is the key to eliminating closet overwhelm.
Are you feeling overwhelmed by your clothes? Do you feel like you have nothing to wear, even though your closet is bursting at the seams? If so, it might be time to declutter your clothes. But how can you do it without regretting anything later?
And how can you make sure that this is actually the last time you'll have to clean out your closet so thoroughly? Follow these decluttering clothes tips to finally get the closet of your dreams without spending a dime!
This post may contain affiliate links, which means I'll receive a commission if you purchase through my links at no extra cost to you. Please read full disclosure for more information.
Take Everything Out of Your Closet
The first step to learning how to start decluttering is to take everything out of your closet. That's right, everything. Every single piece of clothing, shoes included.
Once everything is out, you can start sorting through it all and decide what stays and what goes.
Yes, I know it's a time-consuming process to have to do this, and it will probably take you all day. But if you do it bit by bit, you won't end up decluttering properly because you won't have each item of clothing in front of you at the same time.
For optimal results, pick a day to sort through your closet and clear out the day for only this task if you can! If you're unable to clear out a whole day, then get some of those large trash bags to keep each pile separate as you work on decluttering.
Separate Each Item by Function
After you've taken everything out of your closet, it's time to start sorting through each item. This will help you learn how to decide what clothes to keep.
The best way to do this is to separate each item by function.
For example, a blazer could go in the "wear to work" pile. It can also transition into an evening piece, so keep this in mind. Leggings can go into the "wear every day" pile, while a sequin dress would be "special occasion."
This is also where you want to consider your lifestyle. If you wear office pants to work, then you'll want to have more pairs rather than fewer (as long as you actually wear them!).
To stay organized, you can take a piece of paper and jot down each category name with a marker. This might seem overwhelming, but you'll have a much better idea of what clothes you actually need when you do this.
Label Three Bags
Next, take three large garbage bags and label them. You can do this however you want, but I suggest having a "keep" bag, a "maybe" bag, and a "donate/sell" bag.
The "maybe" bag is for those of you who have trouble getting rid of items (I myself have often used "but I might wear it someday!" as an excuse, haha).
You can put items you're not sure about in this bag and set them aside for several weeks to several months. If you still don't wear the item after that time period has passed, then get rid of it.
Make sure to set a notification on your phone so you don't forget all about the "maybe" bag!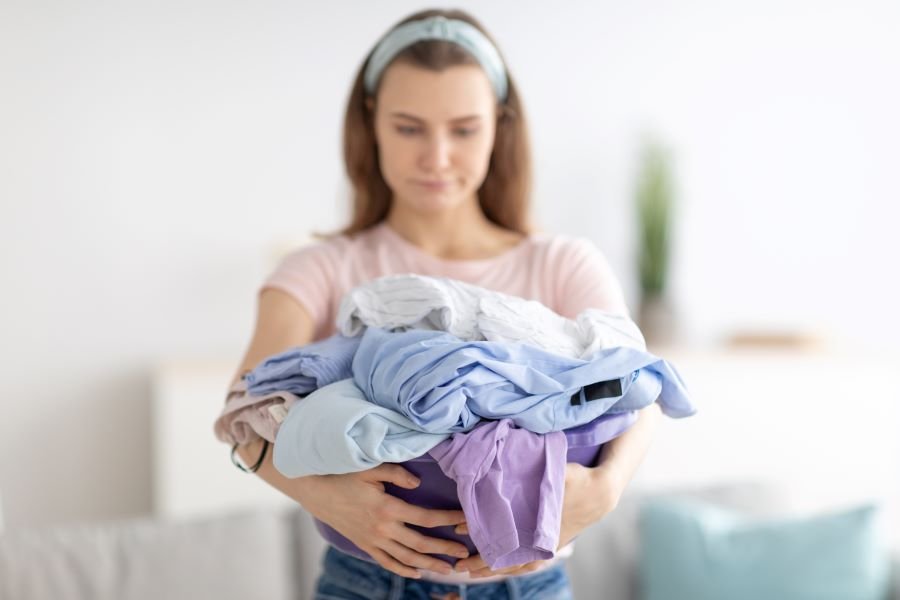 You may also have to throw away items that are beyond repair or can't be donated (check out my guide on what to do with old clothes for more ideas). Use a fourth garbage bag for this.
As you examine each item of clothing, you're going to put it in one of these three bags.
Organize Your Clothes into Piles
The next step is to start organizing your clothes into piles. This is where being ruthless comes in.
Take each item individually and hold it in your hands. Try it on if you have to or if you're feeling unsure.
Make sure to honestly ask yourself these questions:
When was the last time I wore this piece?
Do I feel confident when I wear this piece?
Does this item still fit me?
Does this item fit my current style?
Does this item fit my lifestyle?
Can I mix and match this item with other pieces in my closet?
Is this item comfortable? Or does it give me scratches and blisters?
If the answer to any of these questions is NO, then you shouldn't keep it!
One of my top rules of thumb for learning how to declutter your clothes is to separate items I haven't worn in the past year. If it's just something I forgot about in all the clutter, I'll put it aside and see if I wear it in the next couple of months. If not, out it goes.
You want to be honest with yourself about each item of clothing. If you haven't worn it in the past year, chances are you're not going to wear it anytime soon. If it doesn't fit well or is uncomfortable, get rid of it. And if you don't feel good when you wear it, why keep it?
Lots of people have trouble letting go of items with sentimental value. I keep a few of these in a separate bin in my storage room because I do think that keeping a few of them is a good thing.
But often, we have so. many. items with sentimental value that we just don't have the room to keep them all.
This is where I like to use Marie Kondo's method of decluttering, where she encourages us to express gratitude for the belongings we are getting rid of.
What to Do if You're Having Trouble Being Ruthless While Decluttering
Yes, I get it. Learning how to be ruthless when decluttering can be really, really hard.
If you're having trouble decluttering your clothes, here are a few of my top decluttering clothes tips:
Try on each item of clothing and take a picture of yourself in it. This way, you can look back and see what you actually wear and how it looks on you.
Make a list of the items you want to keep and another list of the items you want to get rid of. This will help you be more decisive.
Ask a friend or family member to help you declutter. They can give you an honest opinion on what to keep and what to get rid of.
If you're really struggling to let go of something, put it in a box and label it "declutter." This way, you can keep it without cluttering up your closet. Then, in six months or a year, see if you've actually worn or used the items in the box. If not, get rid of them!
I've used that last tip many times and I can say it's been a huge help! Chances are if you're not missing the item when it's no longer in your closet, you won't miss it when you give it away, either.
Keep Clutter Away By Staying Organized
So now you've learned how to be ruthless when decluttering clothes. But don't forget the last step, which is to make sure everything is easily accessible when you put it back in your closet.
This means putting the items you wear most towards the front of your closet. If they're handbags, hats, scarves, etc, put them within easy reach and in a way that doesn't cause you to dig through stuff and create more clutter.
If you don't have a lot of space in your closet, consider getting a dresser and putting it in your closet. You can also install shelves. Some people like to put their dresser underneath their hanging items to create more space.
I even go so far as to buy little plastic trays for my dresser that I use to organize my socks by type.
This is because I often need no-show socks, but they're so small that I end up rifling through all my other socks and creating a mess when I'm looking for them. This way, I immediately know where my no-show socks are and can quickly grab them and go.
Here are a few other tips you can use to keep your closet neat and tidy once you've finished decluttering:
Store out-of-season items towards the back of your closet or in storage bins in a separate location, like your garage or a storage locker
Hang up clothes that you wear often or that wrinkle easily
Fold and store clothes that are better suited for folding, such as sweaters
Keep a separate basket or drawer for items that need mending or dry-cleaning
Add another clothes rack above or below the one you have to create more space
Use boxes to store items like sunglasses, hats, and gloves
Get a jewelry box with dividers in it to keep your jewelry all in one place
By following these tips, you can declutter your clothes and organize your closet for optimal space.
Here's a video with Marie Kondo showing her awesome folding method for clothes:
Final Thoughts on How to Be Ruthless When Decluttering Clothes
I hope these tips help you declutter your clothes and clean out your closet once and for all! I know it can be really hard to let go of some items, but trust me—you'll feel so much more refreshed and relaxed afterward.
And if you have any other tips, I'd love to hear about them in the comments below!
Happy decluttering!
Related posts you might like:
This post was all about How to Be Ruthless When Decluttering Clothes: Tips for Cleaning Out Your Closet Once and For All