The motivation to declutter clothes can be hard to come by (and even harder to keep). So if you're sick of having a cluttered closet, let's learn how to declutter clothes with the right mindset so you can finally love your wardrobe again!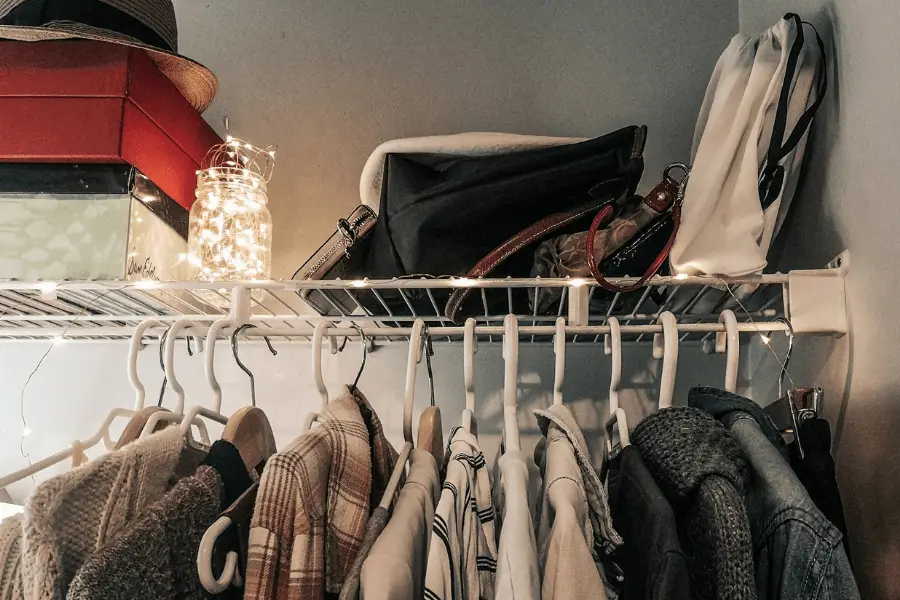 This post may contain affiliate links, which means I'll receive a commission if you purchase through my links at no extra cost to you. Please read full disclosure for more information.
Are you having trouble parting with your clothes? Do you dread opening your closet because you know you'll end up with a cotton-and-polyester avalanche the moment you open the door?
Or better yet, you might be guilty of constantly saying "but I might need these jeans someday!"
We all know you haven't worn those jeans in years because they tug uncomfortably at the crotch and make you feel like you're wearing a corset around your waist.
If you struggle with any of these issues, this post is for you! I'm going to share some tips on how to declutter your clothes to make it a more manageable task.
How Clutter Can Impact Your Mood and Productivity
Before we get into having the right kind of mindset, let's go over how clutter impacts you negatively (and takes away your motivation to even look at your closet, let alone clean it out).
Clutter can impact your mood and productivity in a number of ways. First of all, clutter can increase stress.
Imagine that you have to go somewhere and don't have a lot of time to get ready. This could be an important work meeting, a fun date, or a free concert ticket your friend gave you because someone bailed last-minute.
You open your closet and rifle through the mess of clothes. You finally dig up something passable (but not ideal), but find that it's super wrinkled. Rushing, you burn yourself on your iron trying to get the wrinkles out and manage to have just enough time to swipe on some mascara.
Getting ready in the nick of time, you head out and have a great time. Satisfied, you get home, ready to have a cup of tea and cuddle up with your fave Netflix show.
And then you see the piles and piles of wrinkled clothes all over your floor, bed, and dresser.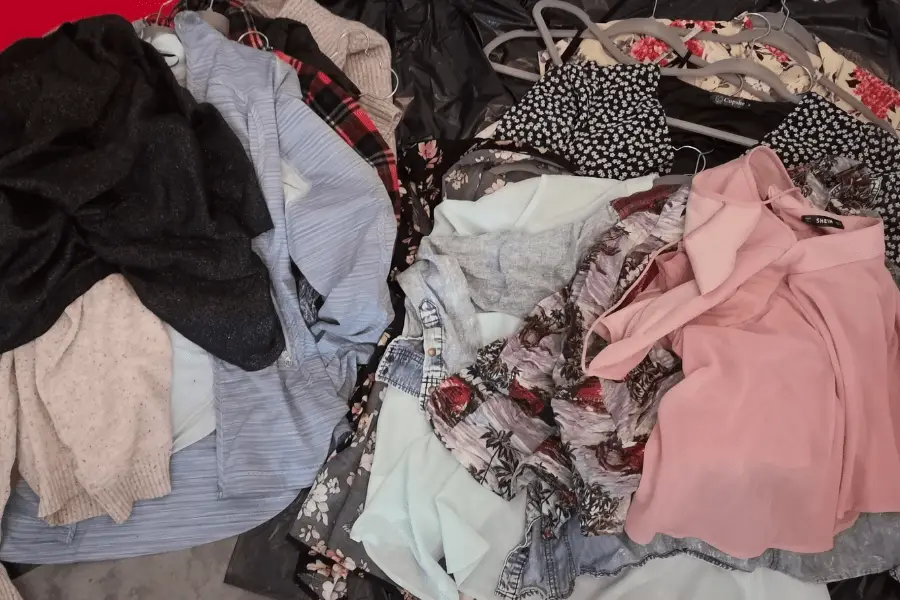 This is how clutter can cause you unnecessary stress and anxiety. And it certainly won't give you the motivation to declutter clothes.
The last thing you're going to want to do after getting back home from an exhausting day at work is to organize the insurmountable pile you've made, especially if you have a job where you're on your feet all day.
Clutter also builds over time, and this can cause you to feel out of control. This makes it harder to stop procrastinating.
A cluttered closet can have a significant impact on your mood and productivity, which is a huge problem if you work from home (and how are you supposed to quickly get dressed for your morning Zoom meeting?!).
And if you live with someone, you could end up getting into arguments with the other person, especially if you share a closet.
Clutter also causes irritability because once again, it's hard to feel in control when you're surrounded by things that you don't want around.
How Clutter Can Impact Your Self-Esteem
Something you may not realize is that a cluttered closet can impact your self-esteem as badly as those ill-fitting jeans you've had sitting around for years.
Our culture teaches us that the more stuff we have, the happier we'll be. But I've found the opposite to be true, and you might have too.
According to VeryWellMind, clutter can contribute to making it harder for us to think clearly. This in turn causes us to have more stress and lower energy.
If you have a ton of stuff that you feel like you just can't get rid of, it can make everything else feel like it's out of control. And if other things in your life feel that way, a cluttered wardrobe can make these feelings worse.
A cluttered wardrobe can also impact our self-esteem by making us feel embarrassed. This type of thing would happen if you have unexpected guests and have 5 minutes to shove all your piles of clothes into a closet that will barely shut (I think we've all been there at one point or another).
Think about the last time you put on an outfit, a pair of shoes, or a makeup look that you loved. How confident did it make you feel?
A cluttered wardrobe can make you feel the total opposite. If your clothes and shoes don't fit well, they can make you feel unattractive and unhappy with your style (and body). Not to mention, you'll feel super uncomfortable in clothes that pinch and give you blisters.
And if you're like me and you struggle with not feeling good enough, a cluttered wardrobe with ill-fitting clothes will just make this ten times worse.
I'm a firm believer that fashion should be something that empowers us and helps us in our self-expression. And if our wardrobes are making us feel terrible about ourselves, then this completely defeats the purpose.
The Benefits of Decluttering Your Closet
Now that we've gotten the negative out of the way, let's talk about the top benefits of decluttering your closet.
Once you're aware of how many amazing benefits this will give you, I think you'll have a much easier time mustering up the motivation to declutter your wardrobe, even if you have a lot of cleaning up to do.
Saves You Time
We've all had those moments where we can't find our keys and have to dig haphazardly through every single jacket, purse, and pocket trying to find them.
Or, maybe we can't find our wallet, that shirt we could have sworn we put aside for tonight, or my personal favorite: not being able to find my sunglasses only to find that they were on top of my head the whole time.
When you declutter your closet, it's going to be WAY easier for you to find things.
One other tip I have for making it easy to find things that you use daily is to get something like a jewelry dish. You can put your daily earrings, watch, rings, or even your keys in here for a grab-and-go solution.
Prevents Impulse Buying
This is a huge one. One of the major reasons we impulse buy is because we're not entirely sure what we have. Oftentimes, we're horrified when we bring the new item home only to find that we have a similar thing already.
The reason that having less clutter stops you from impulse buying is that you'll be able to tell at a glance what you have.
If you'd like more tips on this, I have an entire blog post on how to stop impulse buying clothes.
Helps Increase Mood and Productivity
Even if you don't consider yourself a "neat freak," having a tidy closet can still be a huge help.
Your wardrobe doesn't have to be perfectly tidy, but knowing where things are (especially when you're in a rush) is going to help you feel more organized.
These things can be a huge help for increasing your productivity and mood.
The Essential Thing You MUST Do Before Decluttering
Before you start decluttering, the most important thing you need to do is assess why you're decluttering your closet.
Is it to create a wardrobe you feel more confident in?
Are you moving to a new city?
Do you want to revamp your style?
Are you creating a new wardrobe for work?
Are you decluttering your entire house?
Write down or print these top ideas in big font and put them up somewhere you can see the entire time you're decluttering.
This is essential for staying motivated, especially if you have a lot of tidying to do.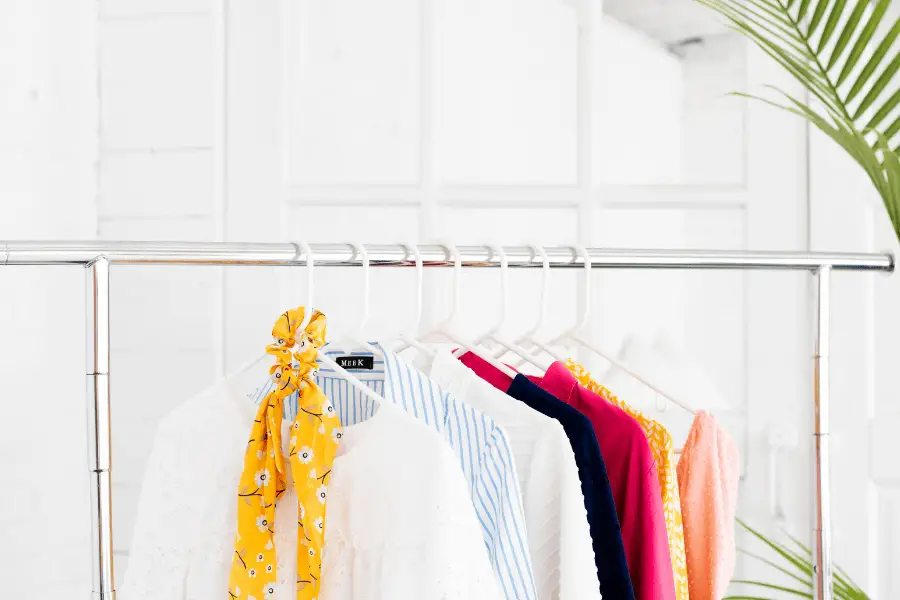 How to Declutter Your Clothes
Step 1: Get Rid of What Doesn't Fit
If you have clothes that don't fit, get rid of them. Donate them to charity so someone who needs them can wear them (I have a whole blog post on what to do with old clothes for more help with this).
I know we all say we'll "definitely" wear those in the future when we're X size or X this or that, but usually, we don't, and the clothes end up cluttering our closet while making us feel bad about ourselves.
But if you have something you love, that still fits, but maybe needs a small fix like a new button or a fixed seam, set it aside and set a deadline for when you'll fix it.
This is an instance where having a pretty basket will help you organize things like this without ruining your interior decor. You could use these kinds of baskets for items that you have to fix, for laundry, or for freshly clean clothes that you have to fold or iron.
Here's an example from Urban Outfitters:
Step 2: Pass on What No Longer Suits Your Style
Next, take a look at items that aren't a color or style you like. Your style may have changed, so there's no shame in passing the items on to someone else who will love them.
Try on the items if you need to and pay attention to how you feel in the item.
Step 3: Separate What's Damaged
If you have clothes that are ripped, torn, stained, worn out, or have holes in them, evaluate whether you can fix them. If you don't usually DIY-fix your clothes, think about how much it might cost to take them to a tailor.
If it's not worth it, then you can either turn the items into rags, upcycle them into a new project, or throw them out if they're at the absolute end of their life.
Step 4: Create Piles
Make piles for clothes that you want to keep and those that you're ready to part with.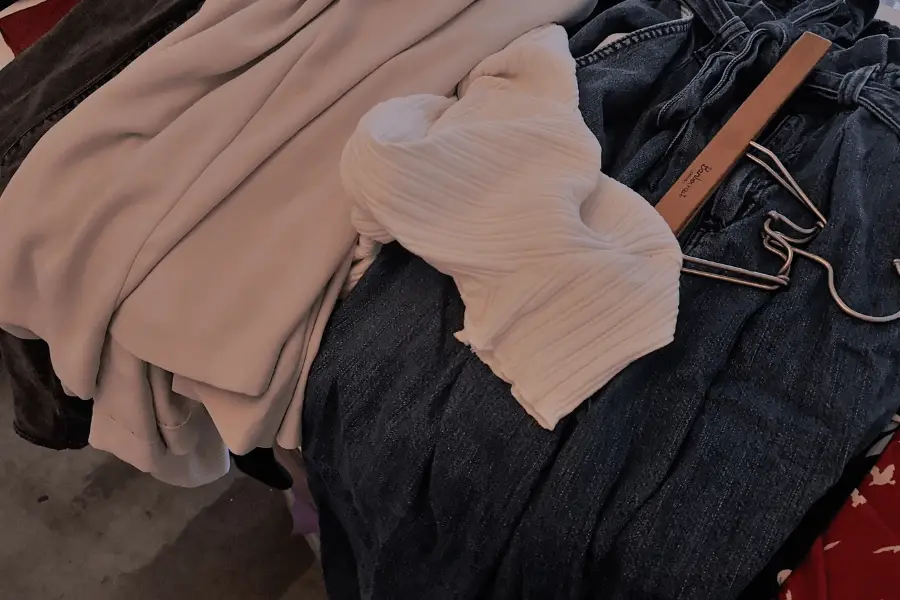 Step 5: Organize What You Want to Keep
Take the clothes that you want to keep and put them back where they belong, or fold them neatly and put them in their respective drawers.
Keep in mind that you may need to re-organize your wardrobe after decluttering. In this case, make piles for each category of item (e.g. workout clothes, pajamas, t-shirts), and then put them away.
Step 6: Sort What You're Getting Rid Of
Get some big garbage bags and put the clothes you're getting rid of in them. Label the bags according to how you'll get rid of the item. These labels can include:
Give away (to friends, family, etc)
Donate
Throw out
Sell
Step 7: Celebrate and Evaluate
Now that you've finished decluttering, give yourself a pat on the back! You did it! I love celebrating with some takeout (Domino's Cheesy Bread is sooooo good), a movie, or a great evening of gaming.
Make sure not to start another decluttering session until you've given yourself time to enjoy your accomplishment! This helps prevent burnout and keeps your motivation high.
How to Stay Motivated Throughout the Entire Process
Staying motivated is a key to success with decluttering clothes.
The most important thing that you need to do is set a time limit to simplify your wardrobe. You may want to clean everything out at once, or you may give yourself 2 weeks to 1 month to get everything cleaned out.
Then, decide how much of your closet you want to clean out in one sitting. I find it easiest to just set aside an entire day to do the full declutter, but this may not be possible with your schedule.
For example, you might decide to dedicate ten minutes each day for the next two weeks or so to declutter your clothes.
It may seem counterintuitive, but sometimes it's easier to get started if you know that you won't have an infinite supply of clothes to sort through all at once.
If you've chosen to declutter in bursts, think about when you'd be in the right mindset. This may be on a Saturday morning when you're well-rested (as opposed to being exhausted after work).
And if you declutter in just a few short bursts, then you're less likely to get discouraged or overwhelmed by your closet.
Maintenance Tips to Keep Your Closet Organized in the Long Run
Even if you've done the best decluttering job ever and have created an essentially new wardrobe, you don't want to stay with the same habits that caused your decluttered closet in the first place.
You'll have more motivation to declutter your clothes if you have a neater closet to work with, so make sure to keep it tidy since you've gone through all that trouble.
One of the best ways to keep your closet neat is by folding your clothes instead of hanging them up. Not only does this save space, but it also prevents your clothes from getting wrinkled.
Another thing you can do is to use containers and organizers to store your clothes. This will help you to see what you have at a glance and will prevent them from becoming cluttered.
Finally, make sure that you put things back in their place after you've used them. This will help to keep your closet organized in the long run.
Keep laundry in its hamper (I do one for warm wash and one for cold/delicates), and get another hamper for items that you need to iron or fix.
Another great way to reduce the clutter in your closet is to do a seasonal closet changeover, where you only keep the clothes in your wardrobe that you'll wear that season and put the rest in storage.
This is a great option if you live somewhere with a 4-season climate.
Here's a useful video from Clean My Space where they explain how to do a seasonal closet changeover to reduce clutter:
Tips for Making Decluttering Fun
Anyone who knows me personally will know NOT to talk to me when I'm cleaning. This is because it's a task I DREAD.
Don't get me wrong—I love walking into a clean house, lighting one of those clean linen-scented candles, and relaxing with a good book or video game.
But the actual task of cleaning is so annoying, so I try to make it as enjoyable as possible.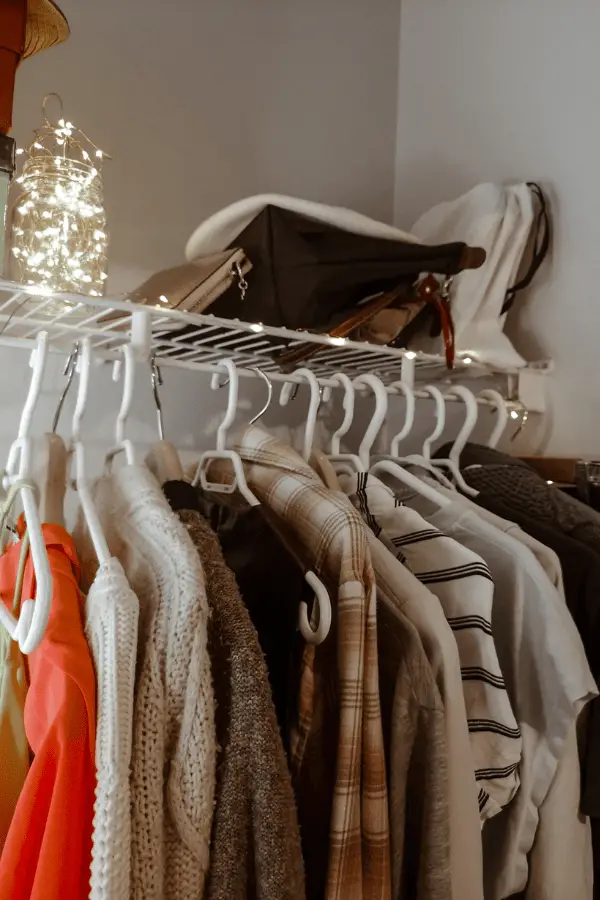 Here are some ideas for making the decluttering process more enjoyable:
Put on your favorite music, preferably something upbeat
You can also put on what I like to call an "easygoing" movie or TV show. These are usually rom-coms or something I've seen before. The key is to put on something that you can listen to for entertainment but that won't distract you from the task at hand
Listen to a podcast you like
Use the time to fall in love with your closet again. This is especially true when you're trying on clothes you're not sure about
Get some of your favorite snacks to munch on while you declutter your wardrobe
Dance to your favorite song in the meantime, because you're already on the way to having a more organized wardrobe
And whatever you do, keep your "reasons to declutter wardrobe" list somewhere visible.
Trust me, you might be motivated for the first hour, but the process can get tiring, and you want to stay motivated throughout the whole thing.
Additional Decluttering Clothes Tips
-Set aside a full day for decluttering if you can. It's going to be a lot harder to start, stop, and re-start than to do it all in one go.
– Get rid of anything that doesn't make you look good or feel good, even if it's expensive.
– If you can't decide what to do with a piece of clothing, put it in the decluttering pile and give yourself some time to think about it.
– If you haven't worn an item in a year, get rid of it! You might want to keep it for sentimental reasons or because you paid good money for it, but if you haven't worn it in a year, then you might not ever wear it again.
– Keep your decluttering clothes pile small by decluttering regularly. This will give you more motivation to declutter clothes as you'll have less to do each time.
– A decluttered closet is a happy closet! When you declutter your clothes, you help declutter your life.
Ready to Get the Motivation to Declutter Clothes?
Closet clutter can lead to impulse buys or missed opportunities for great outfits.
It's not always easy to say no when you see something cute in your favorite store, but if you know what clothes are already hanging in your closet it will be easier to resist the urge and find something else that fits with your style better.
Getting rid of all those pieces cluttering up your closet will also give you more peace of mind since everything is out where you can easily reach it instead of having it scattered around on hangers across various parts of your room.
Most of all, remember to take your time with the process and be gentle with yourself. We all have to deal with clutter, but the important thing is that you've made the decision to make positive changes to your wardrobe and home.
They say it takes around 2 months to build a habit, so stick with it and you'll have a tidy closet for the long-term in less time than you think!
And if you have any of your own closet decluttering super-tips, I'd love to hear about them in the comments!
Related Posts You Might Like:
This post was all about How to Find the Motivation to Declutter Clothes (Without Giving Up)