If you find that your closet is overflowing with things you don't wear, you're not alone. Here's how to stop impulse buying clothes so you can love your closet again!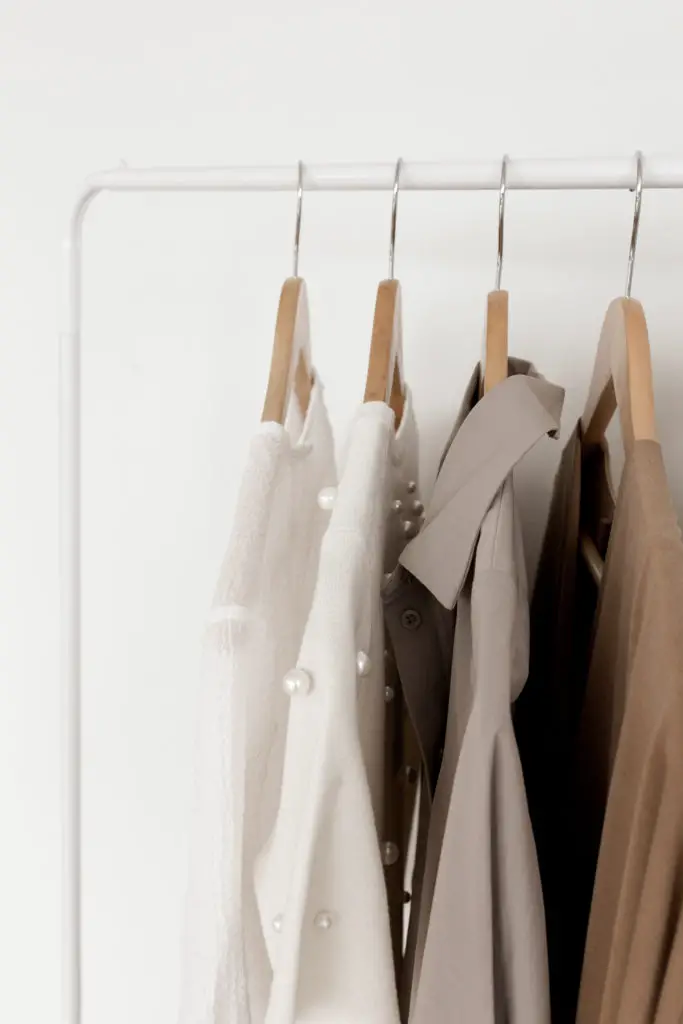 This post may contain affiliate links, which means I'll receive a commission if you purchase through my links at no extra cost to you. Please read full disclosure for more information.
If you want to learn how to stop impulse buying, you've come to the right place.
I'm just as guilty as the next person when it comes to the urge to impulse buy. You might have just gotten that lovely paycheck or have a milestone that you want to celebrate, or maybe you're just shopping and you're seeing all sorts of things that you love.
This sentiment is particularly true for online shopping, given that it's just so easy to click "add to basket" and "buy." And while it's totally great to treat yourself and buy pieces you love, you definitely don't want to throw money down the drain on something you'll never wear or something that you'll feel bad about buying.
So, I've compiled my top 5 tips to help you stop impulse buying. These tips were game-changing for me and hopefully, they help you save some money so you can have more left over for other things (and for pieces that you really want!)
1. Keep a Running List of Items You Want/Need
This is one of my top tips for how to stop impulse spending and it's saved me quite a bit of money over the years.
For example, when I did a closet cleanout a while ago, I realized that I needed a pack of black ankle socks, a couple of basic tank tops, and a plain hoodie.
Since I had these on my list, when it came time for shopping, I could easily get these in-store or online and do "targeted shopping," if you will, and get right what I needed and nothing else.
This tip also works really well if you see a piece somewhere that you really like, but perhaps it's kind of pricey or super on-trend and you're not sure if you'll want it later or if it's worth splurging on.
You can add these items to your list too and see how you feel about them a bit later down the line. I ended up removing a bunch of items from my list after several months, as it turns out I didn't want really them anyway! Money well saved.
2. How to Stop Impulse Buying: Try Window Shopping
This technique works online too. Ways you can save the pieces for later are to bookmark the pages, add them to a Pinterest board, or add them to your wish list if the website allows. If there's a specific item you want, browse through various online catalogs.
For example, you may want a gold sweater, but you might find a similar item elsewhere for a better price or that's better quality.
Although, if you're a bit strapped for cash at the moment, it might not help you to browse items online as it might make you feel bad or cause you to impulse buy that sale piece that you really weren't sure about (and can't return).
Instead, you could create a Pinterest board dedicated to styles or types of pieces you'd like to try rather than a specific piece that's being sold in stores right now.
That way, you can avoid making an impulse purchase because you'll have a better idea of pieces that you'd like and would actually wear once you spot them at the store.
3. Keep the Receipt and Tags for a Bit
I tend to do this with all of my purchases and leave them hanging in the bag on my doorknob for a bit just to make sure that I'm absolutely certain I want to keep the items.
This is especially important if you've conducted your impulse shopping online.
Here's one of my favorite examples of impulse purchases to illustrate my point:
Once, I impulse bought over $300 worth of items at Aritzia. While I loved how the items looked, they weren't really my style.
I ended up returning the dress and the top, and only ended up keeping the pants, which, though pricey, I wear all the time since they fit with my style. This method saved me most of that $300.
Also, as mentioned above, beware of sale items. While this suggestion may seem counterintuitive, it's only because most sale items are final sale and you're stuck with them if you're not sure. Then there's no point in keeping the tags.
Make sure to ask the cashier what the store's return policy is on sale items so you can be sure.
Again, this is why it helps to have a running list or Pinterest board of things that you like— that way, when you find that exact item on sale, you lessen the chance that you'll regret buying it.
4. Ask Yourself if You Would Really Wear the Item(s) In Question
Many times, we might like the look of an item, but it ends up sitting in our closets, unworn.
This can often happen with impulse buying online because the item will not only look different on the model, but it'll be arranged in a way so that the product photo looks attractive.
Of course, it's totally fine to have a couple of pieces that we only wear on special occasions, etc., but sometimes, even though we might love a piece, it might not practically fit into your wardrobe on a daily/regular basis.
As with the Aritzia example I mentioned above, it's not like I didn't like the 3 items I bought; I just wouldn't have really worn two of them. The dress wasn't my style at all even though I liked how it looked, and, as someone who gets cold easily, the sweater was too thin.
Meanwhile, the pants were my style, were a color that fit with the rest of my closet, and were versatile enough to be worn casually or more dressed up, so I definitely wanted to keep them.
So, try to resist temptation and try to keep your style (and practicality) in mind most of the time!
One of the main reasons this happens is that you may not be sure of your style yet, or find that your style has evolved over the years and now you're not quite sure how to define it.
Here's a helpful video from fashion designer and YouTuber Justine Leconte on finding your style, which is going to be super helpful in helping you avoid impulse buying:
5. Make a Note of the Item and Come Back
Here's one of the best tips for learning how to avoid impulse buying. This method works best if the item is fairly new to the store and there is a lot of the item left in stock (often, the store's website will tell you if the item is low stock when you're choosing the size/color before adding to your cart).
Of course, if the item is low stock in your size or it's on sale, there's a chance that someone else could buy it before you decide. This is where knowing your style really well and knowing what you want/would wear is really helpful.
Alternatively, if the item is low stock, you could potentially also ask them to hold it for you until the end of the day so you can think about it.
One instrumental tip when learning how to stop impulse spending is to consider the quality of the item you're buying.
That low price tag might seem really tempting right now, but if it's a piece you'll need to last you a while, it might be smarter to save your money and invest in a similar, higher-quality piece later on.
Otherwise, if there's a lot of stock on the item, then you can definitely take a couple of days to think about it before you go ahead and make the purchase!
How to Stop Impulse Buying Clothes – Conclusion
We all fall victim to impulse spending from time to time, so it's nothing to feel bad about.
However, by learning how to stop impulse buying clothes, we can save our precious money for the things that we really want, need, and that fit our style to a tee.
Once I started implementing these tips, I found that I was able to hold on to my savings a lot better and get clothes that I would wear for years to come. I hope these tips help you as well!
Have you tried any of these tips?
Posts Related to How to Stop Impulse Buying
This post was all about how to stop impulse buying