Learn how to simplify your wardrobe the easy way—and without having to do a full-on closet purge.
"I have too many clothes."
I think we can all relate to this at some point or another!
A cluttered wardrobe can be a real pain. It's hard to find anything, and it's even harder to put together an outfit that you're happy with. On top of that, it can be easy to lose your personal style in all the clutter.
You could also be in a situation where you like most of your clothes, but you just find that you have too many and things are impossible to find. This situation doesn't call for a time-consuming closet re-do, but a quick closet simplification.
In this blog post, I'll give you five simple steps to follow that will help make getting dressed a breeze—no matter the occasion.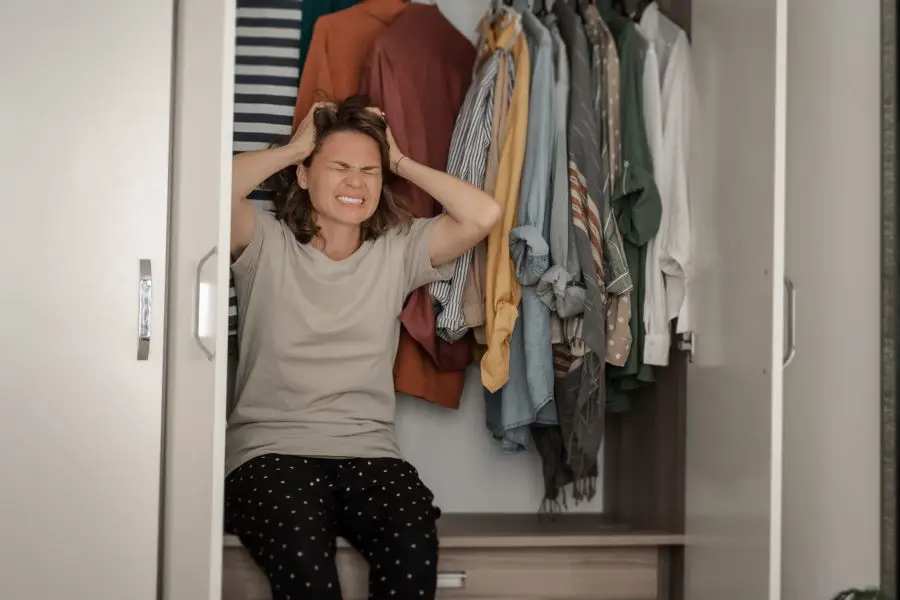 This post may contain affiliate links, which means I'll receive a commission if you purchase through my links at no extra cost to you. Please read full disclosure for more information.
Step 1: Identify What's Overwhelming You
The first step is to take a look at your wardrobe and figure out what's causing you the most grief.
For example, do you have too few pairs of pants and have a really hard time matching anything to them? Or do you have two dozen t-shirts and take forever picking the right one for the occasion?
It might help to write down each category of clothing that's giving you grief. This will reduce overwhelm and help you focus on several problem areas instead of your entire closet at once.
One huge problem category is shoes. They can be such beautiful statement pieces, but they're also really easy to hoard. How many times have you tried to get rid of 12 pairs of gorgeous heels but just couldn't because they're just. so. pretty?
Yet, the heels in question are just so uncomfortable and blister-inducing that you can literally only wear them while walking from the car to the restaurant or posing for a quick IG snap before changing out of them.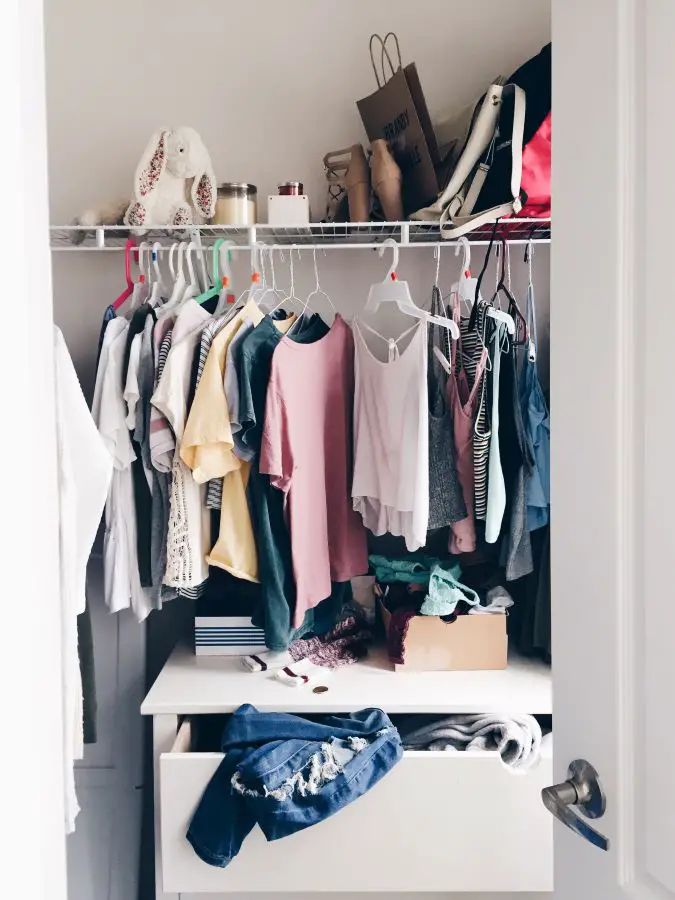 In this case, it might help you to develop a more ruthless closet-cleaning mindset. Maybe you'll keep one pretty pair that's not super comfortable but not super uncomfortable either, and then give away the rest.
Other common problem areas for closets are bags, accessories, and shirts.
Once you know what category of clothing is giving you the most trouble, you can move on to step two.
Step 2: Take Stock of What You Have
The next step in learning how to simplify your wardrobe is to take each category of item that's overwhelming you and put each category in a separate pile. You'll want to look at what you have within each category.
For example, let's say you're feeling overwhelmed by your twelve pairs of jeans. You can take these out of your closet and put them aside.
Now examine each item. Does it still fit? Is it comfortable? Does it need to be mended or adjusted?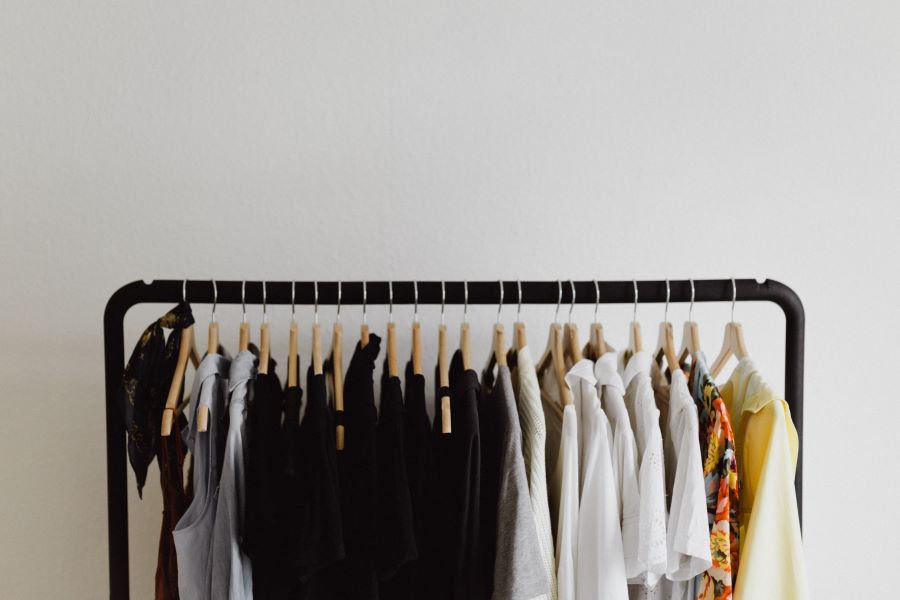 Once you've asked yourself these basic questions, you'll want to think about how that piece integrates with the rest of your wardrobe.
Does that pair of jeans work with many items? Or is it a super embellished pair that requires a bunch of basic t-shirts that you don't have (and will have to go out and buy)?
While you might love a piece that doesn't quite work with your wardrobe, if you choose to keep it, you could run into the trap of buying more clothes to match what you already have.
This just creates even more closet clutter and is going to bring you closer to having to do a full closet cleanout.
The type of climate you live in also has a huge impact on how many of each type of item you need.
If you live in a cold or 4-season climate, you'll want to have more than one or two sweaters. But if you live in a warm climate, you may only need one for cool evenings (or none at all!).
Look at What Has the Same Function
This one is a very important closet clear out hack. For example, do you really need three raincoats when one might suffice?
I live in a super rainy climate, and to simplify my own closet, I've chosen to keep one raincoat and make do with an umbrella and rainboots the rest of the time.
Another example is if you have several zip-up hoodies and several pull-on hoodies. If the total is six hoodies, do you really need all of them? Since the hoodies serve the same function, simplify your wardrobe by giving away half (or most) of them.
You also might love leggings because of how comfortable they are. But let's say you have three pairs of them. In this case, the leggings serve the function of being comfortable bottoms that you can also exercise in if you wish.
If you don't wear leggings on a frequent basis, then one pair should be more than enough. For me, I love my exercise leggings so much and love how flattering they are, so they double as regular leggings for me.
When You Might Need Multiples of the Same Item
The one time you might need multiple items that serve the same function is if you use them on an everyday basis or need them for work.
Going back to our leggings example, if you need them in your day-to-day life or wear them for your job, then you do want more than one pair.
This way, if one pair gets stained or dirty, you have another pair to fall back on. You'll also reduce the wear-and-tear on each pair and help your clothes last longer.
Step 3: Decide on What Clothes You Need Most Of
Now that you've gone through each category of clothing, it's time to make some decisions on what items you need the most. In other words, you want to figure out what your wardrobe essentials are. These will be unique to you and your lifestyle.
For example, if you have a lot of going-out clothes but rarely go out, it might be time to pare down your party clothes.
Perhaps you changed jobs recently and the dress code at your new job is business casual, rather than the business formal you're used to. In this case, it might be a good time to donate some of those suits and skirts.
On the other hand, if you need business casual clothes for work but don't have many options, it might be time to invest in a couple of key pieces.
Remember that simplifying your closet doesn't mean you can't buy new pieces—the goal here is to have a versatile wardrobe that can be mixed and matched easily.
One final note on this step: Be honest with yourself about the items you wear most. Just because you love a piece doesn't mean it needs to take up valuable space in your closet. If you haven't worn it in over a year, it might be time to let it go.
Step 4: Remove Anything Non-Essential
The key with this step isn't to throw away everything that's not essential to your everyday life. Instead, you want to separate your non-essential items so you can see what items you actually use and find out where to put them.
For example, lots of people regard the little black dress as a closet staple. But chances are, you're not likely to wear a little black dress every day.
You'll want to keep the dress in your closet, but maybe you can hang it towards the back so it's not in the way of stuff you reach for every day.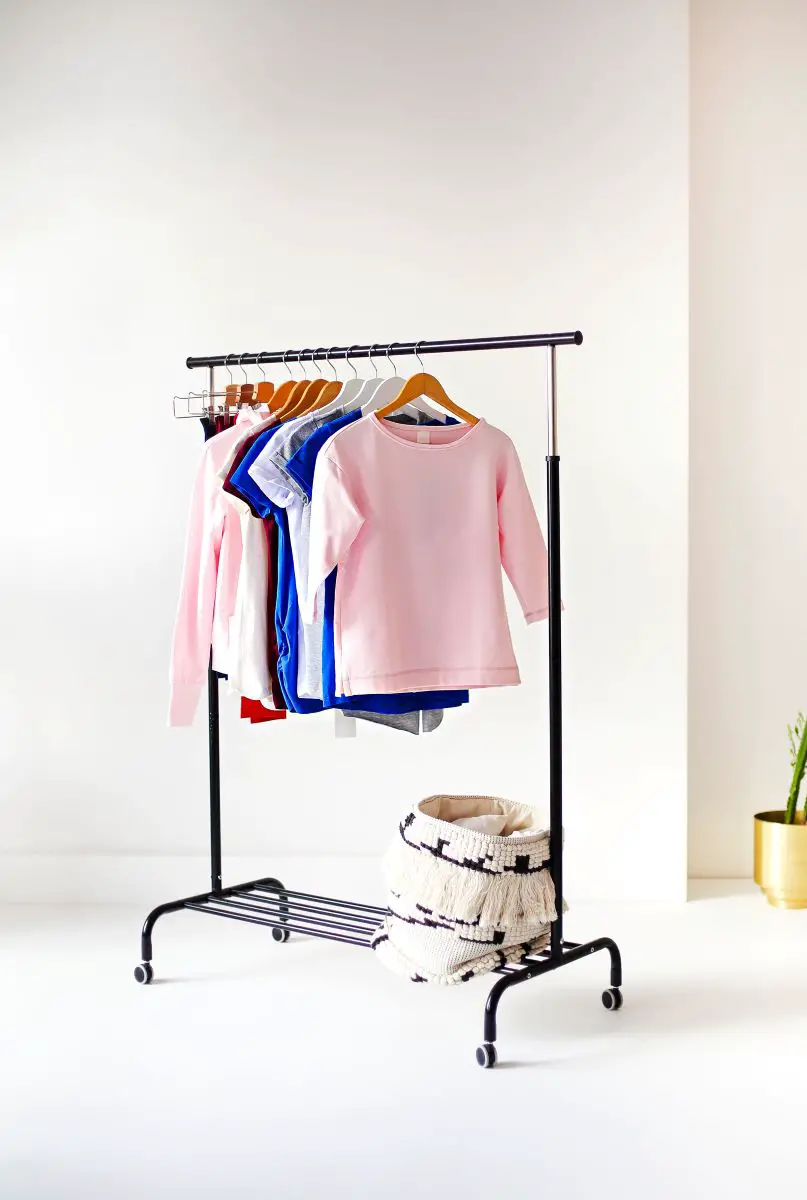 Of course, if you find non-essential items that you never wear and don't like, then definitely get rid of them (there are more ways of getting rid of old clothes other than throwing them out)!
Keep in mind that this doesn't mean you have to start building a minimalist wardrobe. If that's not your clothing style, then you don't have to do it!
It just means that you're getting rid of anything extraneous and anything that's causing you unnecessary clutter and overwhelm.
Step 5: Invest in Organization
The final step in learning how to simplify your wardrobe is making sure you can actually find everything quickly and easily once you've downsized.
This is my top tip for making sure you don't run into the classic "I have nothing to wear!" scenario.
And remember that organization doesn't have to be expensive! Sometimes it's just a matter of re-ordering items and using a bit of creativity and thriftyness to add some cool shelving or storage boxes.
Closet Organization Tips
First of all, if your room allows it, make sure there's no furniture blocking any part of your closet.
For example, I used to put my printer on the floor right next to the left side of my closet door. It made things really difficult when I wanted to reach into that part of the closet because I had to sidestep the printer every time.
You also want to make sure your closet is well-lit. If it's hard to see into it at night, think about placing a floor lamp near the closet so you can see everything that's in there.
To save space, you can put a chest of drawers or a hanging divider in the closet to make more space (which is great for small closets).
You can also invest in hangers that have clips on them so you can hang multiple items. For items like belts and scarves, you can use boxes, baskets, or hooks on the wall.
One trick I love is to hang my clothes as partial outfits. This means that I'll hang a matching shirt and a blazer/cardigan together so I can literally grab them, add jeans, and go.
I also like to hang clothes by garment type and organize them by color. This doesn't have to be SUPER detailed, but it helps to have your t-shirts in one place, your cardigans in another, etc.
Plus, it looks really aesthetically pleasing when the clothes create a pretty gradient in my wardrobe.
Here are some more closet organization tips from Shea Whitney:
Remember, organization isn't just about aesthetics—it's also about function. If you can't find what you're looking for quickly, you're less likely to wear it.
But if your clothes are easy to see and access, you'll be more likely to put them to use.
How to Simplify Your Wardrobe in 5 Easy Steps
By following these simple steps, you can downsize your wardrobe and make getting dressed each day a lot simpler.
It might take some time to go through everything and make decisions, but it's worth it to have a closet full of clothes you love that you actually wear. Plus, it'll save you time and money in the long run!
Do you have any tips for simplifying your wardrobe? Share them in the comments below!
Happy simplifying! 🙂
Related blog posts you might like:
This post was all about How to Simplify Your Wardrobe in 5 Simple Steps