With so many denim styles out there, it can be even harder to distinguish between boyfriend vs mom jeans. They look so similar, after all. Let's take a look at the differences between boyfriend and mom jeans so you can decide on the best option for you!
When looser jeans started to be on-trend, I was skeptical at first. I thought they wouldn't be flattering, and I was happy with my mega-stretch skinny jeans, thank-you-very-much.
But when my friend convinced me to try on a pair of boyfriend jeans, I couldn't believe how comfortable they were. They almost felt like pajamas!
Now, my 90s style jeans are my go-to pair of jeans. Not only do they give a cool vintage vibe, but they're so comfortable I forget that I'm wearing jeans at all! Plus, it beats the temptation to just want to wear sweatpants all the time.
Yet, it can get confusing when you have all sorts of style names thrown at you. With mom jeans, boyfriend jeans, dad jeans, girlfriend jeans (seems like the whole family decided to join in), how are you supposed to pick from all the styles on the rack or online?
And what is the difference between mom jeans and boyfriend jeans? Because at first glance, they look so similar!
In this blog post, we're going to take a look at both of these comfortable styles and help you decide whether boyfriend vs mom jeans are right for you!
This post may contain affiliate links, which means I'll receive a commission if you purchase through my links at no extra cost to you. Please read full disclosure for more information.
Mom Jeans
Mom jeans actually have a pretty long history. This now-iconic fit came about in the mid-80s, when famous figures like Madonna started wearing the figure-flattering cut as a rock-and-roll statement.
They weren't called mom jeans yet, but these jeans were a stark contrast to the tight, boot-cut styles that brands like Guess and Calvin Klein were marketing in the 80s.
And although this style was popular at first, they weren't considered trendy during the late 90s and early 2000s. Many younger women thought these were just those "comfortable" clothes that weren't very flattering or "hip."
But these jeans have had a resurgence in recent years, and I, for one, am glad!
Above: Winona Ryder in the 90s wearing a style that looks a lot like mom jeans! And yes, I'm obsessed with her outfit.
Over the years, mom jeans have been worn by everyone from Madonna to Kim Kardashian. They've been reinvented and reimagined time and time again, but the basic cut and fit have remained the same.
Today, mom jeans are still one of the most popular denim styles around. They're comfortable, flattering, and versatile enough to wear with almost anything.
If you're looking for a pair of jeans that you can wear all day long, then mom jeans are a perfect choice!
Mom Jeans Fit
Unlike the skinny jeans that reigned supreme for the last decade, mom jeans have a slightly more relaxed fit while still being comfortable.
Depending on the brand and style, mom jeans can be looser or tighter around the legs.
But overall, mom jeans have a few common characteristics:
Tapered leg: This means that the pants gradually narrow as they reach the ankle. This is what gives mom jeans that flattering look while staying loose and comfortable.
Complements curves: These jeans tend to hug the hips and butt. If you get a tighter style, they'll also complement the full leg too.
Sit at the waist: Mom jeans usually sit at the natural waist (where you would bend from side to side). These jeans are often high rise or medium rise. When these jeans were marketed in the past, the long zipper length was touted for creating a comfortable fit.
The length of mom jeans will depend on the specific style/model. You can get them at full, ankle, and even cropped lengths.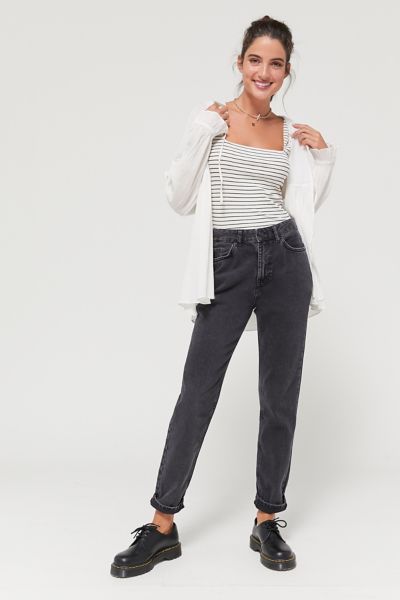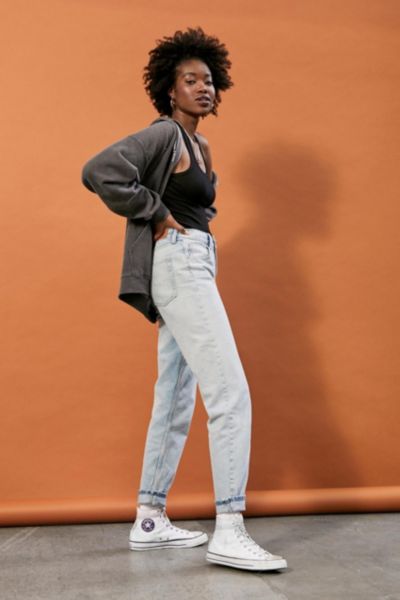 Boyfriend Jeans
The baggy boyfriend style emulates the original cut of jeans that miners and workers first wore in the late 1800s when they needed durable pants that wouldn't rip.
But where they started to gain popularity among fashion lovers was when Marylin Monroe was spotted wearing them on the set of The Misfits in the 60s:
And later on, celebrities like Katie Holmes started to popularize this looser fit, which is supposed to look like jeans that someone got right out of their boyfriend's closet:
These are the typical features of boyfriend jeans:
Straight leg: In line with the loose fit of these jeans, they're usually a straight leg as opposed to being flared. Some styles may have a slight taper to them. You can also roll them up to give them a new look!
Slouchy fit: This is what makes boyfriend jeans so comfortable. The fit isn't meant to be tight, although you can find slightly more fitted styles if super baggy isn't your thing.
Loose waistband: This isn't true of all boyfriend jeans, but be aware that the waistband may be a bit loose on the jeans (while the rest of the jeans are the perfect size). You may need to wear a belt to keep them in place.
Low, mid, or high rise: Unlike mom jeans, boyfriend jeans don't always tend to be high-rise. Low rise boyfriend jeans are a nod to the midriff-bearing fashion of the 2000s, while high rise is more of a salute to the 90s. Get whichever rise you feel most comfortable in!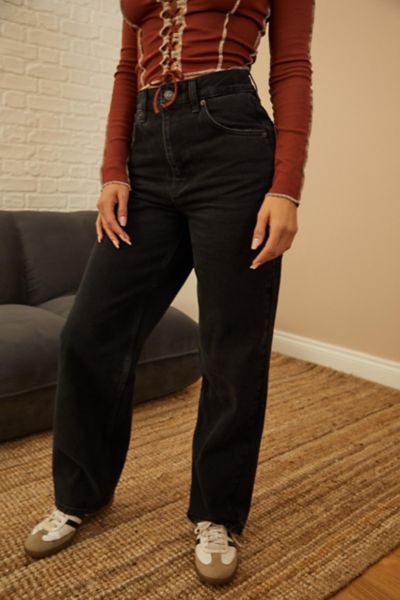 How to Pick between Boyfriend vs Mom Jeans
I couldn't decide between getting mom jeans or boyfriend jeans because they were so comfortable, so I just got both.
Having one (or both) of these styles is also great for building a winter capsule wardrobe.
If you're a big fan of looser/more comfortable jeans or are just feeling super over having a dozen pairs of skinny jeans in your closet, then you might want to get a pair of each.
If you're only looking to get one for now, take a look at what you already have in your closet. Mom jeans are better if you want to wear your jeans to work (i.e. business casual or Casual Friday wear).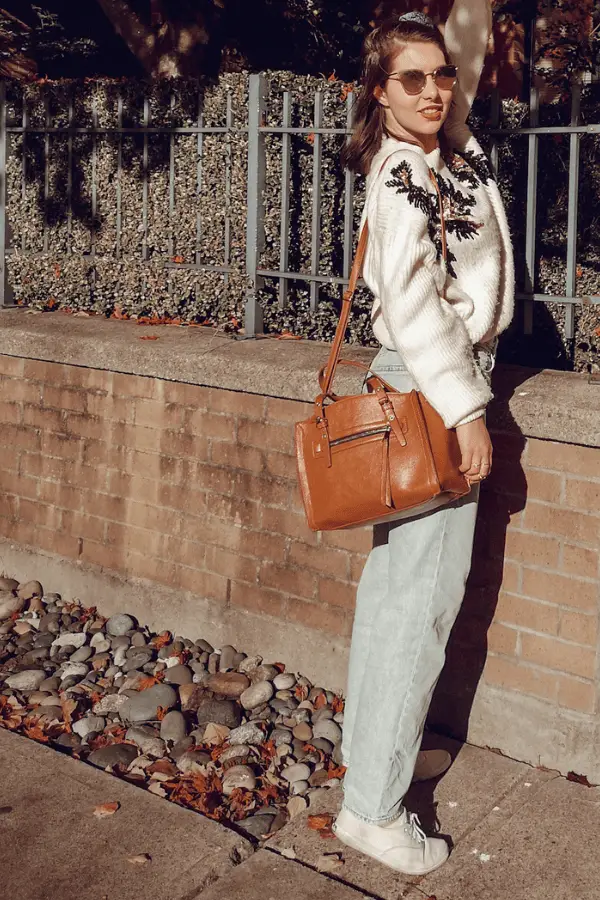 Mom jeans are also a good pick for casual evening outfits as you can pair them with a nice blouse or pair of heels. So if this is the type of outfit you can see yourself wearing often, then mom jeans are a good bet.
As for boyfriend jeans, these are more for those who love the look of streetwear and want to add a bit of nostalgia to their outfit.
You can also wear heels and crop tops with boyfriend jeans, but you're going to end up with a more casual look most of the time.
Go for boyfriend jeans if you love loose, comfortable styles. I even wore my boyfriend jeans while walking the dog and hiking!
It's also good to know about mom jeans vs boyfriend jeans because they can look SO different on the model or product photograph.
How to Style Boyfriend Jeans
For me, it was a bit of a challenge figuring out how to style boyfriend jeans at first. I thought I'd only be able to wear tight crop tops with them to offset the bagginess, but I've since figured out that you can wear them with both.
Boyfriend jeans look great with items that give a vintage 80s or 90s nod. For example, you can wear them with a crop top and a loose flannel shirt over the combo.
I think they'd look great with a pair of Doc Martens and a vintage-style t-shirt or tie-dye crop top as well (take a look at my post on styling 90s jeans for more inspiration).
And don't worry about wearing chunky tops with chunky bottoms. I find that this can look great as well if your shoes aren't as chunky.
For example, I love wearing my chunky 80s-style sweater with my boyfriend jeans and a pair of classic white Keds:
How to Style Mom Jeans
If you're not a fan of wearing loose tops and loose bottoms together, then mom jeans are a great way to have that extra comfort while still wearing your fave chunky sweater or cardigan.
Some great picks for mom jeans would be a thermal turtleneck for those cooler fall/winter days, a lace bodysuit and heels for a night out, or a printed oversize sweater for a cozy yet vintage vibe.
For a more casual look, you could wear the jeans with a tucked-in graphic tee and Oxfords or flats for a fun, yet casual look.
You can also dress mom jeans up with heels and a bodysuit: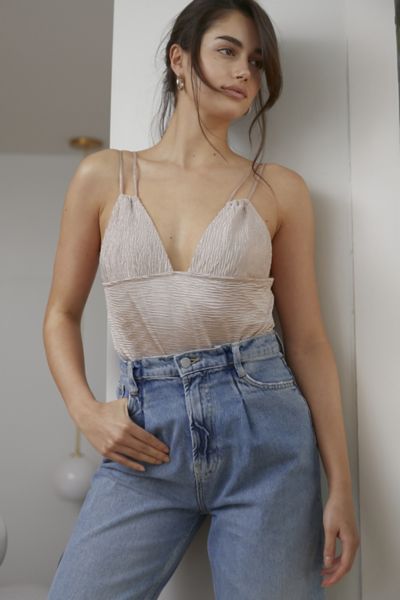 Final Thoughts on Boyfriend vs Mom Jeans
As you can see, the main points of difference between mom jeans and boyfriend jeans are subtle but important.
So, which should you buy—boyfriend jeans or mom jeans?
The answer really depends on what you're looking for in a pair of jeans.
If you want a more relaxed and comfortable fit, go with boyfriend jeans. If you want jeans that you can easily dress up, go with mom jeans. No matter which style you choose, make sure to style them in a way you feel confident in—no matter what's trending.
And if you can't decide between boyfriend vs mom jeans, then why not get both?
You'll have a lot of options to choose from while they're super trendy, which means you have a much higher chance of getting a few pairs you'll want to wear all day!
Related Posts You Might Like:
This post was all about Boyfriend vs Mom Jeans: Which Should You Buy?