There's more to learning how to wear a shapeless dress than just putting on a belt and calling it a day.
While many people accuse shapeless dresses of looking frumpy and the furthest thing from cool you can think of, I actually love them.
This is because shapeless dresses are as comfy as a pajama and can be as easy to style as throwing on a pair of sneakers.
The trick to learning how to wear a shapeless dress in a cool (and not frumpy) way is all in the styling. And the best thing with these versatile dresses is that you can keep them loose, cinch them in, and dress them up or down.
And once you know the tricks, you can make the look work for your style.
Let's get started!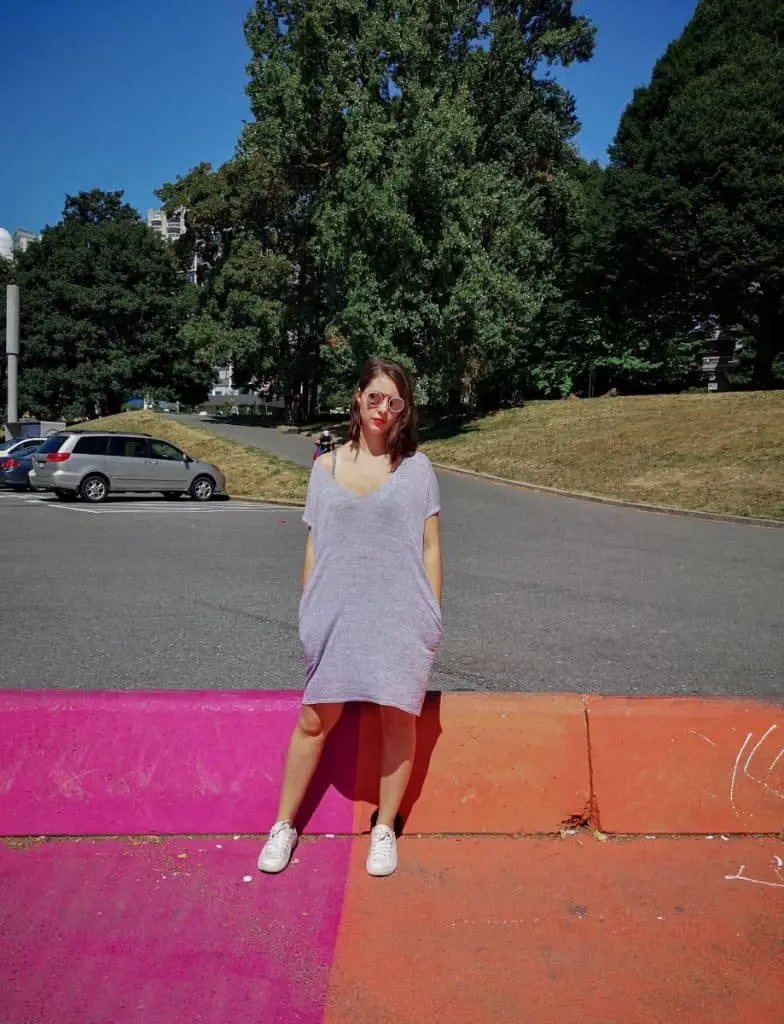 This post may contain affiliate links, which means I'll receive a commission if you purchase through my links at no extra cost to you. Please read full disclosure for more information.
Decide on the "Feel" of Your Outfit
The first step in styling a shapeless dress is to decide on the overall "feel" of your outfit.
Are you going for casual and easy-breezy? Or are you wanting to dress it up a bit?
Deciding on the look and feel you're going for will shape how you style the dress.
This is another reason I love shapeless dresses, as they're super versatile (and make for a great addition to spring or summer capsule wardrobes). This makes them a great investment if you like to change up your outfits often.
For example, I tend to wear my shapeless dress (brand: Wilfred Free) in the "easy-breezy" style. I wear it during the summer when I just want to throw something on with a pair of Converse and go.
I also take my shapeless dress to the pool because the stretch fabric doesn't wrinkle. This makes it easy to throw into my backpack and put back on when I change.
And when I keep the dress loose, I don't get as sweaty in the summer because there's no fabric sticking to me (this is why it's great to pick summer-friendly fabrics).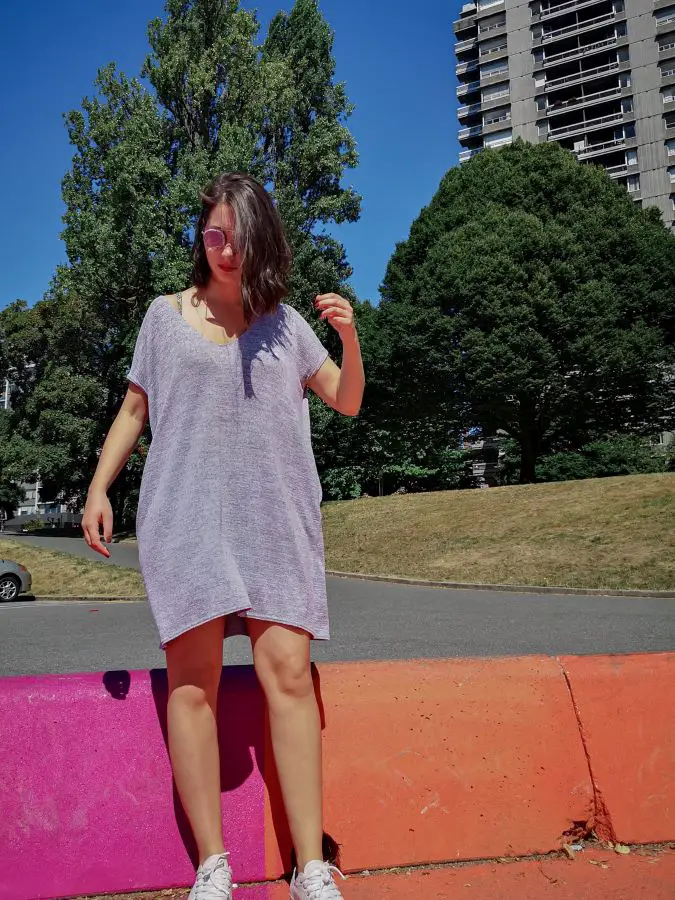 Add Shape to the Dress
One of the best hacks for learning how to style a baggy dress is to give it shape.
And while the most common way is with a belt, it's not your only option.
You also want to in mind the length and style of the dress when you're deciding how to add shape.
For example, a boho-style maxi dress would look great with a wide belt made of rope or fabric. On the other hand, an above-the-knee cotton dress that doesn't have much flow to it might look better with a jean jacket that won't create unwanted shapes.
The key here is to try out each styling element with the dress. You'll need to see how it alters the shape of the dress, how you feel in it, and whether the look fits with your overall style (and the rest of your wardrobe).
Cinch It with a Belt
When most people want to know how to style a shapeless dress, the first piece of advice you'll usually come across is to cinch it with a belt.
This is a great way to create a curvier silhouette and highlight your natural waist.
It's also a quick and easy way to style a shapeless dress.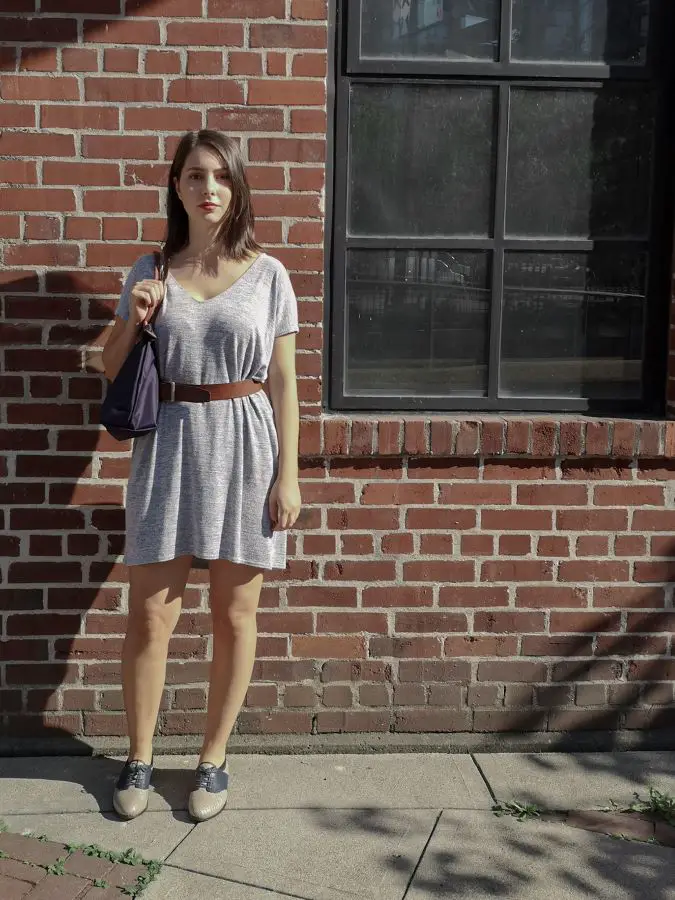 In the photo above, I've used a medium-width brown belt to give an interesting contrast with the gray of the dress.
But you can add whatever belt you want! You can also play with the widths of different belts to change up the look.
If you want to keep it simple, go for a black or nude belt. If you want to add some fun and personality, go for a brightly colored or patterned belt.
Use the color of your shapeless dress to add contrast or to keep the outfit sleek and neutral.
Here are some creative ways to wear a belt if you'd like more inspiration:
Add Shape with a Jacket
Another helpful tip in learning how to give shape to a shapeless dress is to add a jacket.
The length of the jacket will depend on what shape you want to create and what part of your body you want to highlight.
A cropped jacket will highlight your natural waist and also has the effect of making your legs look longer. Some of my favorite cropped jackets include my black leather jacket and my cropped denim jacket.
And if it's a cold evening or it's windy out, you can even add a cropped sweater/fleece to the look, which gives the illusion that you're wearing a skirt!
Keep It Loose
I know—the thought of wearing your shapeless dress without anything to cinch it makes it sound like you're wearing a bag instead of a dress (Marylin Monroe actually did wear a potato sack dress once, BTW).
But the baggy look can actually be pretty cool if you're into it.
This is my personal favorite way to wear my shapeless dress for those hot summer days. I also just really like throwing things on and leaving the house, and this outfit is just that.
If you're not styling the dress itself, you can still make the outfit interesting with shoes and accessories.
Some examples include:
A wide-brim straw hat
Eye-catching sunglasses
Mismatched earrings
Stackable rings
A chunky bracelet
A colorful or textured purse
As for shoes, some effortless options include:
As you can see, the styling options are endless, and they all depend on what look you're going for.
Another quick detail that I find always ups my outfit and adds a summery feel is a quick swipe of orange lipstick. Quick makeup like this can instantly elevate your outfit, no complex styling required!
Dress It Up
Believe it or not, learning how to style a loose dress does include wearing it to a birthday party, an evening dinner, or a date.
Depending on the dress, you can keep it loose or cinch it to add shape.
Pulling ideas from my own closet, I'd wear my shapeless dress loose (just more comfortable for me) and pair it with my quilted Kate Spade bag and my special-occasion Valentino Rockstud heels.
If you want to add shape, try a dressier belt like a glossy belt made of patent leather or pleather. You can also get one with a statement buckle or add contrast with a bright color.
Depending on how long the dress is, adding tights is a great way to take the dress from daytime to evening. Tights are also a great way to add contrast (and warmth) on cooler evenings.
Remember that heels aren't the only way to dress up the outfit! I personally love smoking shoes (they're like a combo of flats and slippers) and even black combat boots paired with sparkly crawler earrings and a sleek dress in a neutral color.
Here's a picture of a young Mary-Kate and Ashley. I love how they styled their baggy dresses for a special event:
|
And this awesome before and after:
|
Now You Know How to Wear a Shapeless Dress
Now that you know how to style a shapeless dress, it's time for you to try it out for yourself!
As I said before, the great thing about these types of dresses is that they can be styled in endless ways.
So have fun with it and see what looks you can come up with. At the end of the day, pick a few go-to looks that suit your style and make you feel confident.
These will ensure you're out the door and looking fabulous in no time at all!
Related styling articles:
This post was all about How to Wear a Shapeless Dress