Wondering what color socks to wear with white shoes? Let's go over some simple tips to make your footwear selection a breeze.
When it comes to wearing white shoes, one of the most common dilemmas is what color socks to pair them with. While the style of sock you choose will depend on the look you're going for, following a few simple tips can help make the decision a little easier. Read on for five simple suggestions on how to choose the best socks for your white sneakers.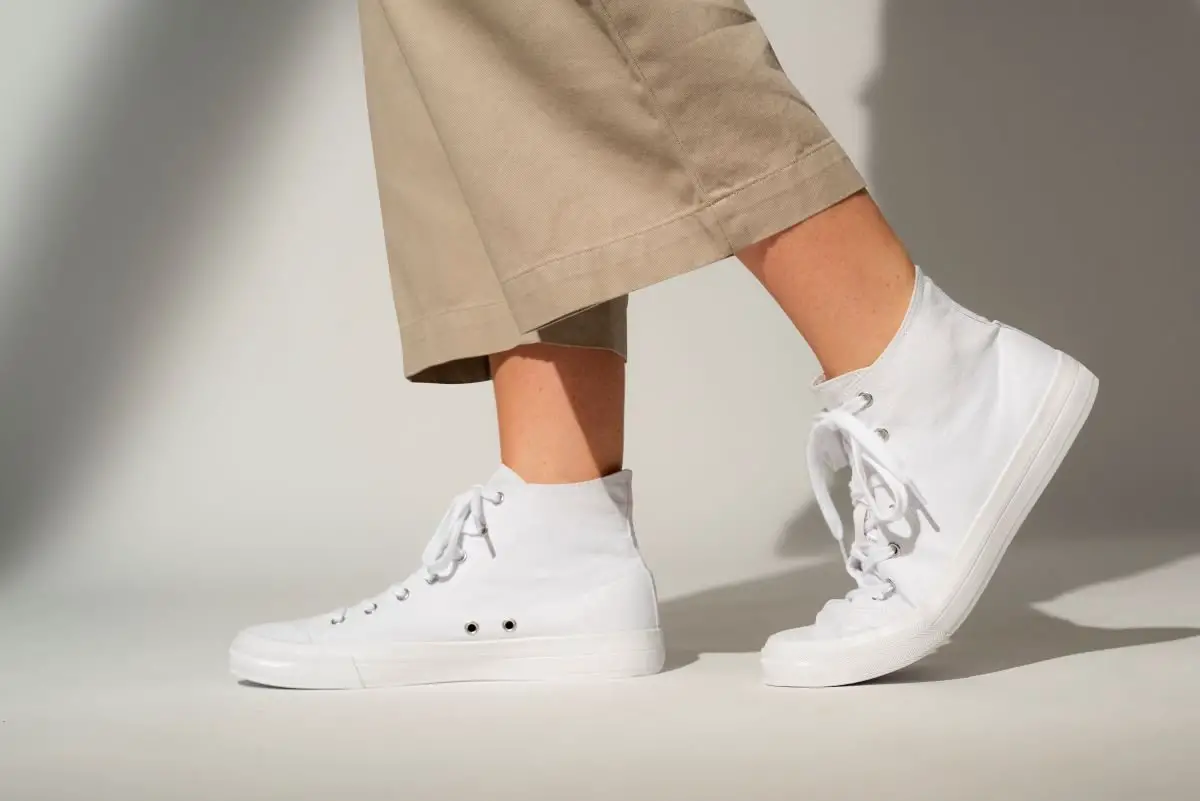 This post may contain affiliate links, which means I'll receive a commission if you purchase through my links at no extra cost to you. Please read full disclosure for more information.
1. Sock Color
First, let's consider what color socks you might want to wear with your white shoes.
The great thing about white socks is that they go with pretty much any shoes, so they're the perfect option for your white shoes as well.
I often wear a combination of white ankle socks with white Keds.
If you don't want to wear white socks with white shoes, you can go for a bold look as long as you think about the focal point of the outfit.
If you want your socks and shoes to be the focal point, then you can even choose a bold color like red, neon pink, or green.
On the other hand, pastel tones would look great with a prairie-style dress, white linen, or any other airy and effortless outfit.
Patterned socks like argyle would look great with preppy outfits, while stripes are an interesting way to break up a simple black or white outfit.
If the focal point of your outfit is a shirt or jacket, then you don't want your socks to stand out too much. In this case, you can opt for neutrals like beige, mauve, gray, and tan.
If you go for bold pops of color everywhere, it might make the outfit look costumey or over-the-top.
2. Sock Length
The next step in choosing socks for white shoes is the length.
If you go for a super short length like no-show socks, then the color of the sock doesn't matter.
But if you want a higher length than that, then color and style are going to be a huge consideration when you're looking for what socks to wear with white shoes.
The infographic below is a great visual guide, but we'll go into some more detail in this section to you know what to look for while shopping:
No-Show Socks
These socks come in a variety of colors and styles and are designed to be worn with low-cut shoes like sneakers or loafers.
They typically have a silicone grip on the heel so they stay in place and are usually made from thinner, breathable materials.
I pretty much always have to wear these because my feet sweat, so I'll wear no-show socks with low-cut shoes like Keds, Toms, and Converse.
I love Keds no-show socks as they give the perfect amount of breathability and coverage.
I also love Muji's cotton foot covers. They don't cover your foot as much as the Keds no-show socks do, but I find that they're a great option that's thin and breathable.
No-show socks are some of the best socks for white shoes because you don't have to coordinate the color or the length with the rest of your outfit.
Ankle Socks
Next up are ankle socks. True to their name, they sit right at your ankle and will peek out over most low-cut shoes.
These are the most versatile type of socks and can be worn with a variety of shoe styles, from sneakers to loafers to boots.
They come in a wide range of colors, textures, and patterns, so you can definitely find a pair that suits your personal style.
I usually go for black or white ankle socks, and will sometimes wear them with my Keds for a more vintage look (like in this awesome 80s Keds ad):
Ankle socks can also give you a pop of color (even a subtle one). For example, you can get white ankle socks that have a band of color just at the top. I have ones with a black stripe, but you can get any color for some subtle detail.
Quarter Socks
Quarter socks sit above the ankle but below the mid-calf. Because of this, they're also called high ankle socks.
These socks are often made of thicker materials than no-show socks so they can stay up on your leg better.
Since they're not too high, quarter socks work well for a variety of shoes and for a variety of pant/skirt lengths.
You can easily wear quarter socks with sneakers as well as with boots. The length is also super convenient if you need to avoid chafing from tough leather or other materials.
Here's an example with a white pair of Nike sneakers:
Crew Socks
Crew socks sit at the mid-calf, and they carry both a practical yet vintage vibe.
They're often made of thicker materials like wool or cotton, which makes them great for colder weather. They also often come with a ribbed texture, which adds subtle visual detail.
You can easily wear crew socks with boots and sneakers, but they can also be worn with dress shoes if you want a more preppy look.
I love slouchy crew socks with shoes like Keds or white leather sneakers because they give such an awesome 80s vibe (especially when paired with biker shorts!).
One of my favorite examples of this look is how it's worn by Princess Diana:
Knee-High Socks
Knee-high socks are a great choice if you want to go for a more preppy vibe.
A fun look could be to pair the knee-high socks with Oxfords. You don't even need them to be cotton socks—sheer socks could make for a super cool look too.
Knee-high socks are also a great choice for knee-high boots (again, to prevent chafing). In wintertime, I find it helpful to wear these over leggings for added warmth.
Here's an example of a sporty look with knee-high socks:
Over the Knee Socks
Over-the-knee socks sit at about one or two inches above the knee.
These socks can also add a pop of color because they peek out over your knee-high boots. You can also wear white sneakers with over-the-knee socks for a super cute and unique look.
Thigh-High Socks
Thigh-high socks go all the way up to the mid-thigh and are a great alternative to tights in the fall or winter.
Thigh-high socks look great layered on top of nude or black pantyhose, as well as with skirts and shorts.
They're also a good way to add extra warmth in the winter, especially underneath a long skirt.
3. Occasion
Finally, think about where you're going to wear your outfit.
If you're wondering what socks to wear with white sneakers for athletic activities, crew socks work very well. They're usually made of cotton with a bit of spandex, which is a necessity for breathability and flexibility.
For sports or any athletic activities, crew socks would work well with white shoes. Crew socks are often ribbed at the top, so they stay up really well while you're exercising.
As for color, just make sure to match the socks to your gym clothes, and go for neutrals if your exercise top is bold or patterned.
For a night out, think about sheer socks (made of the same material as pantyhose) for an elevated yet comfortable look.
Seasonality is also a huge factor. If it's cold out, pick thicker socks like wool or cotton to wear with your white shoes.
A good rule of thumb for a casual go-to look is to pick ankle socks or no-show socks. This is my go-to for everyday wear and it makes it super easy to match socks to my white shoes.
Black Socks with White Shoes
If you want to wear black socks with white shoes, it's definitely possible, but it doesn't make for the most cohesive outfit unless there's a very specific look you're going for (or you're going for a bold statement).
An exception would be if the black socks had some other color or element to them, like an interesting pattern.
If you only have black ankle socks and white shoes, this should be okay as long as too much of the sock doesn't peek out from above the shoe.
The thing is, if you're going for a casual, everyday look, then you want as little of the black sock to show as possible.
This way, you don't have to worry about buying black vs white socks—you can just wear both interchangeably.
4. Example Outfits
Here are a few of my favorite outfit combinations for socks and white shoes:
Black biker shorts, hoodie, and loose white crew socks (80s inspired)
Patterned knee-high socks with white Oxfords
No-show socks with white shoes like Toms, Keds, and flats, paired with any bottoms or tops
White ankle socks and high-waisted shorts with any color Keds for an old-school vibe
White sneakers, patterned or neon quarter socks with black leggings, and a monotone hoodie
Sheer pastel socks with an airy white dress and white Oxfords/white Keds Champion sneakers
Oxfords and dress pants/jeans with just half an inch to an inch of a unique or bold sock pattern
No-show socks, white leather Converse,  boyfriend jeans, and a chunky sweater
Here's an example of how to wear white crew socks with white sneakers for a simple workout outfit:
There are so many socks out there these days, from pizza socks to socks with your favorite characters on them. Don't be afraid to use them to express your style and personality!
Here's a great video from Lumiere d'Helen showing some useful ways you can style white sneakers:
5. What to Avoid
When deciding what color socks to wear with white shoes, the main thing to remember is that you don't want the outfit to look like a costume.
You also want to avoid any socks that will take your look from bold to over-the-top.
If you just think of your socks as a necessary item that you need to incorporate into your everyday outfits, then just get a bunch of black and white socks that are no-show and ankle-length, with a few knee-length or crew socks to wear underneath boots.
But if you think of socks as another way to make your outfit more unique, then think about what you want the focal point of your outfit to be and build the outfit around that.
Remember—your socks can definitely stand out and make a statement, but you just don't want them to overwhelm the eye.
So if you're someone that wants to build up a killer sock collection, then just make sure the rest of your outfit doesn't take attention away from the socks.
This could mean an otherwise neutral outfit or matching your top to the color of the socks while keeping your bottoms neutral.
Now You Know What Color Socks to Wear with White Shoes
Socks can be a really fun way to add a unique touch to your outfit, so you don't need to shy away from making a bold statement with them.
The next time you're deciding what color socks to wear with white shoes, think first about whether you want to make a statement or not, and then either pick socks that blend in or stand out.
Just make sure that the rest of your outfit doesn't overshadow your socks, and you'll be good to go!
What are your favorite ways to pair socks with white shoes?
Related Posts You Might Like:
This post was all about What Color Socks to Wear with White Shoes